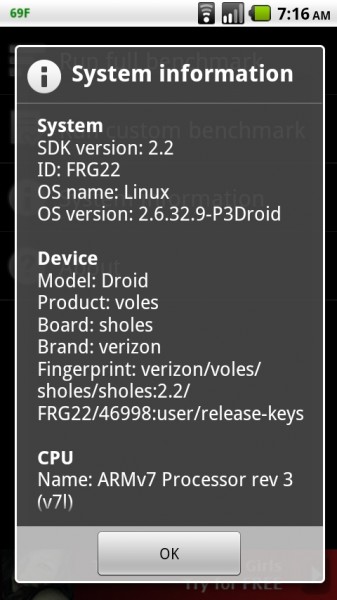 We have no idea why a "newer" build for the Motorola Droid would already be floating around, especially on the week that the official OTA update is rolling out, but that's exactly what we have.  The new build number is FRG22 and that's basically all we know.  We're guessing this is a simple bug fixer and can't have anything incredibly different than FRG01B which is hitting devices as you read this, right?  Only one way to find out!
Update:  Feel free to read this excellent writeup by the guys who put together Sapphire to get some additional thoughts/info on FRG22 plus their upcoming ROM.
*ROOTED USERS ONLY.
Download:  FRG-DEODEXED-Release.zip
*Note 1* – There is a chance that Voice Search is broken.  Please let me know if you experience this or any other issues.

*Note 2* – I have also not had the chance to test this, so please proceed with caution.  We just wanted you to know that it existed.
Instructions…
1.  Download the file to your SD card.
2.  Open ROM Manager, choose "Install ROM from SD Card."
3.  Scroll down to find FRG-DEODEXED-Release.zip and tap on it.
4.  When prompted, check the box to create a backup if you don't have a recent one.
5.  Skip the "wipe data and cache" box if coming from another Froyo build.
6.  Phone will reboot, work magic and BAM!  Enjoy the new Froyo!
Let us know of any differences from FRG01B that you may stumble upon!
Cheers to CellZealot for dropping leak after leak on the Droid developer community!

ROM Via:  MyDroidWorld