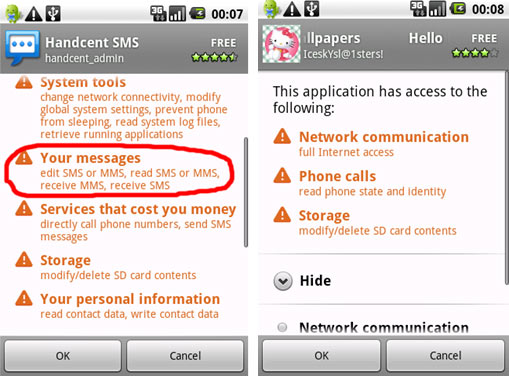 The Android app world was taken a little by storm yesterday when a report broke through Venturebeat, that a wallpaper app on the market, which "had been downloaded millions of times," was stealing information from users and sending it off to a mysterious server somewhere in China.  (Oh no China!)  The company behind these accusations was non other than mobile Android security app maker, Lookout who had just finished up, what they consider to be a major Android security project.  Now at first glance, the story came off a little scary and was quickly picked up by over a dozen major news outlets, all jumping on the "Android has no control" bandwagon.  And then today happened.
AndroidTapp and Android Central contacted the developer of the app in question, finding out that the report is apparently, complete BS.  In fact, they have thrown together a step-by-step visual guide plus an interview explaining the absurdity of the claims made by Lookout who has now clarified their claims after their initial stance was called into question.  It's too bad the damage has already been done to both Android's reputation and the developer.
Yikes.
Hello LookoutVenturebeatMaliciousChinaServer-gate.
Via:  AndroidTapp, Androinica, VentureBeat, Android Central