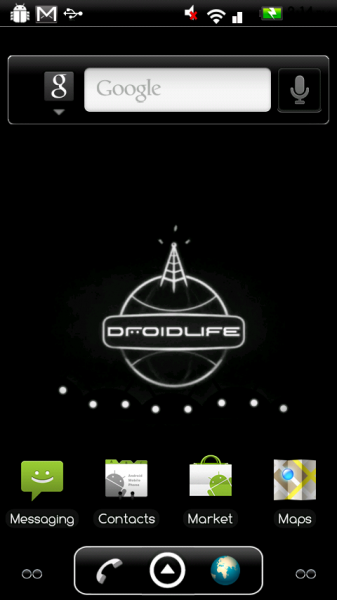 Today's theme might be one of the cleanest we've seen in a while.  Brought to you by roberj13, Alternate Dark is now one of my favorite black and white themes of all time.  A themed ADW Launcher, widgets, settings menu and so much more make this a certified winner.
Oh, he's even made separate versions for CyanogenMod and Sapphire so you've got some choices here.
Theme:  roberj13's Alternate Dark
Instructions…
*Rooted Droid 1 users only.
1.  Install either CM6 RC2 or Sapphire 0.8.4 from ROM Manager.
2.  Open ROM Manager, choose "Download ROM" and scroll down to "roberj13."
3.  Choose "Alternate Dark" and then CM6 RC2 or Sapphire 0.8.4 depending on step 1 choice.
4.  Phone will reboot and apply theme!  Enjoy!
If you don't have ROM Manager, you can download this roberj13 theme here.  Donate link here.
Gallery: