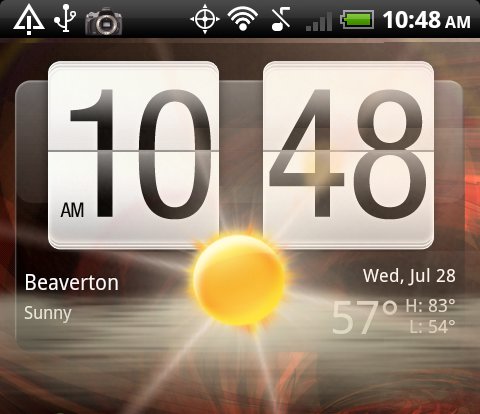 When an "official" Android 2.2 build with Sense leaked for the Droid Incredible last night, we jumped at the opportunity to check it out.  Early rumors from HTC suggested this build wouldn't be ready until X-mas, so this came as quite a nice surprise and could mean we'll see a major Froyo onslaught start next week for our entire Droid family.
First Impressions: The phone is fast, but it has always been fast.  This isn't the Eris here people; it's always had a 1.0GHz processor and specs to compete with the best of them.  Once you start seeing phones performing at this level, it becomes tough for your eye to really notice much of a difference.  The benchmarks on the other hand show quite the improvement.
Check out the rest including a full gallery after the jump!
Benchmarks:  Our Linpack and Quadrant scores on this Froyo'd DI are off the charts.  They are right up there with the Nexus One numbers we've seen in the past.  The Quadrant scores come up a little short, so we'll take this as an opportunity to blame Sense.  (Photos in the gallery.)
SenseUI:  As far as I can tell, you cannot turn off Sense like you can with the EVO.  If you check under Applications, clear out the defaults on HTC Sense and hit the home key, you are not prompted to choose a different launcher.  This is a major disappointment to those not all that fond of HTC's custom skin.  Other than that Sense runs exactly as it used to and I haven't noticed any major differences just yet.
Apps/Bloatware:  The update to Froyo also includes a batch of bloatware which Droid X users have already grown accustomed to.  Once upgraded to 2.2, you'll find your DI preloaded with My Verizon, Mobile Hotspot, Skype, Flashlight, Quickoffice, and VZ Navigator.  You also get a new toggle widget for mobile hotspot control.  (Photo in the gallery.)
Camera/Video:  The camera has been updated to now include 720p as was mentioned a dozen times in the past.  It also has a nice flipping feature when going from portrait to landscape using the camera.  (Photo in the gallery.)
Keyboard:  The HTC IME keyboard has been adjusted slightly and not necessarily in a bad way.  The button to hide the keyboard has been removed and the speech-to-text button has replaced it.  (Photo in the gallery.)
Other Froyo Stuff: The market is the 2.2 version which allows for auto-updating of your apps, you can place apps on your SD card and the Google search function is much more advanced.  (Photos in the gallery.)
Overall:  You have to give it up to HTC for pumping out a version with Sense included this fast.  In the past, they have been, to put it politely, a little behind other manufacturers when it comes to updating software on their devices.  However, like I said in my first impressions section, you won't notice a huge difference in performance as the phone already performed like one of the top dogs.  You will be impressed by Froyo if you have not already experienced it though.  While some of the changes to 2.2 seem minor, they make the overall experience of Android that much more enjoyable.  You will continue to be obsessed with your DI even after this update officially rolls out.
Gallery:
Any questions on what to expect?  Anything you want us to verify or check out?