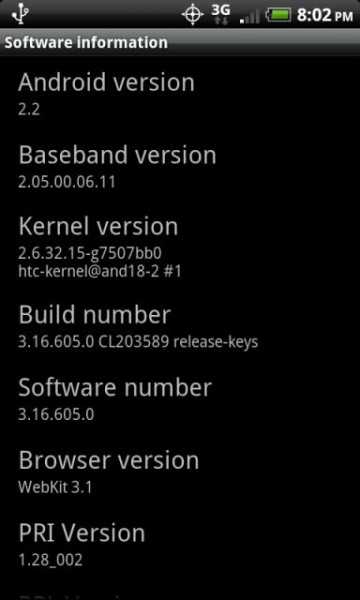 The Android 2.2 update for the Incredible, Droid X and Droid 1 might actually be on its way after a leaked version of the official OTA update for the DI just went live only a few hours after we saw this screenie of the Droid X.  This is the full on updated SenseUI version with 720p recording, mobile hotspot, etc.  The real deal people.
Unfortunately for the non-rooted Incredible users, this is built as a ROM and requires you to be rooted, perform a full wipe and be on the newest baseband which leaked a week or so ago in order for it to work.
I should also warn you that returning to stock after doing this might be difficult at this time, so please don't come asking for a way to return if the OTA update does in fact start rolling out next week.
*THIS IS FOR THE DROID INCREDIBLE ONLY.
Download:  20100727_stock_froyo_signed.zip
Full support thread at the source link below.
Any of our rooted DI peeps on this already or willing to give it a shot?
Source:  XDA Forums