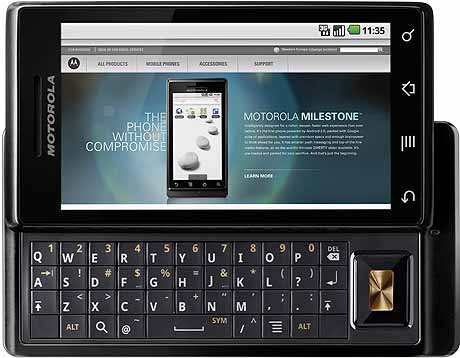 Our semi-forgotten, long lost half-cousin, the Motorola Milestone, is currently receiving an update which fixes all sorts of little bugs and functionality issues.  Below is a list of the changes…
After downloading and installing the software, you will notice the following improvements:

Improved Stability Prevents the phone from random power cycling (turning off and on), and minimizes force closes in certain applications.
Alarm Improvements Resolves issues with alarm functionality.
Music Player Functionality
Eliminates accidental starting of music.
Audio Quality Enhancements Eliminates instances of choppy audio experienced by some users.
PIN Lock Improvements Allows users more flexibility in setting the PIN Lock timer when using Exchange email.
Proximity Sensor Enhancement
Provides more accurate proximity sensing during phone calls.
Flight Mode Enhancement
Ensures phone service is restored after leaving airplane mode.
"My Location" Improvements
Resolves the issue of Google Maps failing to find "My Location" when "Use Wireless Network" is enabled without using GPS.
If you'd like to manually update your Milestone right now, head over to this site.
Update: This MR2.5 update was momentarily pulled and is apparently only for Greece users…
Motorola Europe – Ok, so here's the deal: apologies for the earlier
update, some eager people jumped the gun. We confirm FOTA update
for Greece is available now for the latest Milestone software
enhancements and MSU will follow in the future. Poland, Netherlands
& other European countries will also roll out in the future and
we will update when these are ready. Update & install details available on
the Discussion tab.
Source: Motorola Europe Facebook