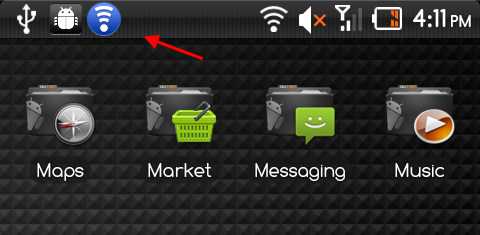 If you are running the newest version of JRummy's Kangerade which we posted on Friday, chances are that you have thought about breaking your phone due to a constant wi-fi icon in your notification bar.  Well peeps, the man has issued a fix so that you can return to your non-hair pulling lives.
Download: Stock Theme Fix
Download: Custom Theme Fix
Instructions…
1.  Download the file necessary for your ROM to the root of your SD Card.
2.  Open ROM Manager and choose "Install ROM from SD Card."
3.  Scroll down until you find the file you just downloaded and tap on it.
4.  Check the box to make a backup if you'd like; no need to "wipe data and cache."
5.  Phone will reboot and that notification should be gone!
Big thanks to JRummy!
Let us know if this fix doesn't seem to be working for you.
Cheers Chris!