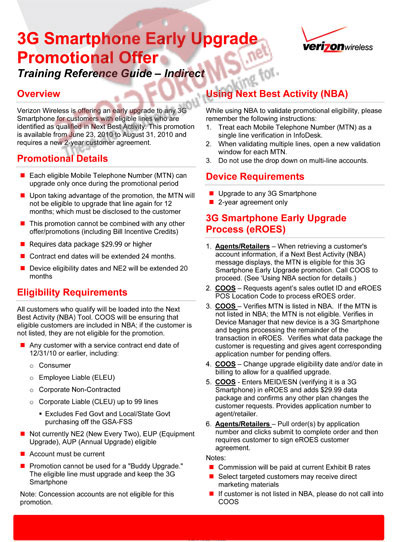 The details for an option to upgrade your smartphone early to the Droid X (or any smartphone) have been finalized.  The deal was originally announced at the Droid X launch on Wednesday and will give any customer with a contract end date in 2010, the opportunity to upgrade between June 23rd and August 31st.
Promotional Details:

Each eligible Mobile Telephone Number (MTN) can upgrade only once during the promotional period
Upon taking advantage of the promotion, the MTN will not be eligible to upgrade that line again for 12 months; which must be disclosed to the customer
This promotion cannot be combined with any other offer/promotions (including Bill Incentive Credits)
Requires data package $29.99 or higher
Contract end dates will be extended 24 months.
Device eligibility dates and NE2 will be extended 20 months
Are you eligible?
Eligibility Requirements:

All customers who qualify will be loaded into the Next Best Activity (NBA) Tool. COOS will be ensuring that eligible customers are included in NBA; if the customer is not listed, they are not eligible for the promotion.

Any customer with a service contract end date of 12/31/10 or earlier, including: Consumer, Employee Liable (ELEU), Corporate Non-Contracted, Corporate Liable (CLEU) up to 99 lines
-Excludes Fed Govt and Local/State Govt purchasing off the GSA-FSS
Not currently NE2 (New Every Two), EUP (Equipment Upgrade), AUP (Annual Upgrade) eligible
Account must be current
Promotion cannot be used for a "Buddy Upgrade." The eligible line must upgrade and keep the 3G Smartphone
Now before you all run out to Best Buy today and pre-order the Droid X, remember that the Droid 2 should be launching in August which would also be covered by this deal.
Source: DroidForums.net