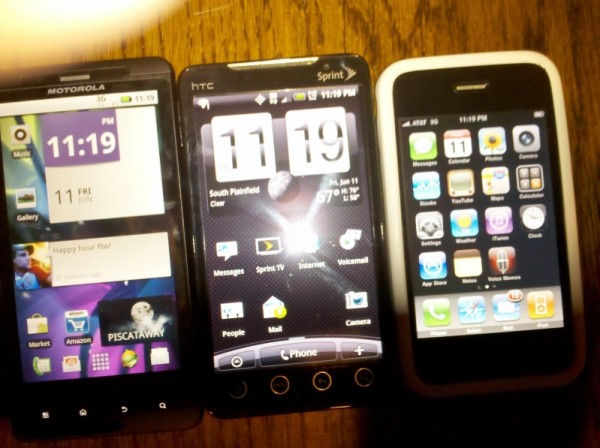 The Droid X is popping up everywhere and in new fashions all the time.  Check out the latest photos which compare it to the size of the EVO 4G, the iPhone and in a battle that brought instant cackling laughter, to the Droid Eris.  If you thought the EVO was maybe a little too big and bulky, you can think again.  The Droid X is well, big baby. (Not Davis.)
We also get a couple of additional details with these pics.  That is definitely the new version of MotoBlur.  You can see the Twitter widget on screen, plus a new calendar/clock/Beautiful Widgets looking thing.  Damn that screen has some real estate.
And lastly, some specs from the postee (maddigital):
No front facing camera
Magnet sensors trigger dock and car mount modes
Quadrant System info reads..
CPU (if i keep refreshing the current cpu freq modulates)
Name: ARMV7 Processor Rev 2 (V7i)
Current Req: 1000mhz
Max req: 1000MHZ
Min FReq: 300 MHZ
Cores – 1
Architecture:7
BogoMIPS: 598.90
Hardware: Mapphone_CDMA
Revision:2
OPENGL
Vendor: IMAGINATION TECHNLOGIES
Renderer: PowerVR SGX 530
Version: OpenGL ES-CM 1.1
1500mAh battery
No Sim Slot
Power button and Home button wake the screen when locked
Yessir.
Source:  Android Forums
Cheers Erik, Joe, Matrix2004!