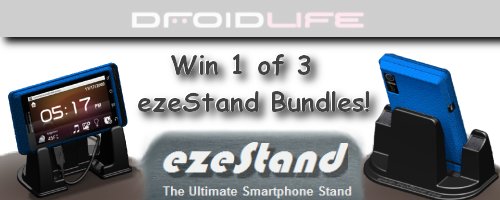 The guys behind the magical docking station known as the ezeStand have returned to host another contest for all Droid Life readers!  They were the headliners of our March Madness Bracket Challenge and wanted to come back for more.  This time, they've included 3 of their new ezeStand bundles which is essentially 1 ezeStand plus a fabulous 6ft right angled USB cable.  Win and win.
Having trouble remembering back that far?  Check out our ezeStand unboxing video below…
Contest Info:
How to Enter:

The rules are simple as always, but this time we've included additional ways for you to enter.  In previous contests we used a simple re-tweet for entry, but now understand that not everyone is a Twitter machine.  Complete one or all of the steps below to receive a maximum of 6 entries!
*Note 1* – If you have already completed some of these steps in the past, then you are already entered!
-Receive 1 entry for subscribing to the Droid Life feed.
-Receive 1 entry for "liking" the Droid Life Facebook page.
-Receive 1 entry for "liking" the ezeStand Facebook page.
-Receive 1 entry for following Droid Life on Twitter.
-Receive 1 entry for following ezeStand on Twitter.
-Receive 1 entry for retweeting the following message.
@Droid_life and @EzeStand are giving away 3 ezeStand Bundles!  Visit this post and retweet – http://bit.ly/baSQ7x  #droid #contest
*Feel free to re-tweet as much as possible to help spread the love!
Dates:
The contest will run from today (May 11, 2010) through Wednesday, May 26, 2010.
Winners:
All entries will be compiled and winners randomly chosen on May 26, 2010 with the announcement coming on May 27th, 2010.
A huge thanks again goes out to ezeStand for sponsoring another Droid Life contest.
Good luck everyone!