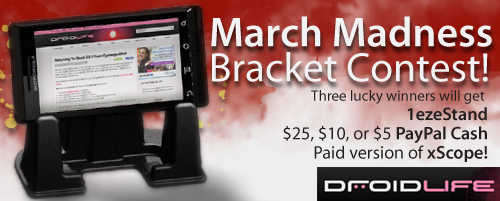 It's March Madness time!  When it comes to sporting events, the NCAA tourney tops my list every year.  (Yeah, even over the Super Bowl.)  And I've got to say that nothing is more fun than talkin' trash while competing with friends, co-workers and family through a bracket contest!  So to help fuel your bracket fun, we're launching our next contest which has a bundle of fantastic prizes including an ezeStand to the top 3 spots, some cash and the paid version of xScope!
All you need to do to enter is sign up over at ESPN.com's Tourney Challenge page, join the Droid Life group and then fill out your bracket.  After that, ESPN will whip out all the scores so that the rest of us can just sit back and watch all of the upsets unfold.  Don't wait too long though as your bracket has to be submitted before Thursday's first set of games!
Here are the details…
Group: Droid Life
Password is:  droidlife
Direct link to the Droid Life Group.
Prizes:
1st Place – 1 ezeStand, $25 PayPal cash, Paid version of xScope.
2nd Place – 1 ezeStand, $10 PayPal cash, Paid version of xScope.
3rd Place – 1 ezeStand, $5 PayPal cash, Paid version of xScope.
Winners:
The winners will be decided following the NCAA Championship game on April 5. Prizes will be  sent out thereafter, most likely by the end of that week.  Should there be a tie for any of the top 3 spots, we will decide an appropriate tiebreaker at that time.  If you win, you will be notified through your ESPN account.
Tweet the following message to help spread the word…
@Droid_Life is running a #MarchMadness contest with Cash prizes!  Sign-up now! – http://bit.ly/ckgIx0
And don't forget to subscribe to our site and join our Facebook page!
A huge "Thanks!" goes out to our fabulous sponsors ezeStand and xScope!  Another cheers to John Velez for the contest banner.  And a last one to DroidForums.net for having one hell of a community.

(If you have a product you want featured in the contest, we can always add more.  Feel free to contact us.)
Good luck everyone!