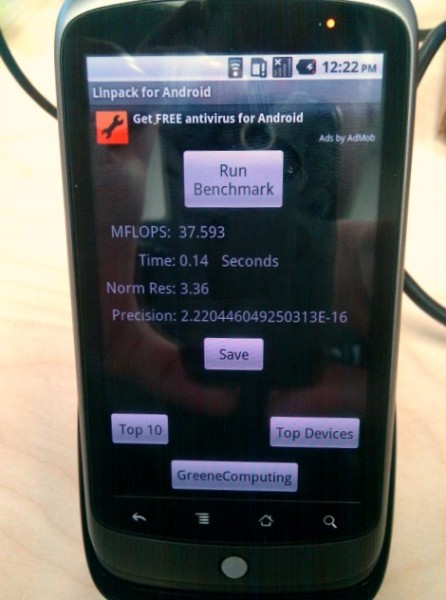 Ian Douglas, a web architect over at Armor  Games has managed to get a hold of a Nexus One running Android 2.2 and posted a screenie of a Linpack Benchmark test which shows the device clocking in at 37.593 MFLOPS.  What does that mean exactly?  That Froyo now includes something, (possibly JIT) which is making the device unbelievably fast.
To help us all realize exactly how fast it really is, I downloaded the Linpack app on both my Motorola Droid and Droid Incredible and ran the same benchmark test.  Here are the results:
Motorola Droid (DarkEdge theme at 600Mhz) – 4.728 MFLOPS
Droid Incredible (Stock) – 7.012 MFLOPS
OK, now take a look back to the top of the post and then gather yourself.  Yes, it definitely says that Froyo packed in 37.593 MFLOPS.  You are speechless right?
Ian helps explain the background of Linpack and MFLOPS…
It was astonishing to see the difference in MFLOPS (Millions of FLOating-Point operations per Second), essentially a high-precision mathematics sequencing instruction set that tests how quickly a CPU can run a known number of calculations. Since Linpack themselves publish a benchmark Top 10 for Android devices, I'm not disclosing anything that hasn't already been publicly confirmed by others.
With the possibility of this newest Android goodness coming next week at Google I/O, the anticipation seems to be building by the hour.  Someone please send me their pass.
Source: Ian Douglas