The Pixel Watch 2 joined the Pixel 8 on stage today, becoming official and with pre-orders open. You can buy the new Google watch today if you want, and it'll ship in a week.
Oh, you need to know what's new? Well, let's just say that Google has kept a lot of the Pixel Watch 2 the same as the original Pixel Watch (including the design and size), only this time they are greatly improving the Fitbit and health-tracking experiences. In fact, that's the entire pitch of this watch rather than it being a major upgrade in design or battery life or durability. Is that enough? We'll certainly test it to find out.
Pixel Watch 2 Specs: The jump from the original Pixel Watch to this new Pixel Watch 2 doesn't appear, at least on paper, to be huge. That doesn't mean Google didn't improve some of the specs, though. There are pretty big improvements in the variety of health sensors baked in, new Qualcomm W5+ chip, and slightly bigger battery that should last 24-hours with always-on display on. Again, this isn't a massive upgrade, but there are changes and the focus from Google is mostly in the Fitbit integration and new metrics the watch can track more accurately.
For specs nerds, here is the full list of them.
Software: Wear OS 4.0
Display: Round AMOLED, 320ppi, Gorilla Glass 5, 1,000nits brightness
Chip: Snapdragon SW5100, Cortex M33 co-processor
Memory: 32GB eMMC flash storage, 2GB RAM
Battery: 306mAh
Charging: Wireless Fast Cable (USB-C )
Charging time: 30 minutes to 50%, 75 minutes to 100%
Body: Aluminum (100% recycled)
Sensors: Multi-patch heartrate, SpO2, skin temperature, ECG,
Connectivity: LTE, WiFi, Bluetooth 5.0, NFC, GPS, Quasi-Zenith Satellite
Buttons: Side button, haptic crown
Durability: IP68, 5ATM
Other: Microphone, speaker
Size: 41mm (diameter), 12.3mm (height), 31g
Colors: Matte Black, Polished Silver, Champagne Gold
Phone Requirement: Android 9.0+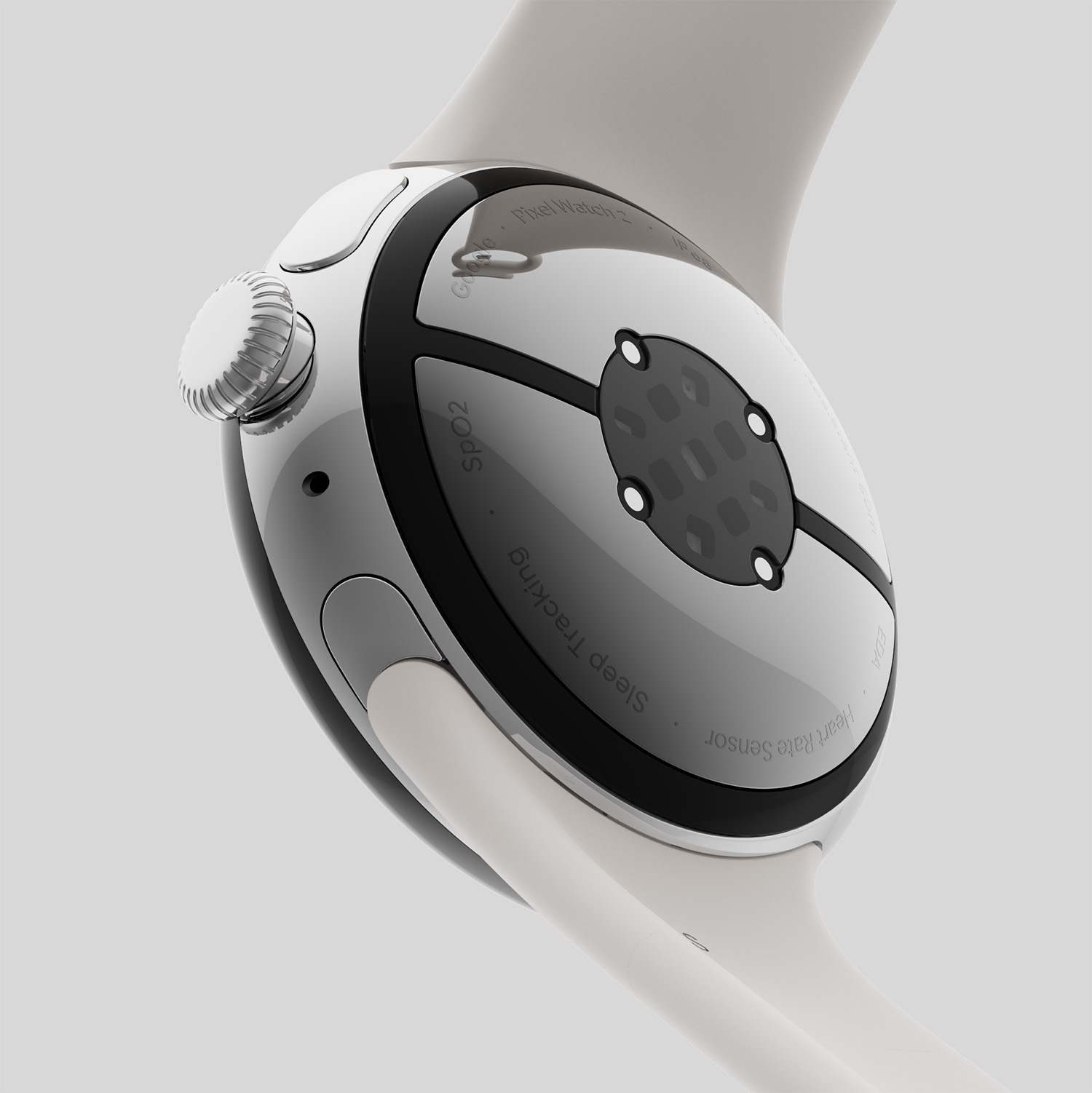 New Fitbit features and health tracking: The new multi-path heart rate sensor in the Pixel Watch 2 is a big deal. This new sensor is built to track all of your activities and even adapt as you work during them by going from single to multi-path modes. There are multiple LEDs and photodiodes measuring from various angles on your wrist, giving you what Google is calling its "most advanced heart rate tracking."
In addition to the new heart rate sensor, you'll find stress management, heart rate variability measurement (HRV), and skin temperature tracking. We now have automatic activity tracking too, heart rate zone training guidance (with personalized heart rate zones), and pace training during runs.
And all of this new info is presented within the Fitbit app on the watch and also on your phone. Don't forget that Google just launched an all-new Fitbit app.
Other new goods: Need to know more about the Pixel Watch 2 outside of the new fitness and health tracking? That's cool. There are other changes worth noting and they are as follows.
Gmail and Calendar apps: Google is using the launch of the Pixel Watch 2 to release Gmail and Calendar apps on Wear OS, which is cool. They told us previously these were coming, so that's great that we now get better experiences from two apps we use countless times in a day.
Safety Check: Google's new Safety Check is on the Watch 2, with tracking that sends information to your hand-picked contacts or family members. This can be used to let everyone know you are safe and have arrived somewhere, or they can start figuring out what to do if you go missing and do not make your destination.
Better battery life: Thanks to the new Qualcomm chip, Google says you'll be able to push your Pixel Watch 2 through a full 24 hours with the always-on display enabled. You may recall that last year, in order to get 24 hours on the Pixel Watch, we had to turn AOD off.
Free Fitbit Premium: Once again, you get a free 6 months of Fitbit Premium if you buy a Watch 2. This is available to new and returning Premium customers.
Pixel Watch 2 is up for pre-order today in Bluetooth/WiFi and LTE models. There are Matte Black, Polished Silver, and Champagne Gold colors available with Google's Active Band in pre-chosen colors. The Bluetooth/WiFi model costs $349 and the LTE model is once again $399. Orders will arrive by October 12.
Pre-order Pixel Watch 2: Best Buy | Google Store