Google and Fitbit showed off a big redesign coming to the mobile Fitbit app. The all-new look provides a "personalized and customizable" experience with a holistic view of your health and wellness that focuses on the metrics you care the most about.
That's a lot of descriptive fluff, so here's what you need to know. The new design adds a "refined color palette" and imagery/illustrations that show people who use Fitbit. There are updated icons for activity tracking and more consistent charts that highlight all of your health trends too.
Fitbit also said they are making it easier to log information, including steps, exercise, and water intake. That should mean tracking what you want to track without a Fitbit device. Interesting concept. For those who use Fitbit to track exercise, more accurate step counts are headed your way, as are easy viewing of live routes.
But maybe the biggest changes is to the overall UI of the Fitbit app. Google is adding a 3-column setup with Today, Coach, and You tabs. Each tab's name makes it easy to understand, but Google still offered a description for each today in a blog post:
Today: In the refreshed 'Today' tab, you'll see your top stats at a glance. Easily customize which metrics you'll view based on your personal goals — whether it's to be more active, sleep better or manage your stress. Better visualize your progress over the past day, month or year with more consistent charts, graphics and icons that show your health trends.

Coach: Head to the new 'Coach' tab to find motivating health and fitness content. Here you can browse through a curated list of workouts and mindfulness sessions. Plus, your Fitbit Premium subscription2 unlocks even more content, like HIIT and dance cardio classes. Whether you're looking to stay fit, eat healthier or sleep better, you'll be able to more easily find the content you're looking for with new filters. For example, filter workouts based on how much time you have and what equipment you want to use to find the perfect session.

You: On the new 'You' tab, you can adjust personal details and goals, manage community connections and track achievements with redesigned badges. Navigate here to reflect on your progress, access assessments and reports, and connect with the people who matter to you most.
And here's a visual of the upcoming Fitbit app redesign: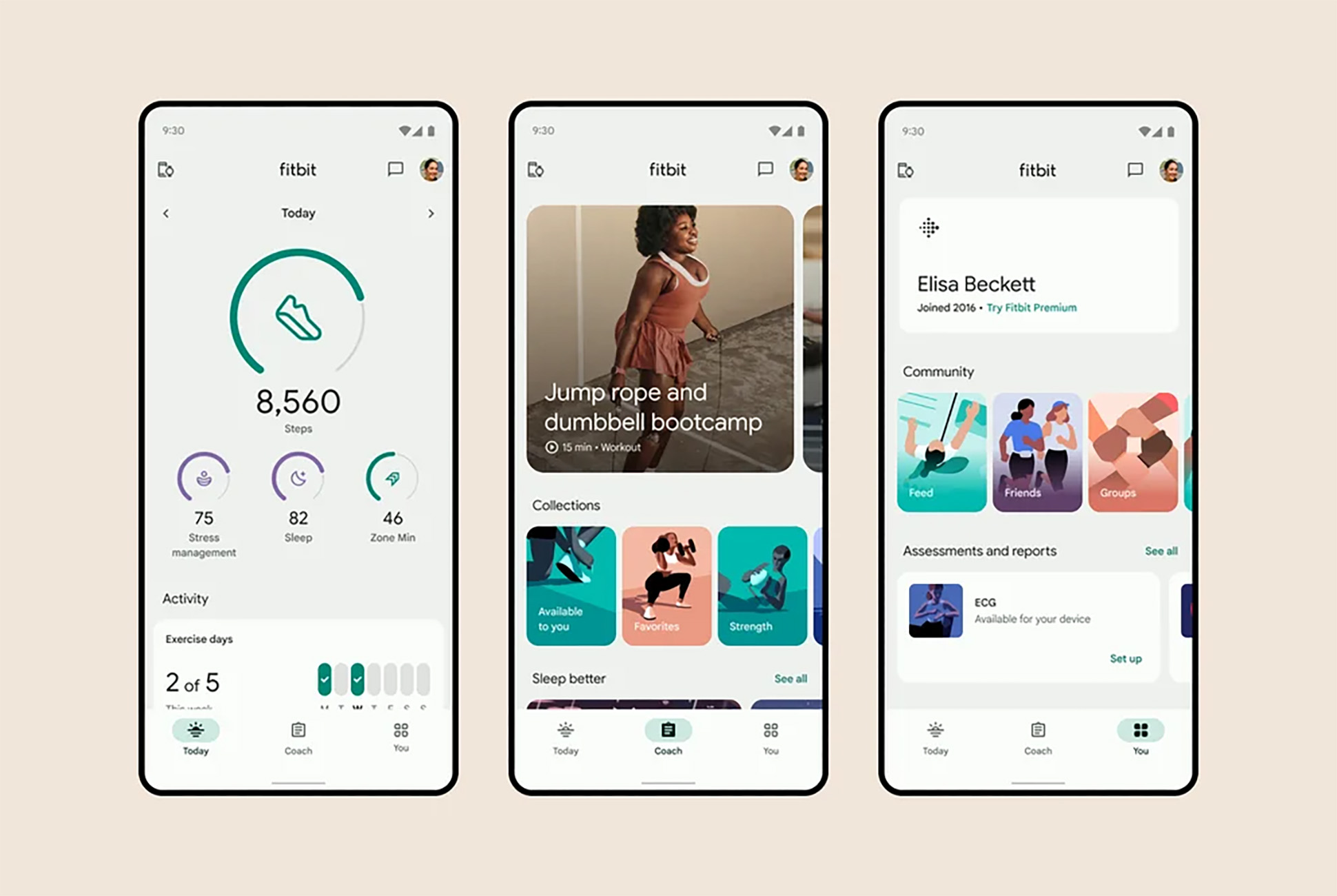 The new Fitbit app will arrive this fall. However, Google is inviting select Fitbit users to try the app earlier in a limited beta. They did not provide a way for you to sign-up to be a part of this beta.