Google Chat is still out there doing its messaging thing, even as Google puts most of its energy into pushing RCS and Messages and there are countless other messaging apps you could use. Hangouts users who made the switch over to Chat do exist and have kept that life going with hopes of seeing improvements from Google.
Today, Google announced that 7 new features are on the way to Google Chat. Yo, that's exciting!
Below, we've got a breakdown of all that's new and when you might start to see it. Spoiler: a bunch of items are already available. But so you know, we're talking about things like Gmail features finding their way to Chat, proper editing, quoting, and apps in personal conversations.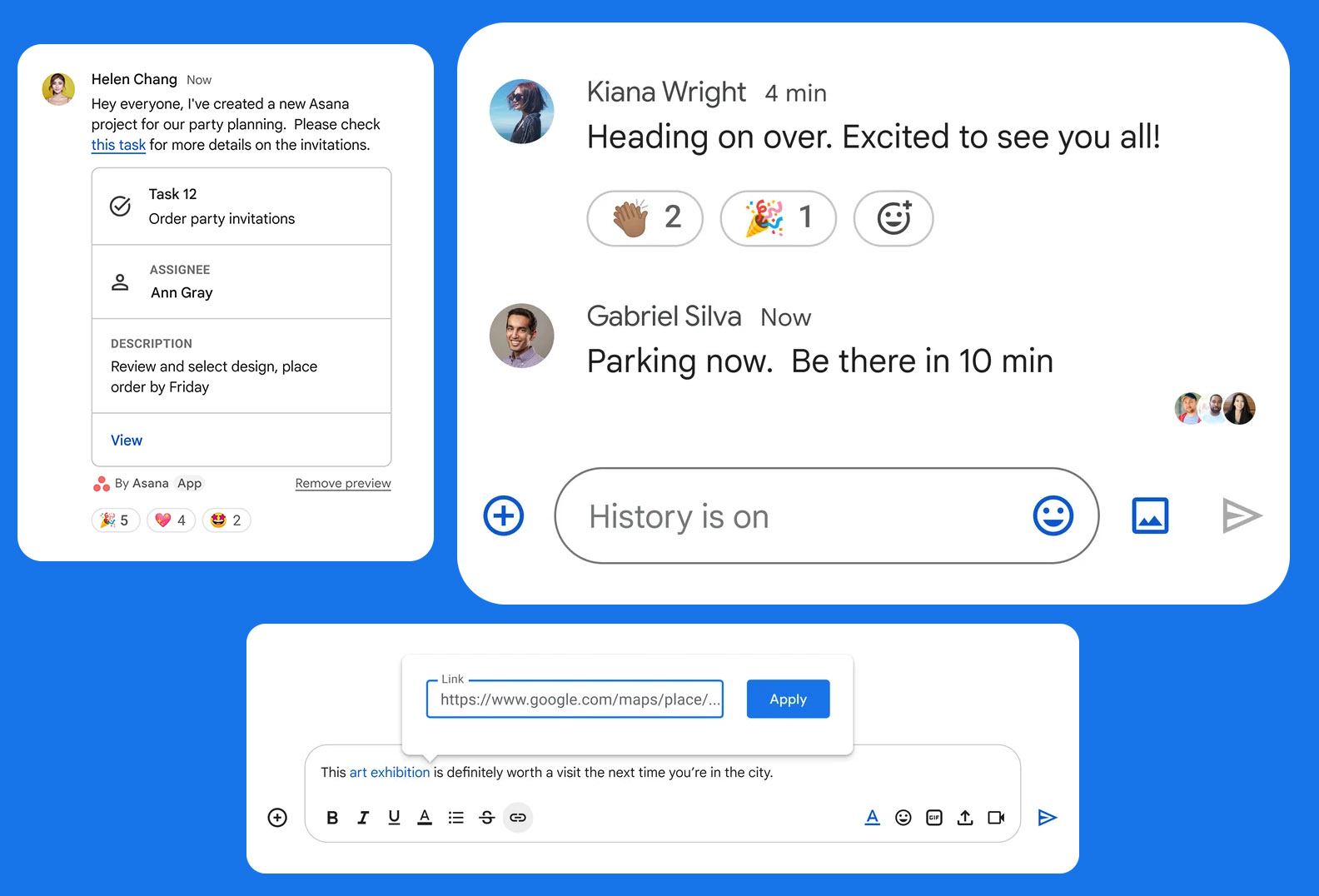 Smart compose: You know that fun auto-complete typing experience you see in Gmail, where the composer knows what you are about to type and lets you swipe or hit tab to finish out a sentence? Google Chat is getting that now. These suggestions are rolling out in English, French, Italian, Spanish, and Portuguese to all Chat users who use the web client.
Edit and delete messages: This is already available to Chat users, but it's new to enough to point out. Google lets you not only edit messages you've sent, you can delete them too. No, you don't have to pay $8.
Message quoting: In large group chats, it might be useful to quote a message in your response to keep your conversation on track with an individual person or topic. Now, when you click the reply shortcut on a specific message, it'll quote that in your reply. This is available to all users.
Read receipts for groups: Read receipts aren't a new thing, but they are now supported in group chats. When in a group conversation, avatars show next to messages that have been read by people within the group. This will being rolling out to both mobile and web this month.
Links in text: Google is going to let you hyperlink text in a chat on the web and Android in "the coming weeks." That means you can highlight text and then turn it into a link rather than having to paste an entire link into chat. That's sweet!
Hide inactive conversations: Google has already started to do this – they will automatically hide inactive conversations that haven't had any action in within 7 days. These conversations aren't being deleted or anything, they just hide from your chat view on the web to leave space for your active conversations. They'll also reappear when someone sends a new message.
Add apps: Google is going to let you add apps to your personal chats "in the coming weeks." That means the ability to add apps like Asana or Zapier or Giphy to help you get stuff done or enhance your conversations.
Who is out here still using Google Chat? Has the experience been fine for the most part after Hangouts died or do you dearly miss Hangouts? As a Telegram user, I can say that I do not miss anything about Hangouts, but am curious if Chat has been a relatively good replacement too.
Google Play Link: Google Chat
// Google