The original reporting didn't miss – Verizon has indeed announced a new "myPlan" wireless plan that's big on 5G yet without all of the bundled freebies that have become a major part of the wireless experience today. Instead of including Disney+ and Apple One with your plan, Verizon wants you to pay for them again with their new myPlan.
The pitch for Verizon myPlan is of a wireless plan that you get to customize by choosing perks. It "puts customers in charge," according to Verizon, because they aren't deciding the services that are bundled any longer. Instead, you get to choose everything from streaming services to more hotspot data to cloud storage to travel passes. There's supposed to be simplicity here, but maybe not the savings you once saw.
Here's everything you need to know about Verizon myPlan.
The plan: Verizon myPlan comes in two sizes of "Unlimited Welcome" or "Unlimited Plus." The Welcome choice is your bare bones 5G unlimited plan without the super speedy 5G, while the Plus option has the speed and some hotspot data added on.
The price: Unlimited Welcome starts at $65 for single lines, but can drop down to as low as $30/line for 4 lines. Unlimited Plus starts at $80 for single lines and drops to $45/line for 4 lines. To get those prices, you'll need to sign-up for autopay and receive a $10/mo discount.
The features: Verizon isn't giving up all of the details until they launch, but it sure looks like you get unlimited 5G data on Unlimited Welcome, and that's it. The data isn't 5G Ultra Wideband, so it'll be slow. For Unlimited Plus, you get unlimited 5G data on 5G Ultra Wideband, 30GB of hotspot data, and up to a 50% discount on a connected devices like a watch or tablet. The Unlimited Plus price is also apparently locked in for 3 years and won't increase.
The perks: Verizon wants you to choose either Welcome or Plus and then customize it with add-ons or "perks" that each cost $10/mo. At $10/mo, those perks should be cheaper than if you paid for them in some other way, so while you are paying $10 each for them, you would technically be saving money. You can see several of the options below, like the Disney+ Bundle, Apple One subscription, 100GB of hotspot data, Walmart+ membership, 3 TravelPass days, 2TB of Cloud storage, etc. You can turn perks on or off at any time to change your bill or selected services.
The date: Verizon myPlan goes live on May 18.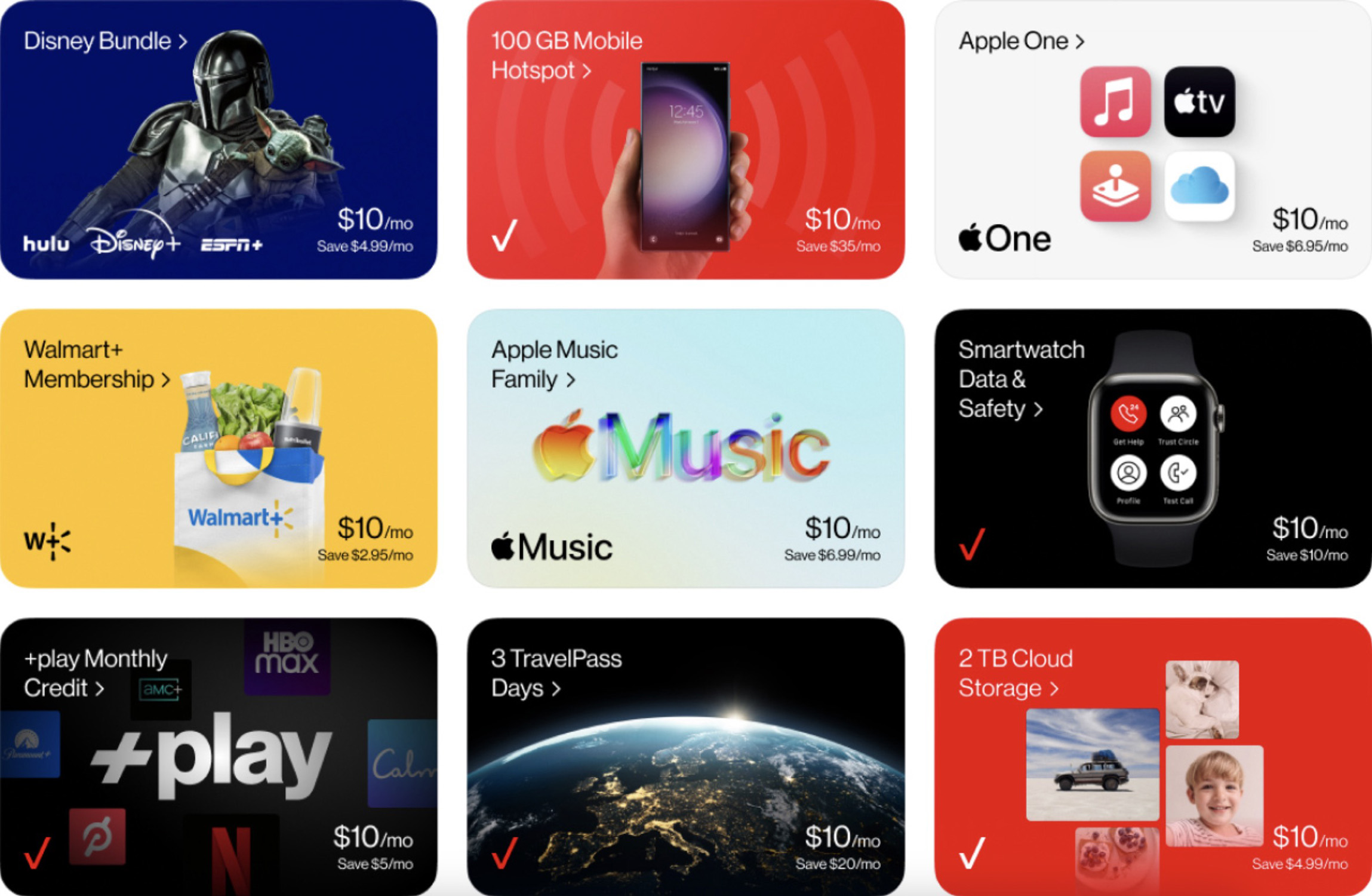 Now that you know the idea behind Verizon myPlan, you probably want to know if it's a good deal or if this sounds as odd (bad?) as you are thinking. Well, we'll likely break this down further when the plans go live on Thursday, May 18, but here's a quick comparison to another of their plans, which we assume will soon go away.
5G Play More ($80/mo) vs. myPlan Unlimited Plus ($80):
There will be bits of information to fill in here, but for now, this a basic breakdown of the two plans with Play More on the left, myPlan on the right.
5G Ultra Wideband data: Unlimited | Unlimited
5G Nationwide: 50GB | ?
Hotspot data: 25GB | 30GB
Disney+ Bundle ($14.99): Free | $10
Apple Arcade / Google Play ($4.99): Free | ?
Apple Music ($10.99): Free (6 months) | ?
Let's say you really like the bundled services included in the 5G Play More plan. Within the first year of service, assuming you use that 6-month trial of Apple Music, you'd see $306 in savings. You do get 5GB less of hotspot data, but you didn't have to pay for the Disney+ bundle at all, or Apple Arcade. You would pay your monthly bill of $80/mo.
If you were to switch from Play More to myPlan Unlimited Plus, you have to pay $10/mo for Disney+ bundle, which would jump your monthly bill up to $90 to start. If they will still let you choose Apple Arcade, add another $5/mo to it. So even if you tried to match those two services, your bill is already up to $95/mo from $80/mo.
My initial reaction to this is that I like that Verizon is pushing the simplicity and also that you get to choose what you want included in your plan. That's cool, but they didn't reduce the price of these plans at all after taking away the previously-included bundles. So if you want any add-ons, you would be paying more than you previously were. Bold move, Verizon.
Again, these plans go live May 18 and we'll have more at that time once every little detail is provided.
// Verizon