The Stadia Controller Bluetooth unlock tool is now live for those who want to unlock their controller for things outside of Stadia, which will soon shutdown. It's a big day for those of us not really into throwing away perfectly good hardware.
For those confused by this, let's talk about it.
The Stadia Controller that Google made for its game streaming platform used to only work over WiFi to play Stadia or as a wired device. It always had Bluetooth within its hardware, but Google wouldn't allow you to really access it as a means of pairing the controller for wireless gameplay to your other devices. It was a weird blockage that never made much sense.
With that in mind, we all know that Stadia failed and will shutdown in about a day. Because the Stadia Controller is a perfectly good controller that folks might want to continue using in a wireless capacity, Google said it would provide a tool that would unlock its Bluetooth capabilities. That tool is now available.
All caught up? Let's unlock!
Google Stadia Controller Bluetooth Unlock Tool
A few notes for those of you ready to unlock, including a first bullet that takes you right to the tool:
To unlock your Stadia Controller, you'll head to this page.
Your controller needs to have at least a 10% charge in order to do this.
From that tool page, a simple set of steps will let you "Switch to Bluetooth mode," a process that will apparently permanently disable Stadia WiFi wireless play. That seems like not a big deal since Stadia is dead.
Google put together a FAQ that talks about any number of questions you may have about switching the controller over to Bluetooth mode and you should read it.
Some of those questions include button remapping, the Assistant button no longer working, still using a wired connection, and no longer being able to use wired headphones in Bluetooth mode. Again, you should read it if you have questions.
PROCESS NOTE: Alright, process complete and it is quite simple. The only tricky part is unlocking the device, as it requires an awkward button combo and the controller provides no feedback as you do that. However, Chrome continues to check that your device is in the right mode throughout and will tell you if you did something wrong. The entire thing took all of 2 minutes and my controller is now unlocked. Go for it!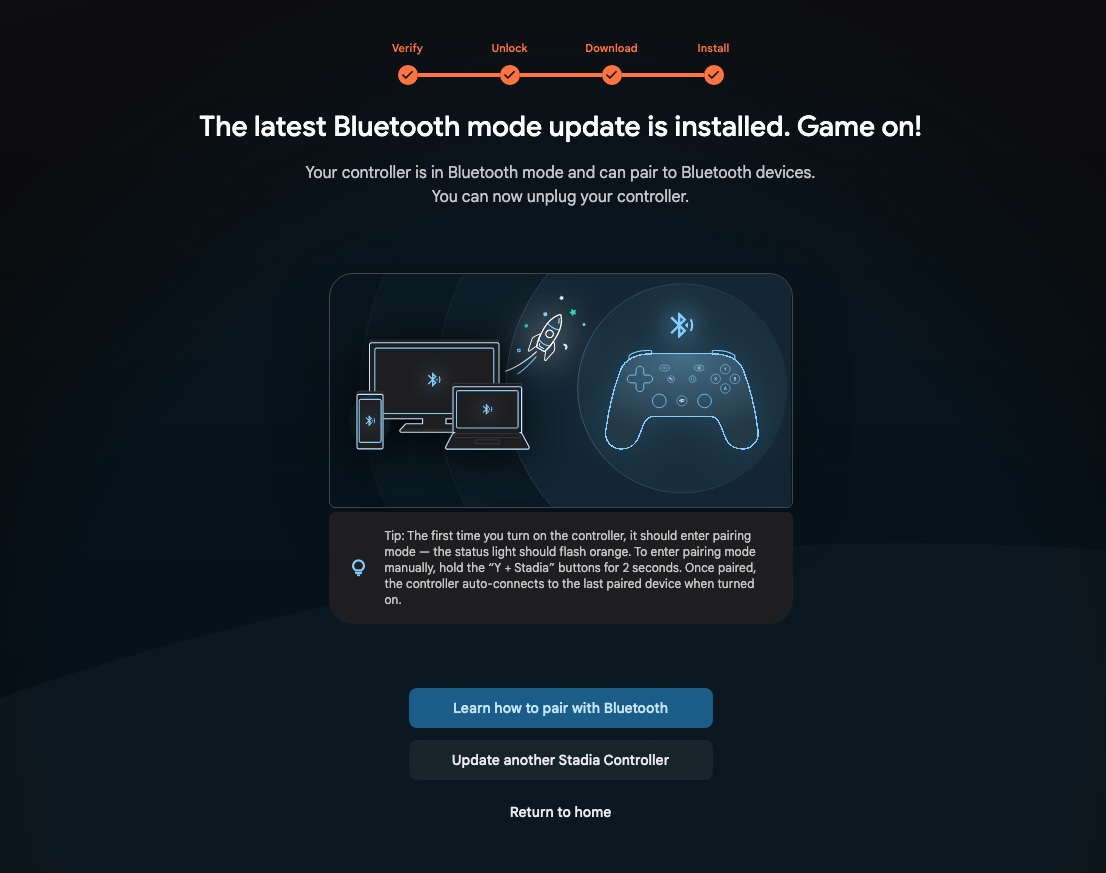 We are going through the process now and will update you if we need to share anything else.
Cheers Kerry!