I still like Wear OS watches, even if the platform has stalled and there are fewer partners than ever to buy a watch from. I wear my Fossil Gen 5 everyday and tend to like it for the most part. While I wish we'd see a breakthrough in hardware or features (like sleep tracking), Wear OS can get the job done if all you need is notification action, some fitness tracking, and, well, that's kind of all it's good for. Oh, this is a watch platform, so telling the time is useful!
And on that note, there are essentially two watch faces that I turn to with every watch I slap on the wrist. Those two are Pear Watch Face and A/D Watchface. I've talked about A/D before, but Pear is another you should have at the ready, Wear OS users.
The beauty of these two are the realistic watch designs that let you watch look less smartwatch and more traditional timepiece. I'm not a huge fan of overdone digital-forward watch faces with 17 complications for battery life and heartrate and steps and calendar appointments and whatever else some of the busier watch faces offer. I like mine minimal and clean, with a complication or two.
Pear Watch Face
Pear Watch Face is free without in-app purchases or upgrades. It features 7 different watch faces and supports various complications. The watch faces range between ultra-minimal to chronograph to Nike-esque sporty digital experience. You can control colors for almost everything, change tick marks and hour/minute markers, plus they feature a super clear always-on display that might actually display brighter than when the watch is awake. If that sounds like it might be awful on battery, trust me, battery life is still just over a day with Pear on there.
Above, you'll see Pear on my Fossil Gen 5 with the Pear Utility face in an always-on state.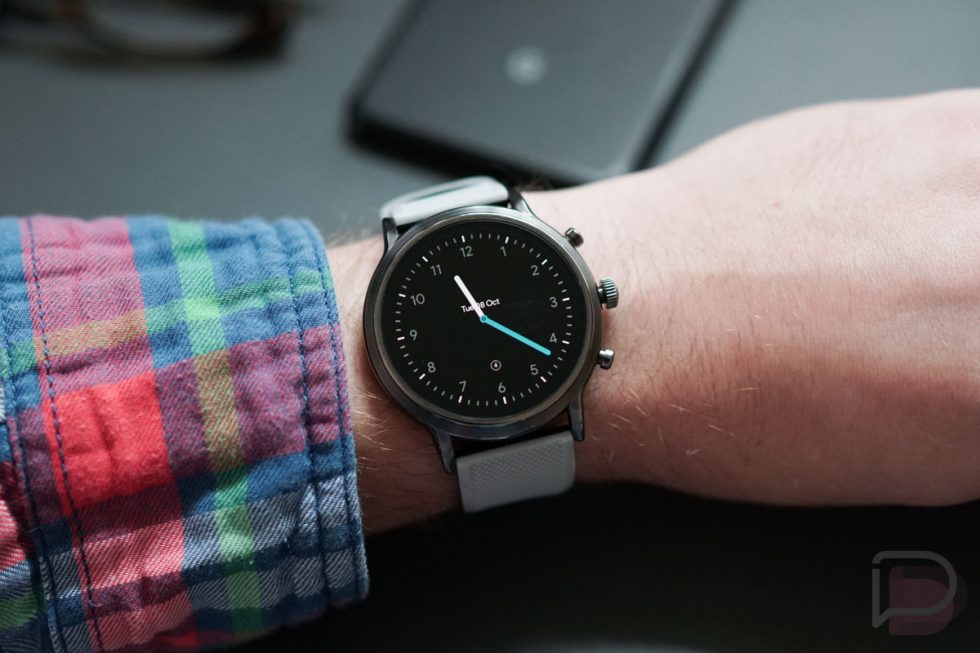 A/D Watchface
Again, I've featured A/D before, but it's just so damn good (and free) that I wanted to point it out again. Like Pear, you can change tick marks and numbers and choose various complications and layouts for them. You also get controls over the always-on display, the colors it shows, and options over hiding or showing everything from the analog to digital clocks depending on the state.
While I'm loving Pear at the moment, A/D might be the best Wear OS watch face ever made and it hasn't been updated in two years. That's both a compliment to A/D and a shot at the state of Wear OS.
---
Got any favorites to share? Drop 'em below.