Thank you to Verizon Wireless for sponsoring this post.
Verizon's 5G Home service has been live for nine months, if you can believe that, delivering speeds at a price you probably won't find from your local cable internet service. Since Verizon was one of the first to launch a 5G network, your opportunity to get that ridiculously fast wireless internet might already be here, especially with Verizon's big plans to expand even further throughout 2019 and beyond to reach millions of customers.
Have you checked to see if your home is Verizon 5G-ready? You can do so right here.
---
Sign-up and get 3 months free, plus more
If you live in a 5G Home area, there are some early incentives for everyone, not just Verizon customers, that you should be aware of.
By signing-up, you'll get Verizon 5G Home service free for the first three months, with no contracts or hidden fees (can cancel at any time). On top of the free service, YouTube TV is included for three months, plus you'll get the choice of a free Apple TV 4K or a Google Chromecast Ultra. Signing up early gets you free equipment upgrades for a year too, as well as priority access to 5G Ultra Wideband mobile offers and devices as those continue to become available.
After those first three months of free service, Verizon 5G Home will cost $50/mo if you are a Verizon Wireless customer, or $70/mo if you aren't.
To start, Verizon 5G Home is available in Houston, LA, Sacramento, and Indianapolis. Again, you can check your address at Verizon's 5G Home site.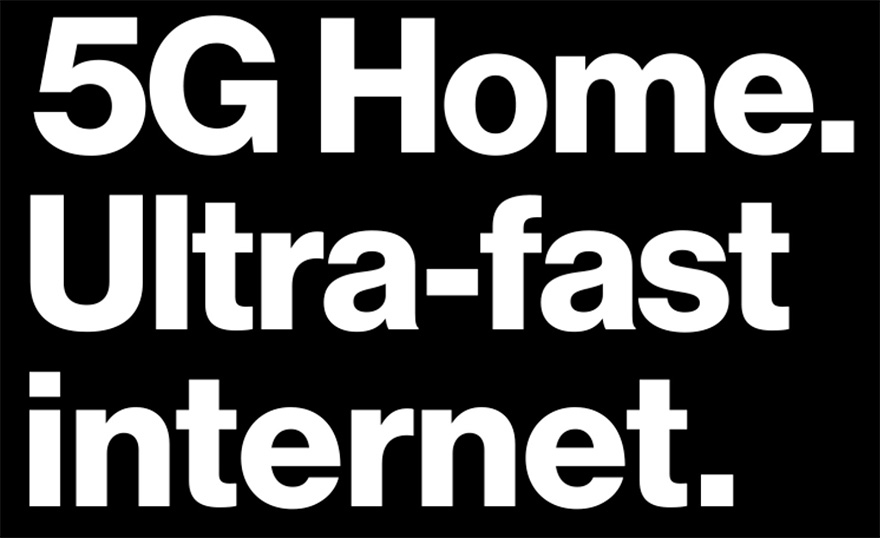 What is Verizon 5G and why do you need it?
You have probably heard about 5G on some level at this point and understand that your future will likely be shaped by it. After all, 5G is the hot tech word of the moment as everyone is participating in this race to get coverage to your area. What you need to know is that 5G will help connect everything in order to make businesses work more efficiently and get you access to what you need faster than ever before.
5G in most areas will initially be powered by 5G millimeterWave (mmW) technology. 5G mmW, which Verizon refers to as 5G Ultra Wideband (5G UWB), is the super-duper fast portion of a complex 5G network.
With those speeds, can download large files in seconds, stream crisp 4K movies on multiple TVs without hiccups, and sweat it out in immersive gaming experiences.
For Verizon 5G Home, your connection will be powered by a 5G node that can be placed inside or outside your home. That node relays the 5G signal from a Verizon Ultra Wideband tower through to your Verizon 5G router. That WiFi router then shares those silly-fast 5G speeds throughout your home.
20 more Verizon 5G cities are coming soon
If you don't live in one of those first four 5G Home markets, don't worry, Verizon 5G is coming to another 20 markets soon with a total of 30 planned by the end of 2019. Those 20 markets are: Atlanta, Boston, Charlotte, Cincinnati, Cleveland, Columbus, Dallas, Des Moines, Denver, Detroit, Houston, Indianapolis, Kansas City, Little Rock, Memphis, Phoenix, Providence, San Diego, Salt Lake City and Washington DC.
When Verizon 5G Ultra Wideband arrives in these markets, along with 5G Home available in some of them, you'll be able to use the first 5G Mobile devices, like the Samsung Galaxy S10 5G.
---
This site may contain links to other websites. We are not responsible for the privacy policies of those other websites. When you click on a link, your information may be collected by those websites so we encourage you to read their privacy policies. Any affiliate links are not associated with Verizon.