One of the perks of this job is the access I have to almost any phone on the planet. I get to test all of the good ones, many of which are sitting within an arm's reach on my desk right now. The OnePlus 7 Pro in Almond is next to me with its big beautiful 90Hz display that I can't get enough of. The Pixel 3 and a Galaxy S10e are here too. The drawer to my left has a Pixel 3 XL, various older Google, OnePlus, Samsung, and LG phones, as well as an Essential Phone or two. They are all here, yet I keep finding myself on weekends not reaching for any of them. Instead, I keep going with the cheapest phone I've used in recent years, the Google Pixel 3a.
There are a number of reasons to grab the Pixel 3a or Pixel 3a XL, but as the title suggests, I like the fact that this phone is plastic. That sounds weird to say, but it's true!
With a plastic phone like the Pixel 3a, using it takes away the constant worry that I've had with phones in recent years. Every new high-end phone is made of all glass, so that means they are fragile and practically force you into strongly considering a case. They force you into babying their every placement because if you aren't careful, that glass will crack or scratch. And I don't like cases! I like phone design. I like to be able to feel a phone, not a cheap $10 piece of plastic or faux leather or cloth on top of the device that Google or Samsung or OnePlus spent hours creating after dozens of prototypes and samples.
The Pixel 3a can be placed down on almost anything. Sure, there is some worry about liquids being around, since this phone isn't water resistant, but with a plastic body, it's just generally more durable. I don't feel like I need a case, and that's awesome, because I've found myself putting cases on phones for the first time in my life on a regular basis. I'd like to not be doing that.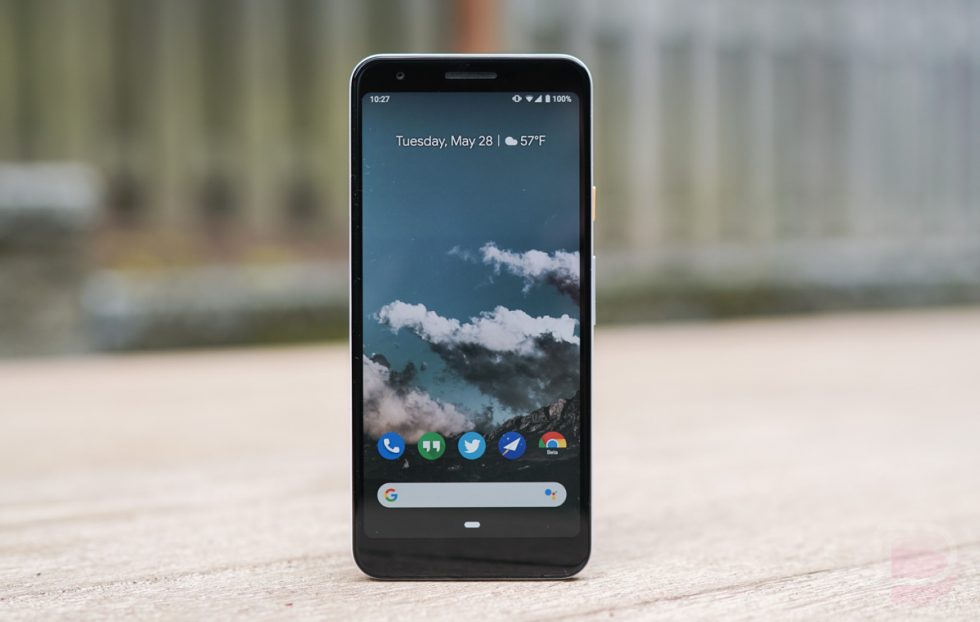 As phones continue to grow in size and add more glass, do you know how heavy some of these things are? The OnePlus 7 Pro is stupidly heavy because it has a 6.7″ display and a body made of all-glass. The Pixel 3a weighs 147g. The OnePlus 7 Pro weighs a whoppin' 206g. That's nuts!
I also don't feel like I need to hesitate before chucking the phone in my car's phone holder or handing it to my son to use for a while or to take on a run or set on a table during a workout or stuff in a bag or pocket. Of course, the phone will ultimately get dings from daily use. I know that all the plastic isn't going to save the display from a pocket drop to the ground. I know that the Pixel 3a still needs to be taken care of, it's just that the level of care isn't as high as an all-glass phone.
Now, this plastic is only acceptable because the rest of the phone experience is too. The Pixel 3a has Google's clean software that gets updates before anyone else, the performance of the phone is good for a $400 device, the display looks nice enough, and the camera is up there with the best in all smartphones. If some of those things were not present, this phone would be at the bottom of a drawer.
But as of today, I'm telling you that plastic is it, if done right. The Pixel 3a is a fun phone. It has helped me get back to worrying less and using a phone more as a tool than as a piece of tech I need to provide unending care for.