Alongside its big Messenger announcements today at F8, Facebook showed off its new Facebook desktop and app experiences. They are calling it a "fresh" design that is "simpler, faster, more immersive and puts your communities at the center." It's super white too, with blue highlights rather than the blue header you've known for years.
You'll notice the changes right away when looking at the images here. The top tabs now offer Home, Watch, Groups, and Notifications shortcuts. The new post action is no longer a separate page either and is instead sort-of a pop-up that doesn't take you fully away from the main Facebook home.
But the big focus is in Groups. Facebook really wants you to care about Groups. They are making it easier for you to discover groups, participate in groups, and all sorts of specific features depending on the type of group. The new UI for all of that can be seen below.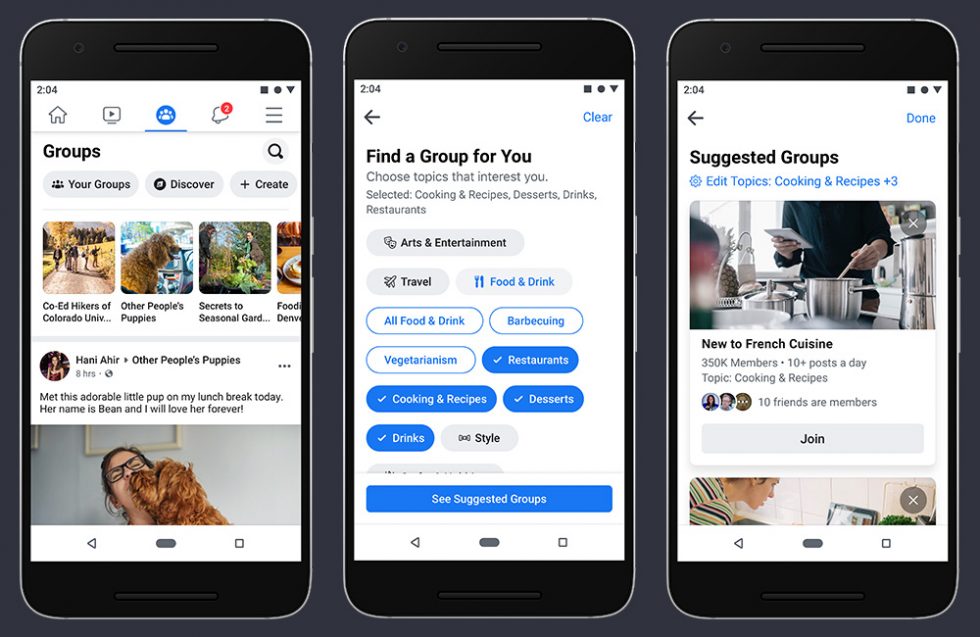 In addition to those changes, Facebook Dating is expanding to more countries (hit the link below to see them all), plus Facebook is letting you add secret crushes to people. If those people also happen to add you as a secret crush, well, have fun.
A new Meet New Friends feature is coming too as a way to help you meet new friends. It's opt-in, so don't worry, you aren't going to get spammed with new friend requests from all of your lonely neighbors.
Finally, a new Events tab is coming this summer, with recommendations, events happening around you, help in discovering new businesses, and tools to better coordinate events with friends.
The Facebook apps are getting updates "right away," while the desktop will see them in the "next few months."
// Facebook