T-Mobile has disrupted the mobile industry enough. Now it's taking on the banking industry. Announced this week is T-Mobile Money, a mobile-focused banking solution for the US, a country that is managing its money more and more via mobile devices.
The Basics
What you need to know about T-Mobile Money is very straightforward. This is a checking account, managed with a smartphone app, where eligible T-Mobile customers can get 4.00% APY on account balances of up to $3,000. For every dollar over that, you'll receive 1.00%. A lot of different banks carry different annual percentage yields, but considering the national average of just 0.06% APY, T-Mobile's offer is very good if you're someone who sits on their money.
Fees are the next big thing. According to T-Mobile, there are none, but there is fine print here. For example, there is no overdraft fee, unless you overdraft over $50 or don't have a positive balance within 30 days of the initial overdraft. There is also no monthly fee associated with the checking account, no minimum account balance required, and there is a network of 55,000 no-fee ATMs available for access with a dedicated T-Mobile Money debit card.
Much like it does when comparing itself to wireless carriers, T-Mobile took plenty of time to compare its offering to the major US banks.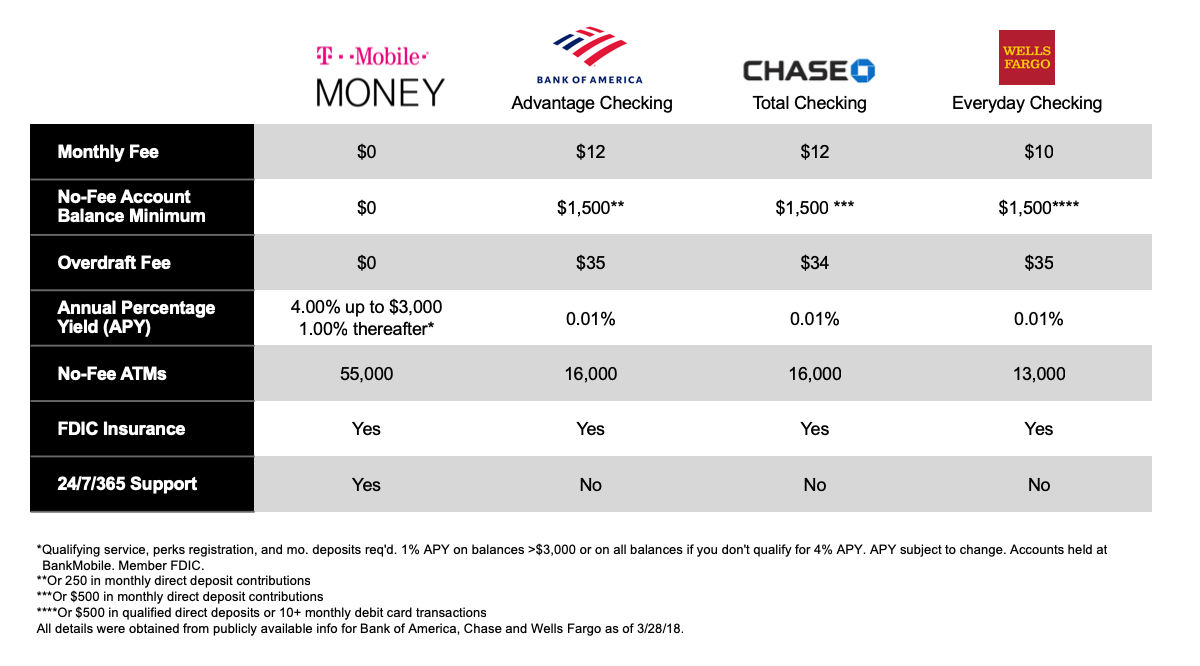 Another attractive aspect of T-Mobile Money is the customer support. As detailed, members have access to 24/7, 365 specialist support through the dedicated T-Mobile Money app. You never know when money issues will arise, so having that support line could always be beneficial.
Anyone can sign up for T-Mobile Money, but it appears that being a T-Mobile wireless customer will get you the best perks, such as the 4.00% APY. If you want to check out T-Mobile Money for yourself, download the app by following the link below.
// T-Mobile