Almost a year ago to the day, a Googler slipped up and mentioned the "Pixel 3" for the first time at the Android Open Source Project (AOSP). This was the first slip-up or acknowledgement about upcoming phones outside of the codenames we leaked months earlier, but certainly set off a wave of additional outings of 2018's Pixel phones. Today, the first "Pixel 4" chatter at AOSP is here.
In a comment through a commit about a "false positive KASAN warning," we see someone mention that they were deploying a patch for this false positive warning on a Pixel 3, with plans to do something similar on a Pixel 4 should they get their hands on one. The details there don't actually provide much, in case that wasn't obvious, we just care that someone at Google mentioned "Pixel 4."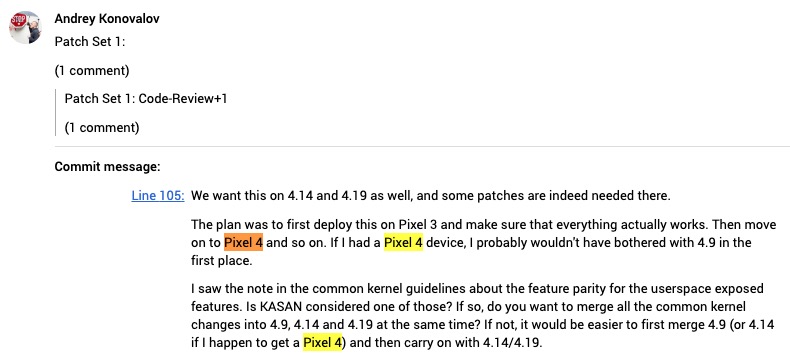 What else can we take from this? Not much, really. If anything, it's at least more substantial evidence of a Pixel 4 than those conceptual renders everyone passed around as being something legit a couple of weeks ago. This could mean that the first big wave of Pixel 4 leaks is close if devices are in the hands of engineers or developers.
Last year, after the Pixel 3 AOSP sighting, we got a picture of screen protectors  in May that turned out to be legit, followed by a first hands-on leak in June.
// Google Source | 9to5Google