After last year's initial debut of smart displays at CES 2018, it shouldn't surprise anyone to see new models show up for CES 2019. Lenovo gave us that cute little clock version and KitchenAid introduced the ultimate kitchen version. But it's another Lenovo smart hub like product that is probably the most important of the lot, it just doesn't run the Google Home platform. If Google is paying attention, this is an idea they should go after.
The device is called the Lenovo Smart Tab with Amazon Alexa (buy). As you can tell from that name, it's a smart home hub with Alexa instead of Google Assistant. This one differs from most, though, because it is more than just a hub that'll never move off of your counter or desk.
The Lenovo Smart Tab, as you can see above, looks like a normal smart hub. If you look below, you'll see why it might be the future Google should explore. Not only does this Smart Tab do the classic home hub stuff, you can undock it and take it with you as a tablet.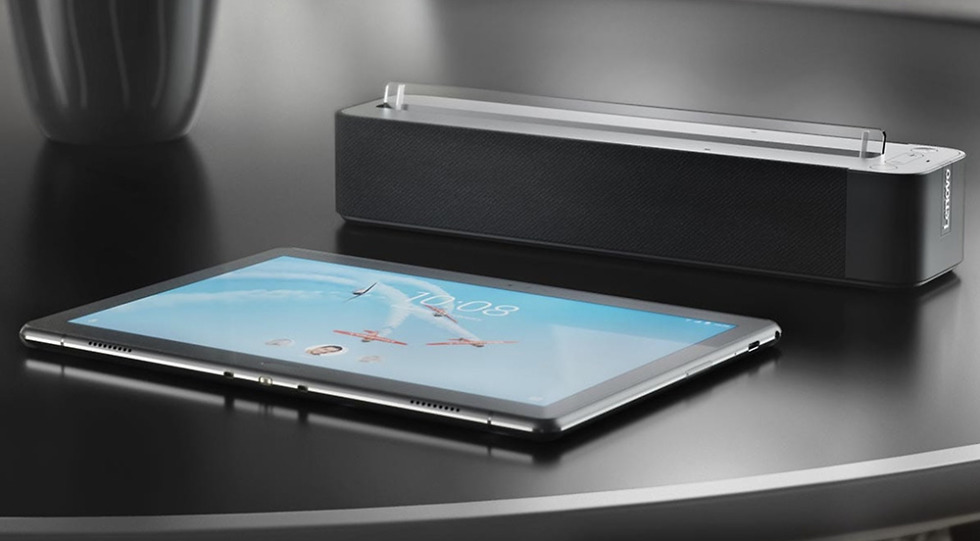 Why is that so important? Well, for one, it gives you more uses for the tech you spent a couple of hundred dollars on. While the Google Home Hub on your counter sits there after being used to cook dinner, the Lenovo Smart Tab, because it's detachable, can join you on the couch later, in the bathroom as you get ready for bed, or on your nightstand until you get up and dock it the next morning.
Think about things like Nest integration, where Google smart displays can fire up your camera as someone rings your Nest doorbell. Is that useful to you if your Home Hub is in the office and you are in the kitchen? What if you want to listen to your morning briefing as you move throughout your house or have the step-by-step recipe you are following, follow you from one side of your kitchen to the next? Because smart displays are stuck in place, those are unfortunate limitations.
Now, while this particular tablet runs Android and is powered by a Snapdragon 450 processor with fingerprint reader, cameras, speakers, and a big display, it's certainly not a fully spec'd out beast that you'd want to do any serious gaming or tasks on. But it will probably do a good job as a house companion. And if that's all you need it do – act as a home control hub as you move around your house – it should be enough.
I'm also not sure the tablet needs to run full Android when undocked either. Or maybe you could flip between a Home Hub experience and full Android (for those who want it), but I wouldn't have a problem with it staying simple and really just acting like a portable home control slate. Google has introduced some nice updates to smart displays in recent months to give them more touch controls, which would only see more use if portable.
It all makes a lot of sense as a concept, we just need one that doesn't run Amazon's bad software.