Over the summer, just as the World Cup was kicking off, the folks at Hisense announced a new high-end line of 4K TVs with Android TV on board and asked if we'd be interested in reviewing one. While TVs are something we don't typically take a look at, having Android TV as the only operating system – as well as the reasonable price tag and set of features – was enough for us to get busy with a bit of testing.
Specifically, I've been using the Hisense H9E Plus 55″ with 4K resolution. They sell a 65″ model as well, but for testing purposes, I didn't really have room for that bad boy and went with the smaller of the two. The two TVs are essentially identical outside of the size difference.
What should you know about the Hisense H9E Plus 55″?
For one, this TV can be had right now for around $600, which is kind of bonkers for the package you get.
This is a 4K TV (3840×2160) that uses Hisense's ULED technology with features like Wide Color Gamut, HDR, Ultra Motion Rate 240 (native 120Hz), and a UHD Upscaler. It also supports both Dolby Vision and HDR10, and does 4K Casting, like Google's Chromecast Ultra.
For specs, you've got 2×2 dual band 802.11ac WiFi plus a gigabit ethernet port, 4 HDMI ports, 2 USB ports, 1 RF sensor, 1 RCA composite input, and 1 Digital audio optical output.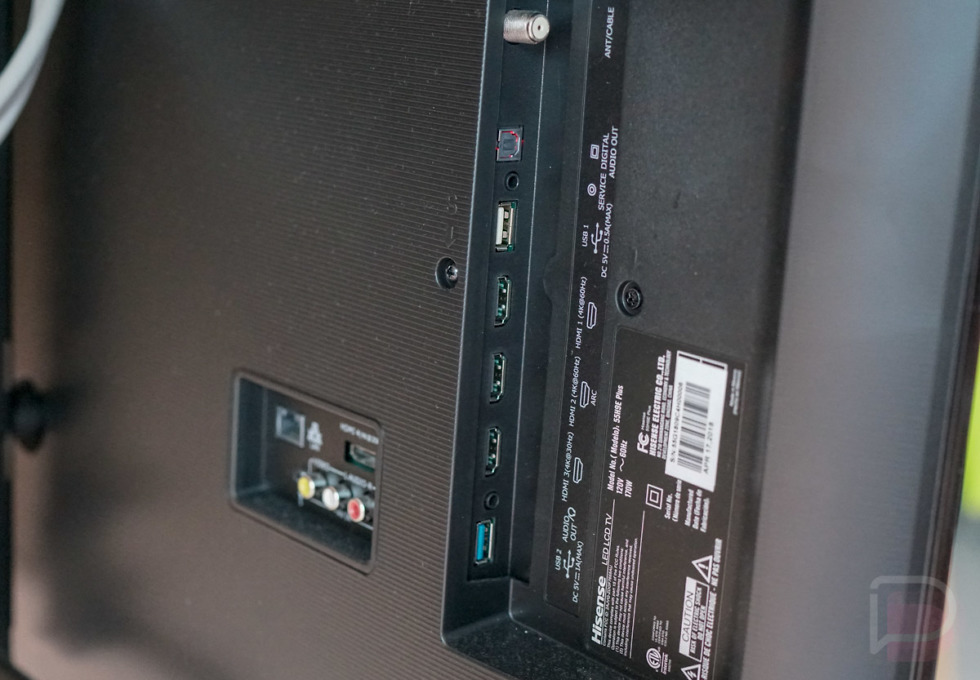 It runs Android TV, as I just mentioned, without any other Hisense UI anywhere to be found. All settings for the TV are built into the Android TV experience, the only home UI you have is that of Android TV, and you get access to Google Play and Assistant.
Everything is controlled with a Hisense Bluetooth remote that has a dedicated Google Assistant button, as well as shortcuts to Netflix, Google Play, Sling TV, YouTube, Fandango Now, and Tikilive. It's a dead simple remote, which is pretty on-trend for TV remotes at the moment.
Finally, the TV comes with a stand, but I went ahead and tossed it on the mount I already had in my house while testing.
What's the Android TV and software experience like?
Hisense was one of the first companies to ship a TV with the new Android TV Oreo experience. In fact, in the summer when I first starting using the TV, it was already on Oreo out of the box with the new and improved layout. It hasn't picked up many updates since (still June security patch), but Google also hasn't really pushed out any to the platform that I'm aware of.
The UI is arranged sort of like a TV guide where the channels on the home screen are the apps you have installed and content you may want to check out or have already been watching. You can customize this to an extent to show only specific apps and types of content. It's a massive improvement over the previous Android TV experience for finding quick content to watch. If you own an NVIDIA SHIELD TV, you know exactly how this all works.
All of the TV apps you want are available: Netflix, Google Play Movies, HBO Now and Go, Hulu, ESPN, YouTube, YouTube TV, YouTube Kids, Sling, Starz, Disney Now, etc. Since Google Play is there, you can download other Android apps too, like Spotify, Nest, and any number of games. It's Android TV, which is pretty solid as a TV platform.
Hisense still gives you a number of settings to tweak for the TV too, even if it is all run through the Android TV UI. There are 7 picture modes (Vivid, Standard, Energy, Theater, Game, Sport, and Calibrated), manual controls over things like contrast and brightness and color, just like most TVs, some settings over motion enhancement, and noise reduction options. You have multiple sound profiles, timers, and more.
Overall, the software experience is quite good if you are a fan of Android TV (I am). It's a bit stuttery here and there, though, and there are some annoying UI bugs (Ex: selecting apps often opens a weird menu rather than just opening the app), but it all works pretty well as the only software experience on the TV. I was worried that Hisense was going to combine their own TV software with Android TV in a bad way, yet they completely refrained from doing that. This is pure Android TV from what I can tell.
That's important because an Android TV lets your TV act a bit like your phone, where you are in complete control. I've owned other "smart" TVs before that use their own software and suggest they support some apps like Netflix, yet are always half-baked, frustrating to navigate, and often don't support some of the more random apps I might want. This Hisense TV, with Android TV, has everything I need. If I want to pull up all of my Nest cameras, I can do that. If I want to check the weather on Google Assistant, I can. If I want to tell Google Assistant on my Google Home to open Stranger Things on Netflix on that Hisense TV, that's just a voice command away.
How's the picture quality?
Look, I'm not exactly the typical TV reviewer, but I think this 55″ ULED 4K panel looks fantastic. This H9E Plus has that OLED-like color pop that wows during demos if you want it. You can drop the color profile to a more natural look too, optimize for sports, change the motion rate to match whatever you are watching, that sort of thing. The clarity, the sharpness, and the 4K experience are far better than I expected from a TV at this price point.
Now, ULED is not OLED. In fact, ULED ("Ultra LED") is just a fancy spin on an LED panel that Hisense has named through improvements like support for Wide Color Gamut, Local Dimming, 4K, and Smooth Motion Rate. And that's why this TV is so much cheaper than an OLED TV, because it's not OLED. Like I just said, though, it looks great to me.
I have a Sony 65″ 4K Android TV with HDR that I bought in 2016 for $1,700 and the colors on this Hisense panel are far more appealing to my eye. A $600 TV crushing my supposed-high-end Sony TV from 2 years ago is a constant reminder why buying ridiculously expensive TVs is never really a smart idea.
Other notes:
Design: This Hisense H9E Plus is a nice looking TV. There isn't anything particularly exciting about the design, but the bezels are quite slim, with only a thin black border encasing the display. Hisense tells me that they did quite a bit of bezel slimming this year for this H9E Plus line. I will say that the marketing imagery are somewhat misleading in bezel representation. There is a good inch in bottom bezel and 3/4″ on the left, right, and top, while promotional images try to show it as almost non-existent. It still looks fine while you are watching a movie or show or while the TV is doing its best to look pretty on your wall, just don't fall for that sneaky promos.
Sound: The four speakers (including two 10W speakers) on this TV are crazy loud if you want them to be. For built-in TV speakers, I've been impressed by the level of audio they put out. Sure, you aren't going to get a full surround sound experience or even soundbar quality sound, but the Harman Kardon system is quite good. Not only that, but with Bluetooth built-in, you can easily connect a soundbar or pair of your favorite headphones.
Remote: The remote is really cheaply made. It feels like cheap enough plastic that if you squeezed it hard enough or accidentally stepped on it, that you would crush it. The buttons aren't satisfyingly clicky by any means and are squished together in a way that caused me to constantly mix-up the home and down buttons, plus the permanent Fandango Now and Tikilive buttons are a head-scratchworthy decision. You don't often buy TVs for their remotes, so even if this one is pretty cheap, I wouldn't worry too much about it.
2nd review unit: The H9E Plus I'm reviewing here is actually the second unit I've had from Hisense. The first had some sort of issue where the TV would take a long time to wake up from being asleep and also struggle to stay connected to my home WiFi. Hisense assured me that this wasn't a widespread problem and sent me a new unit to test. I haven't had those issues with this unit.

Should you buy one?
If I was in the market for a new TV, had a sub-$1000 budget, and don't necessarily care about having a TV that says "Samsung" or "Sony" or "LG" on the front, then yeah. For $600, you get a 55″ 4K TV with a really nice picture, all of the fancy TV technologies you'll want going forward (Dolby Vision, HDR10, Wide Color Gamut, etc.), and Android TV powering it.