I recently took a long road trip, one of the best times to put a smartphone camera to the test. Because we have a few new phones out on the market, namely the OnePlus 6 and LG G7, I figured I'd bring them along and see how they stack up to the Pixel 2 XL. I still consider Google's flagship to be one of the best mobile photography experiences available, so it's a good benchmark.
My trip took me by car from Portland, OR to Salt Lake City, UT, a gorgeous territory with large mountains and substantial bodies of water. Flowers were in bloom, too, and puffy white clouds were plentiful. I was also able to take a trip to the Tracy Aviary in SLC, so you'll see plenty of close and personal bird shots.
While I will mostly let the photos speak for themselves, there are a few things I noticed right away that I need to share. The Pixel 2 XL is still amazing, even on this Android P developer preview. I still wish Google provided additional shooting modes, like a Manual or Slo-Mo mode, but there isn't much like being able to pull out your phone and getting the shot you need with speedy auto focus (AF) and a very fast shutter speed. You don't need much more on a mobile phone.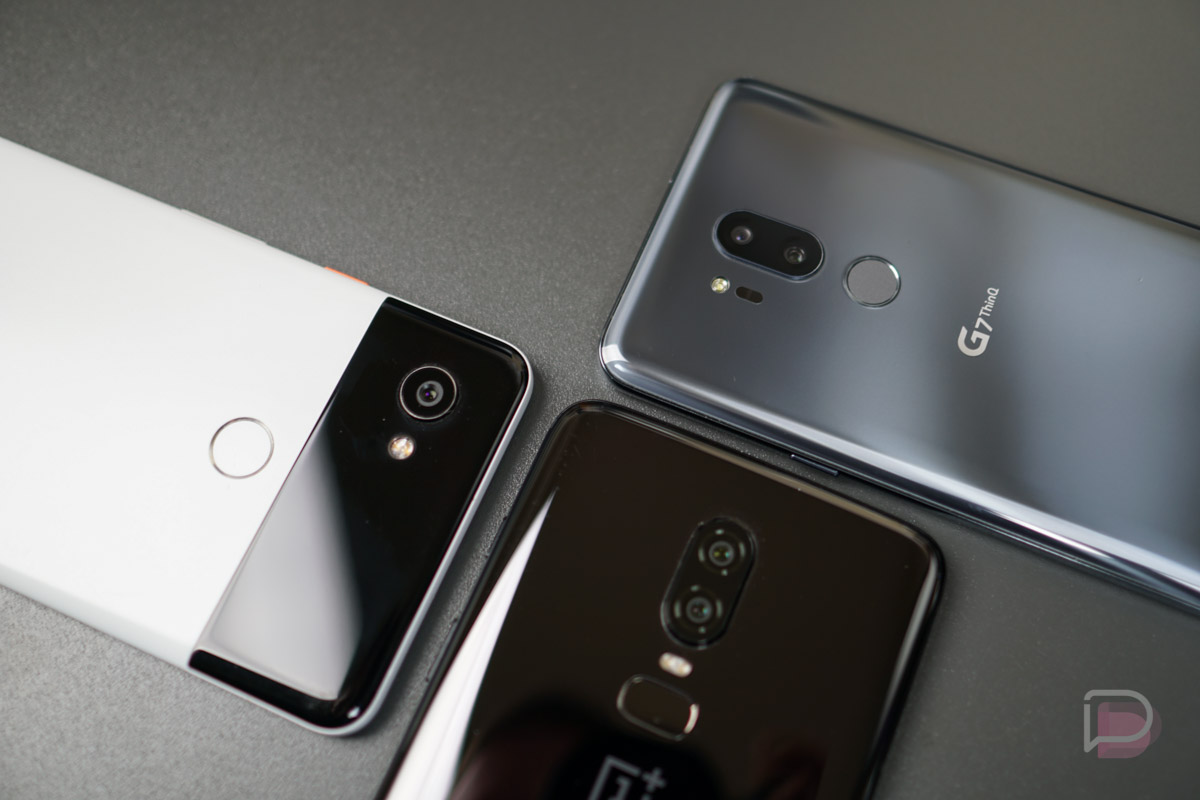 For the OnePlus 6, the quality of photos is very nice and it has no problems shooting in light or darker environments, but I found that you must be overly certain about what the camera is focused on. For example, I would tap on something close for a macro shot, but the phone instead focuses on the background. It was extremely annoying and ruined at least a couple of shots I tried to get (you may spot them below), but hey, that's why we do these comparisons. Other than the finicky AF, the camera is quick to shoot and I enjoyed the various shooting modes. The Portrait feature isn't bad either.
LG's G7 was pretty much as I expected and discovered during my review period. The phone is substantially slower than the other two, but once your AF is complete and the shutter decides it's ready to respond to your tap, the shots come out looking just fine, albeit it a little over exposed.
All of the below shots had no edits done to them, just a bit of resizing.
Pixel 2 XL | OnePlus 6 | LG G7
Panorama
Portrait
4x Zoom
After uploading these photos to a desktop and looking each one over, I have a few more thoughts. Quite clear to me, the G7 brings in a ton of light, so much so that a few shots can be overblown and in need of a bit retouching with the exposure levels brought down. That added lighting boost does help it in darker conditions, though, so if you plan on retouching photos after the fact, keep that in mind.
While I don't think there are winners and losers per se, it's my belief that the OnePlus 6 was able to capture the closest thing to what my eye saw with regard to color and lighting. Every instance is different, but for the most part, I'd give the accuracy checkmark to the OnePlus 6. As for which photos I think are more pleasing to look at, I still go with the king of mobile photography, Pixel 2 XL. The way it balances lighting and contrast is spot on for looking back at the places you've been and the things you've seen.
What do you think? Is there a clear winner here?