I'm just going to come right out and say it – the OnePlus 6 is an easy recommendation. Now, that doesn't mean it isn't without some flaws, so even though I just spoiled the review for you, you should stick around to see if some of those flaws might be dealbreakers to you.
As you already know, the OnePlus 6 continues a steady improvement on its predecessor, which did the same from the phone that came before it and the one before it. In this 6-month cycle of phone refreshes from OnePlus, it may not seem like we get a massive upgrade with each new device, but OnePlus is doing a decent job of still making upgrades worth it from year to year at the very least.
The OnePlus 6 adds a new processor and an extra big storage option, introduces a display notch, included a new main camera sensor, and tweaked the design and material choice some. These aren't massive upgrades over the OnePlus 5T, but probably are over the OnePlus 5 that came out a year ago.
Let's dive into it – this is our OnePlus 6 review.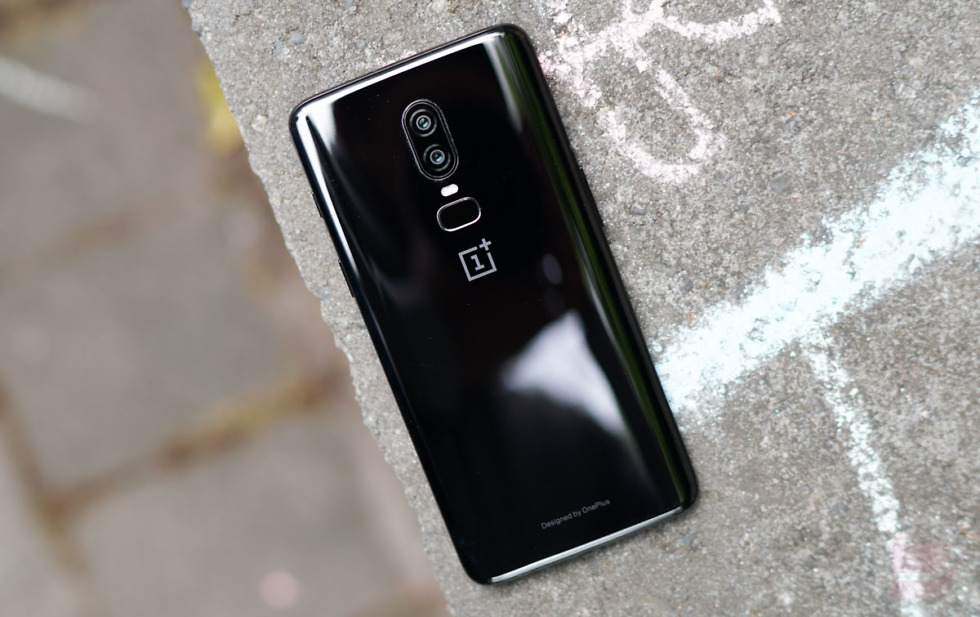 The Good
---
Software and Performance
The software of the OnePlus 6 is the reason why I like this phone as much as I do. OnePlus really does get it. They take a clean build of Android 8.1 from Google and then add a handful of improvements to areas that matter through their OxygenOS skin (v5.1 here).
They don't put an unnecessary amount of time skinning it to change its appearance or add in equally unnecessary music, mail, and calendar apps. What they do do, is include useful gestures from the lock screen, let you choose a navigation button style that works for you, bury status bar icons you don't need to look at all day, calibrate your display color profile, become a pro gamer with a gaming mode, schedule power cycling, and use night or reading modes. They give you enough sound settings to get audio guys by, let you choose how much the app switcher "clear all" button clears, and even setup a custom icon pack.
Outside of the useful software tweaks, what really impresses me about OnePlus phones is their performance. We've seen that mostly-stock Android can run like trash, just look at the Essential Phone. OnePlus ships that clean version with their own minimal feature pack and their phones never stutter. You get in and out of apps, into the app switcher, to a game, back to Twitter to YouTube to Instagram and back to a game, and I just never see these phones slow down, including the OnePlus 6. I don't know what OnePlus has figured out when it comes to optimizing RAM and Qualcomm chipsets, but there are some other companies out here that could take note. I'd compare OnePlus 6 performance to the Pixel 2 XL, which is a hell of a compliment.
We also shouldn't forget that after a rocky software update start, OnePlus has settled into a nice groove over the past year. The OnePlus 5 and 5T have been updated nicely, there are OxygenOS beta programs you can be a part of to test features early, plus the OnePlus 6 is already a part of the Android P Beta program, which few other phones are. OnePlus sure looks like they are taking updates seriously and have figured out a process that gets new software on their customers' phones much quicker.
Honestly, I can't say enough about OnePlus software today. They really do get it.
Design
In the design department, I'm actually kind of torn. I do like the way OnePlus designs their phones. They do this "horizon" thing that I'm not going to try to explain, but they fit nicely in hand, look sleek, utilize darker colors for added sexiness, and typically present themselves as a phone that should cost hundreds more. With the OnePlus 6, that's the case again, outside of one thing. I hate all of this glass.
So that's why I'm torn. Everything about the feel and look of this phone is pure OnePlus style, a style I approve of. But then they tossed this extra layer of glass on the back and now I can't use the phone for 5 minutes without worrying about it scratching, grabbing five fingerprints, or cracking. I'm now scared to use the OnePlus 6 and that sucks, because a phone this good shouldn't give you fear.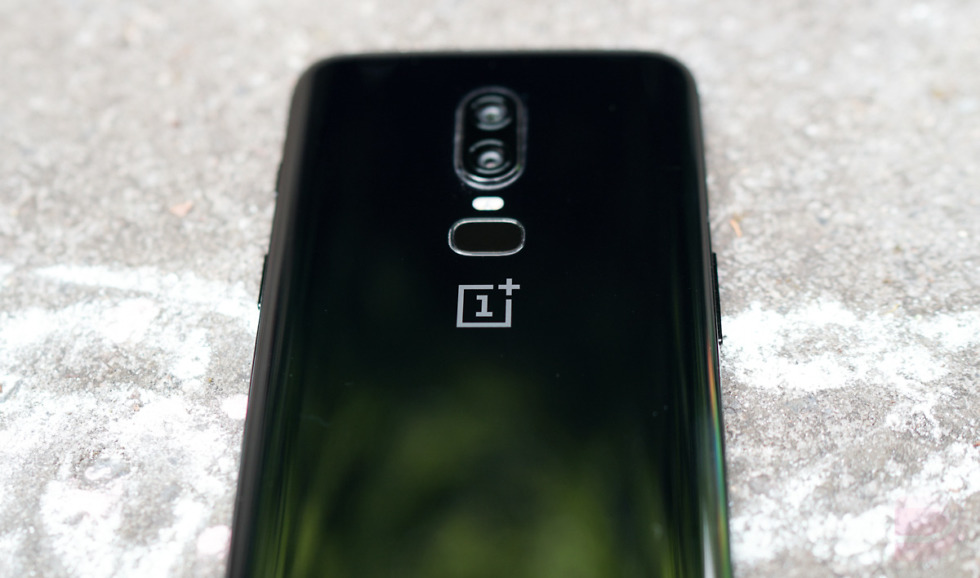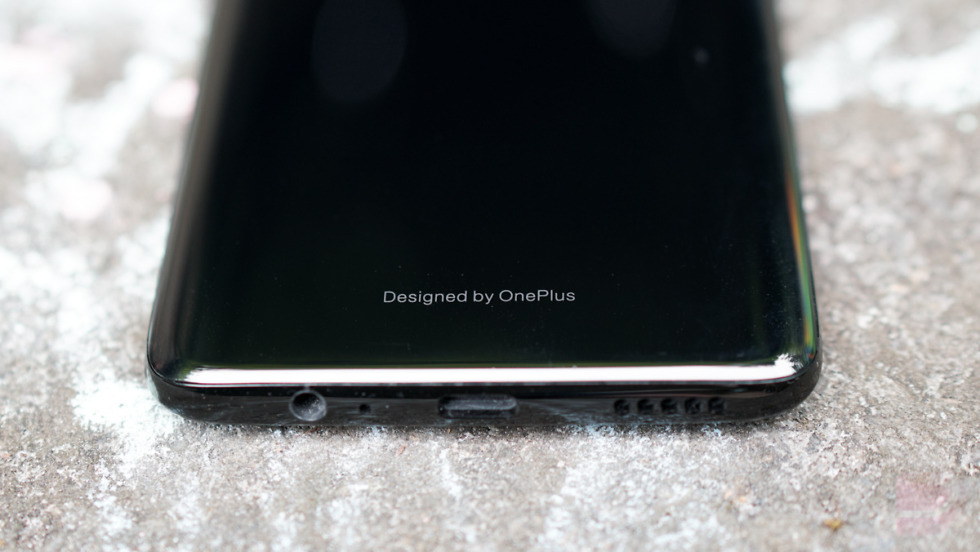 And if you are about to say something in the comments about cases, shut it. You shouldn't have to use a case on your phone because the company designed it to be extra fragile. That's a flaw in the design, not a flaw in my thinking about phones. Companies should make phones to last, not just look pretty.
I'm positive overall on the design because I do think I'm in the minority here. Companies want you to believe that glass is premium because it looks and feels amazing. But glass isn't a premium material. It's fragile. It scratches. And it attracts fingerprints. It's a terrible material that almost everyone now uses for the worst reasons. However, the phone does look nice, especially the Midnight Black model (I'd avoid the Mirror Black every day of the week). It feels even better in hand, even with its large display. I guess, just put a case on it.
Specs
The OnePlus 6 is quite the package on paper. Like previous OnePlus phones, the 6 isn't missing much. You've got the latest high-end Qualcomm processor (Snapdragon 845) powering it, 6GB or 8GB RAM, storage that starts at 64GB and tops out at 256GB, 6.28-inch full HD AMOLED display (1080p, 19:9 ratio), 3300mAh battery with fast charging, dual rear camera setup (16MP + 20MP, f/1.7), front 16MP camera, USB-C port, headphone jack, fingerprint reader, alert slider, Bluetooth 5.0, and Android 8.1 under OnePlus' OyxgenOS 5.1.
What's the OnePlus 6 missing? Wireless charging, stereo speakers, a microSD slot, and true water resistance, for those needing something to ding it for. OnePlus phones haven't had SD slots in many years (ever?) and I don't think they've ever had wireless charging or stereo speakers either. As for the water resistance, well, they added some level of water resistance to the OnePlus 6, but aren't willing to give it an official rating. In other words, it might be OK in some wet situations and not so much in others.
Outside of those four things that OnePlus phones have never had, it has you covered.
Display
I'm totally fine with the OnePlus 6 display, notch and all. As has been well documented at this point, the notch trend pisses me off because it makes it look like Android manufacturers are back to copying Apple when I thought that ship had sailed 5 or 6 years ago. But when you try and move on from that after being frustrated for a couple of weeks, you just start to accept that this is our 2018. Almost every meaningful phone in 2018 is going to have a notch because companies are trying to find a way to the all-display front and this is the next stop. And look, if you don't like it, OnePlus lets you hide it with a software setting.
With the OnePlus 6, you get a 6.28-inch full HD AMOLED panel that looks good to me. If you don't think it looks good out of the box, there are numerous calibration options, including the default mode, as well as sRGB, DCI-P3, Adaptive, and Custom color modes. I'm not sure anyone will have any trouble finding a display setup that looks good to them.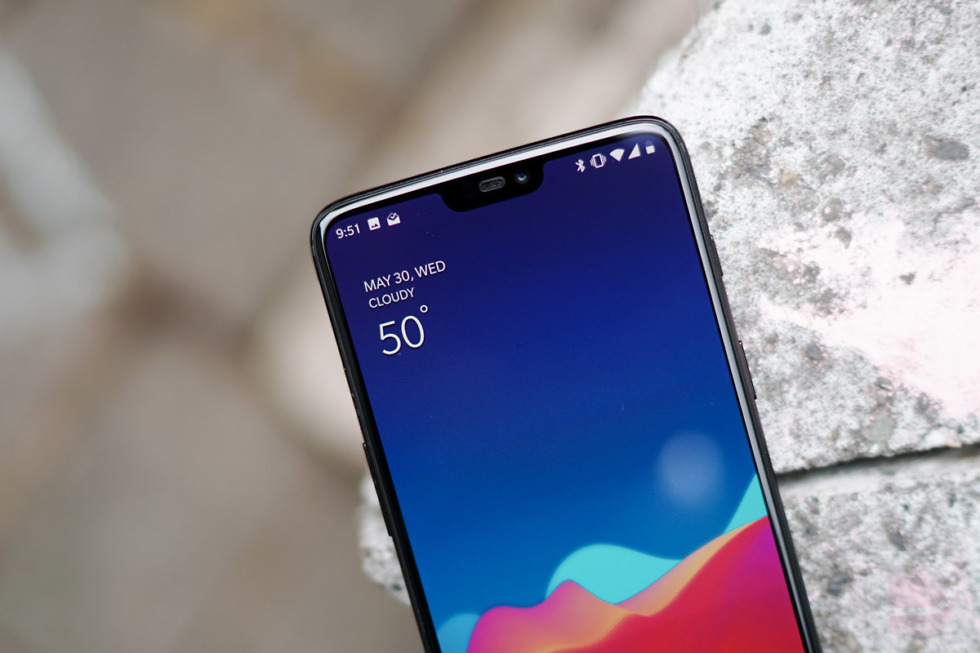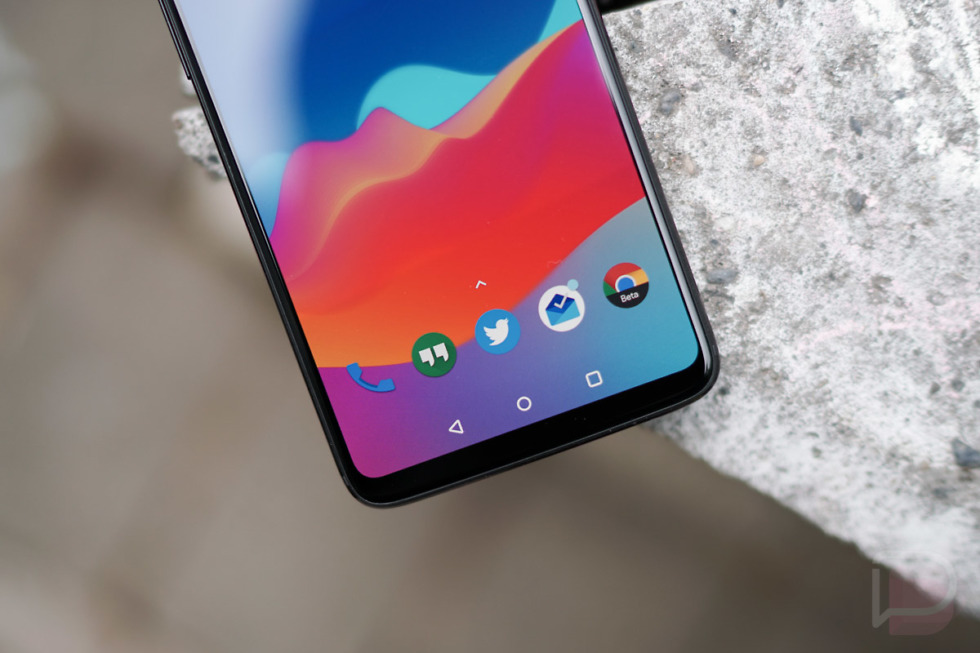 Viewing angles are excellent on the OnePlus 6, you have reading and night modes to help ease eye strain when you need it most, and adaptive brightness is here to help as brightness in-room switches. Speaking of brightness, this display isn't the best outdoors and there were times where I attempted to crank brightness up further, only to realize it was already maxed out. The adaptive brightness can also be a bit aggressive at times when in lower lighting situations as it tries to dim the display and goes overboard.
It doesn't have an always-on display option, which is a pretty glaring omission from OnePlus. Almost every other phone maker on the planet has an always-on display mode, even the LCD crowd. OnePlus is more than likely going to introduce one at some point, as the phone did have it out of the box, but that was quickly removed in a day-1 update.
Overall, the display and its notch are going to make you happy enough.
Battery Life
Battery life on the OnePlus 6 has only gotten better the more I use it. The first few days were a bit shaky and I was looking for a charger before going to bed, but those days are long gone. I've had some 5-hour-screen-on-time days and I've had some days where the phone lasted more than a day.
The 3300mAh battery on this phone is most definitely enough, plus OnePlus still includes the best fast charging in the business. They appear to be backing away from calling it Dash Charge, but it still charges ridiculously fast. And when you charge a OnePlus phone like the OnePlus 6, it still charges fast as you use it and never gets hot while doing so.
The OnePlus 6 might not have industry-leading battery life, but it'll be just fine for almost everyone. It will power you through a day and possibly then some. Should you need to top off mid-day, you'll grab enough juice in a few minutes time that will last you hours on hours.
Price
The price of the OnePlus 6, even as it creeps closer to the phones it tries to compete with, is a major selling point. The OnePlus 6, with all of the specs I mentioned above, starts at $529. At that price you get 64GB storage and 6GB RAM. The Galaxy S9+ with 64GB storage and 6GB RAM starts at $840. The Pixel 2 XL with 4GB RAM and 64GB storage starts at $849. If you want more storage and RAM, you can still get into a OnePlus 6 for $579 (8GB RAM + 128GB storage) or $629 (8GB RAM + 256GB storage). If you are on T-Mobile or AT&T, you are saving hundreds of dollars over other flagships and getting almost as much.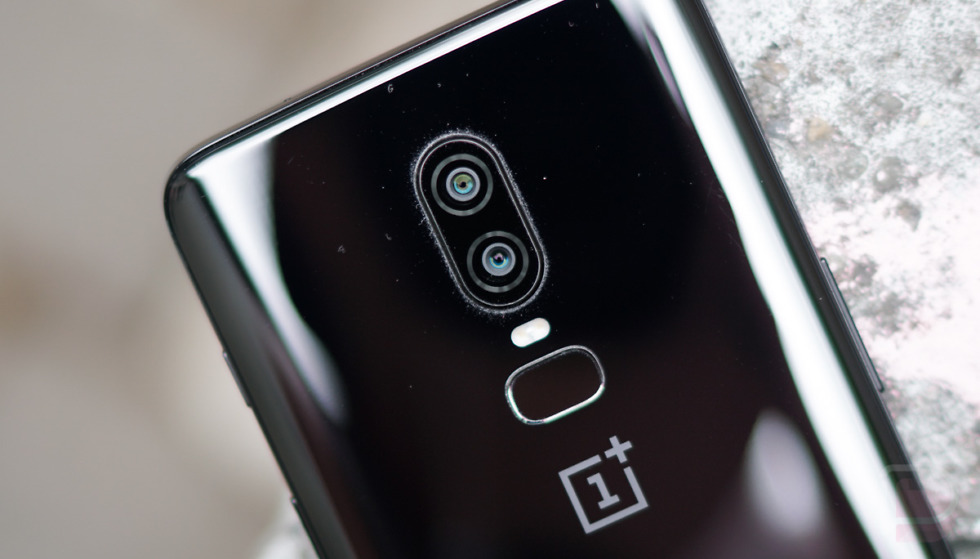 Somewhere-in-the-Middle
---
Camera
The story of the OnePlus 6 camera is very much like the story of the OnePlus 5 and OnePlus 5T cameras. The OnePlus 6 can take good photos in many situations, they just aren't as good as those you can capture with the Google Pixel 2 or Galaxy S9. OnePlus certainly keeps working on this department, as it is one of the few areas they still need to improve, but we still just aren't quite there.
Now, you shouldn't take that to mean that the OnePlus 6 has a bad camera or cameras. In fact, they are more than capable, they just aren't in that upper echelon to my eye. You've got a dual camera setup on the back that consists of a new Sony 16MP sensor at f/1.7 with optical image stabilization (OIS) and electronic image stabilization (EIS), paired with a 20MP sensor at f/1.7, which is the same as the secondary sensor found in the OnePlus 5T. This secondary lens attempts to help in low light situations.
In terms of software, the OnePlus camera app is really nice. You can fire it up with the double-tap of the power button and then easily slide between video, photo, and portrait modes. If you need more, OnePlus adds slow motion, pro mode, time lapse, and panorama options too.
The app itself is simple, yet still includes the features you want, like grid lines, a zoom button, auto HDR, and ratio options. It can even save original photos when you are shooting in portrait mode in case you don't want the bokeh'd version. For video, you have a range of resolutions from 720p up to 4K. That includes 1080p, 1080p at 60fps, 4K, and 4K at 60fps.
The OnePlus 6 camera is incredibly quick to load, shoot, process, and be ready to shoot again, which is exactly what we should all ask for in a shooter.
As for results, again, my eye prefers the photos taken on the Google Pixel 2, even if those photos do have a bit of extra contrast. The OnePlus 6 struggled at times for me to lock proper focus, especially in portrait mode. It also does some pretty heavy processing when indoors and the lighting is anything less than perfect. Almost every shot I took lacked the sharpness I want in a photo that was taken with the only camera on me. Most of the photos you'll see will do just fine in situations like Instagram or Twitter or sharing with friends and family, I just don't know that I'll be beaming with excitement about sharing them.
The Not-so-Good
---
Availability
My biggest beef with the OnePlus 6 isn't one that necessarily affects me, but it is an area that our readers have been vocal about – availability. And availability of this phone drives me nuts because it's a phone (as were other OnePlus phones in the past) that I wish more people were able to use. Unfortunately, people just can't get one unless they subscribe to AT&T or T-Mobile and are fine buying a phone outside of their carrier. The OnePlus 6 may be available directly from OnePlus at prices that are still lower than competitors', but it's not available from carriers nor does it work on Verizon.
Some people are attached for life to carriers, want to buy their phones from carriers, and aren't about to switch to a new carrier just for a phone. Would I switch off of Verizon for the OnePlus 6 if I couldn't afford the Google Pixel 2 XL and wanted a similar experience? I actually might. But I know that that's not normal. So yeah, it does bug me that the OnePlus 6, like its brothers and sisters, is stuck on GSM carriers in the US. I get that certification on Verizon may not be cheap or that OnePlus hasn't figured out if it would be worth the effort, but it would probably generate a massive wave of new customers for OnePlus. They should hangout in our comments on days where they announce phones and they'll probably understand where I'm coming from here.
Other Notes
---
3.5mm headphone jack: It has one!
Phone calls: It makes them and sounds fine!
Fingerprint bug: I can't tell if it's my unit or if there is a bug that needs fixing, but the OnePlus 6 fingerprint reader often requires me to re-place my finger on it before it'll unlock. In other words, the first touch often doesn't register, so I have to put my finger back on it. It's fast as hell when it recognizes my finger, like previous OnePlus phones, but it seems a bit buggy this time around.
Skip Mirror Black: I have to say this again, but please skip Mirror Black. Show OnePlus that no one wants a fingerprint disaster of a phone, which this is. Just buy Midnight Black and enjoy that matte goodness, even if it is under glass.
Android P Beta: I have not yet tried the Android P Beta on this phone. I was waiting until I finished with this review, so I may take a look now and let you know what the experience is like. I'm assuming it's pretty bare bones and not exactly something to get excited about, other than the fact that the OnePlus 6 can run the exact same beta software as Google's own phones.
Videos
---
Unboxing
First 10 Things to Do
Tips and Tricks
Gallery
---
The Verdict
---
As I mentioned in the opening, the OnePlus 6 is a phone that I won't hesitate to recommend to people. I love the software experience, have high hopes on future updates, continue to be impressed by the phone's performance and design, was surprised by the battery life, and think that you can't beat the value you are getting here. The specs are (almost) all there, the price is right, and the phone isn't that hard to find, assuming OnePlus can keep them in stock.
If you want the best camera in the game – this isn't it. If you hate glass all over a phone, you should look elsewhere. If you are the type of weirdo that can't live without wireless charging, well, this doesn't have it. Verizon customers, move along. Other than that, buy away.