You may be Google'd out after we revealed a whole bunch of Google's upcoming devices yesterday, like the Pixel 2 and Pixel 2 XL, Google Home Mini, Google Pixelbook, and new Daydream View headset, but there is more to discuss. And for those of you who are considering those new Pixel 2 devices, this is the goodness you wanted to hear. Google just announced a new device trade-in program for Project Fi that will likely mean an expansion to the Google Store too.
This morning, after a timing mix-up, Google announced that the Moto X4 is indeed the newest Project Fi and Android One phone. That's awesome! That means an Android One phone in the US and also an affordable Project Fi device. Along with that news, Google announced their "new" trade-in program.
According to Google, they'll give Fi customers up to $165 for select Nexus devices, but they'll also toss in an extra $50 Fi credit if done by October 5 of this year. The rest of the terms can be found at this link (once it goes live).
---
UPDATE: Here are some additional details on the Fi trade-in program, now that it's live.
Google is offering "up to $388 Fi service credit or a credit card refund when you trade in an eligible phone."
You can get an estimate on the spot for a number of phones. An iPhone 7 Plus with 32GB storage can fetch up to $338, while a Galaxy S7 is worth around $150. A Nexus 6P with 32GB is worth $151.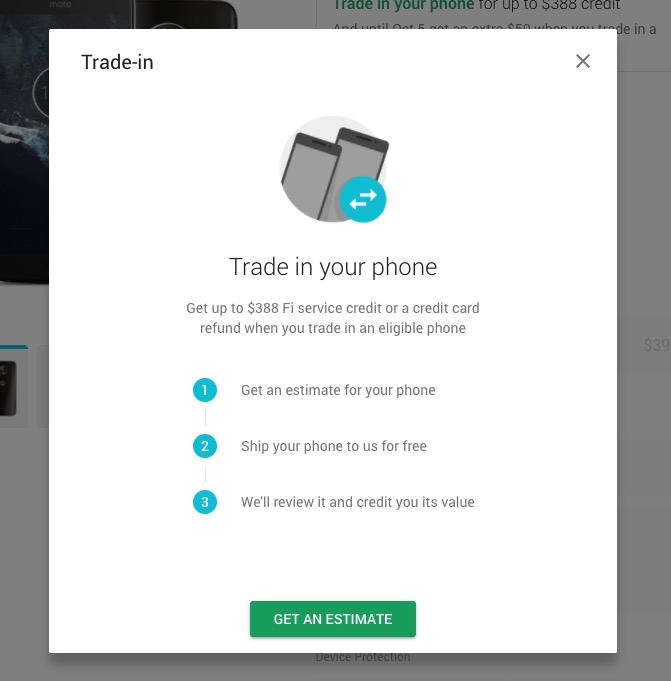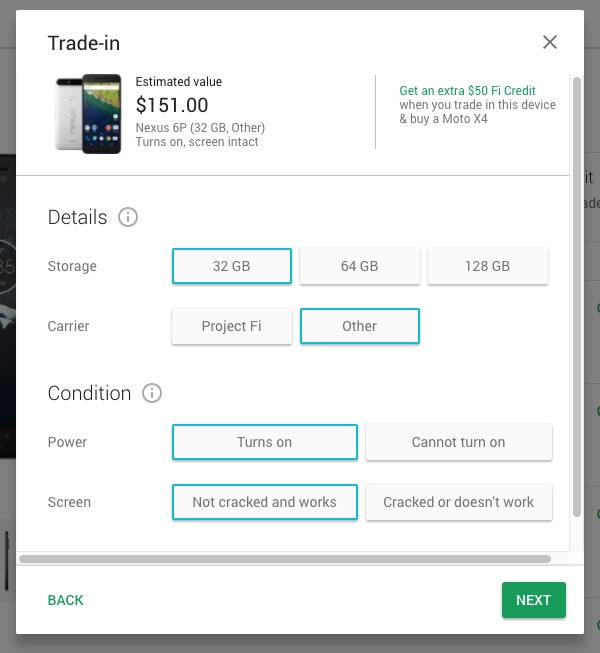 UPDATE 9/26: The trade-in program is now live for the Google Store. It works almost exactly like the Fi program we detailed above.
---
Where this becomes important for non-Fi customers is through the idea that the Google Store will likely get the same trade-in program. The info isn't quite complete yet and the full process hasn't been revealed, but Google's Store tipped us to the magic in the making. The image below contains a note under the "Buy" button on the Pixel's device config page, just before you checkout that mentions "the amount you're credited depends on the model and condition of your phone." If that's not in reference to a trade-in program, I'm not sure what it could be talking about. Why else would Google be offering up a credit to you for something, depending on its model and condition? The backend of the page is also filled with phone trade-in references that can't be viewed.
That note, as of this morning, is no longer there.
Additionally, Google has a full terms and conditions page already setup for the trade-in program. It references both the Google Store and Project Fi, so this program, when it launches in the next couple of days for Fi, will be there for Google Store customers as well.
Pretty big news!
// Google Store | Terms
Cheers Matthew!