Last night, just as we were passing out here on the west coast, Essential started emailing those who made a reservation for the device, letting them know that they could now place an order and receive their phone within 7 days. A bunch of our readers confirmed that they received the emails, with a few even dropping the $699 immediately to ensure their order was one of the first.
This is what the email looked like and also the order confirmation screen:
Unfortunately for some of us, those emails came later and with a different kind of note. You see, the only version of the Essential Phone that is ready for order right now is the Black Moon color, not the Pure White. If you reserved Black Moon, you really should have seen an email already with instructions on how to purchase. If you went for Pure White, then you also should have seen an email, only it looks like this and tells you that Black Moon is the only version shipping within 7 days. The Pure White model won't be ready for "a couple of weeks."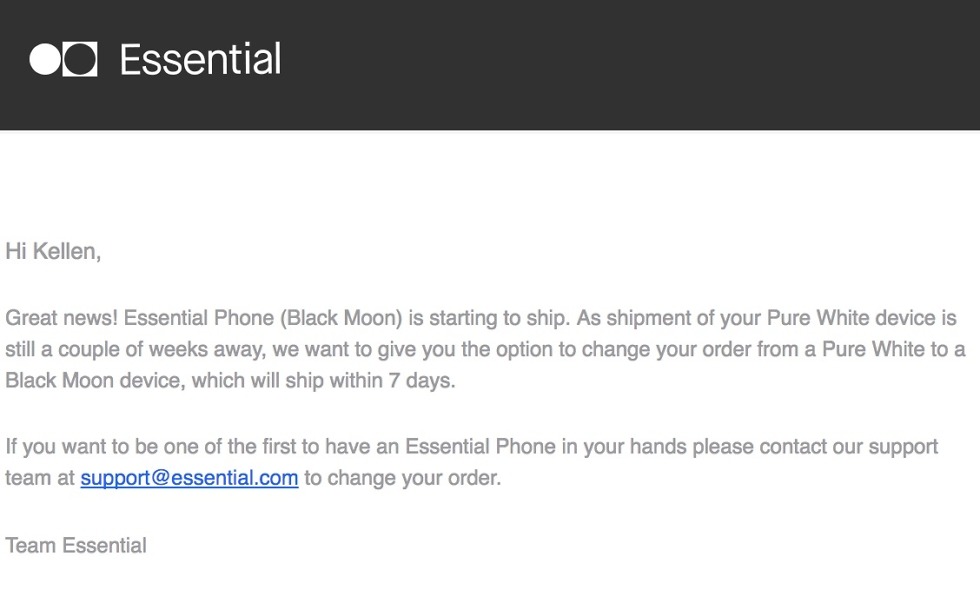 Finally, as you may have already figured out, the only people who are allowed to buy the phone at the moment are those who reserved one. If you are just now jumping on the Essential bandwagon, you are likely out of luck at the moment. Essential hasn't opened up general orders by any means – this is a reservation ordering period only.
To put it simply, if you want Black Moon and reserved the Essential Phone, you can buy one right now. Go check your inbox. If you wanted Pure White, that's just not ready yet. If you don't want to wait for it to become available and instead will be satisfied with Black Moon, you can email Essential at the address listed above to have your order changed. If you failed to get in on the early reservations, well, you've got more time to wait.
Mind you, this is all happening without Essential actually announcing anything. At this point, I'm assuming they'll make some form of announcement today, though it's impossible to tell with these guys.
But yeah, you can buy the Essential Phone! Well, some of you can.
Cheers Billy, Brian, and everyone else!