One day, we will actually crown the world's greatest app, but until that happens, GIPHY CAM can have the title. Launched onto Google Play this morning for all to download, GIPHY CAM brings all of the GIF fun you can imagine, letting users easily produce and customize GIFs for sharing.
To begin, you will simply snap a video, then choose to add stickers, foreground animations, face overlays, or various filters to your video. Once you have a GIF masterpiece completed, simply save it, then upload to your favorite social media site. It's that simple, which is what makes it so fun.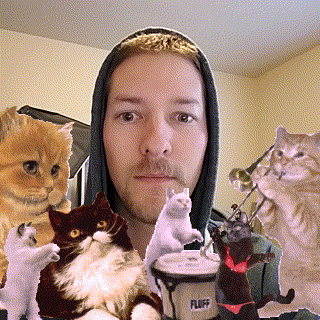 As you can see in the GIF above, I based my reaction on the amazing cats that would be in front of me, and now I have a creation that will live on forever through the internet. That's the beauty of GIPHY CAM. Naturally, depending on the effect you are after, you can alter essentially any aspect of the GIF, including the adding of visible text.
The app is completely free to download and use on Google Play, so for all of you funny content creators, it's a must have.