Google is introducing ways for people on slower data connections to better enjoy the Chrome mobile experience, as well as a Google News update. For Chrome, the changes are rather prominent, with the highlights being changes for downloads, Data Saver, and content discovery, while News is getting a new Lite mode. 
With the changes inside of Chrome, folks on slower mobile data connections can still enjoy their mobile browsing experience, not being plagued by non-loading items. Specifically, Chrome will now reduce 67% of your data usage when viewing MP4 format videos through Chrome. To put that number into perspective, Google states that during testing in India, 138TB of data in a single week has been saved.
Data Saver is also becoming more intelligent, according to the Chrome team. If and when you are on a slow connection, Data Saver will automatically optimize HTTP websites to their bare essentials.
Here's what you can expect to see on Chrome with Data Saver enabled.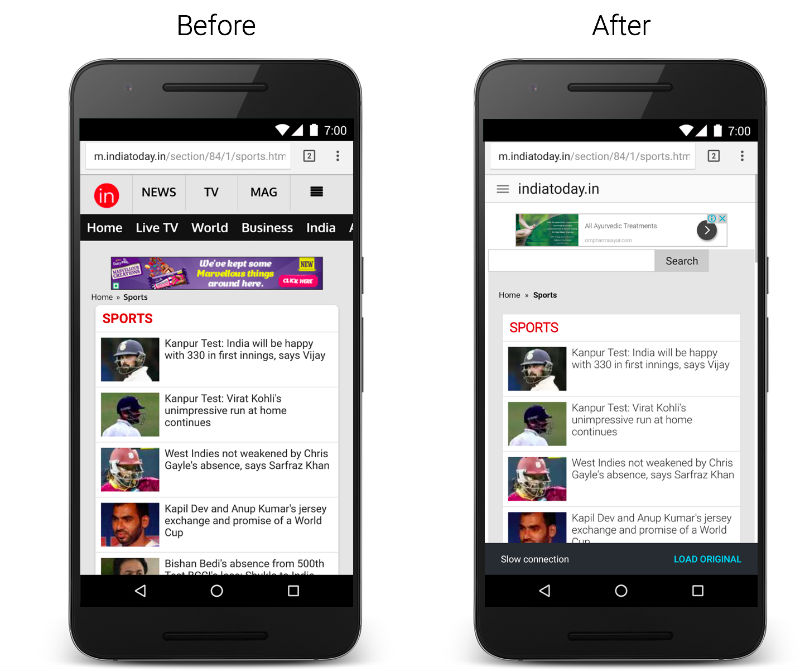 Additionally, those who want to save content will be happy with Chrome's revamped Download feature. Should you see a video, photo, or webpage you want to save for later, you can simply download it. Should you lose your data connection, Chrome will begin the download automatically once data connection is restored.
To top it all off, Google News is getting revamped for those with slow data. Specifically, a new Lite mode will allow those on a 2G or 3G connection to get all of the same data as those on LTE or WiFi. In the Normal mode, the app aggregates headlines and images, but when the Lite mode is enabled, just the headlines are kept and the rest is trimmed. Basically, you will only see what is essential when skimming through the news. By default, Lite mode triggers automatically when a slower network is detected, but users can also manually set it if needed.
Check out Google's blog posts below to learn more and be sure to have your apps updated to experience it.
Play Links: Google News | Chrome