We kick off this beautiful Monday morning, where none of you are hungover from the Super Bowl, showing you what may be the first in-hand picture of the Samsung Galaxy S7. The image comes to us courtesy of ReviewDao, who seems to have stumbled upon a photo of the device in the hand of a person on Facebook who enjoys an apple or two as they test out unreleased phones. Yummy.
So what are we seeing? The image is of the phone's backside, which does indeed look a lot like the leaked press render of the phone's backside that we saw a week ago. We are seeing a dark, blackish color, curved paneling on each side of the device, and a flush camera housing next to the flash and heartrate sensor. The image has been edited to conceal the IMEI and other information that could out the leaker, but "32GB" was left untouched. Previous rumors suggested that we should see both 32GB and 64GB models of the new Galaxy.
What else? Well, not only are the sides rounded like we saw on the Galaxy Note 5's backside, but the curves seem to roam around the entire border of the phone. The top and bottom portions are slightly curved as well, which could really aide in hand comfortability. Of course, we also have a metal frame, similar to last year's Galaxy S6.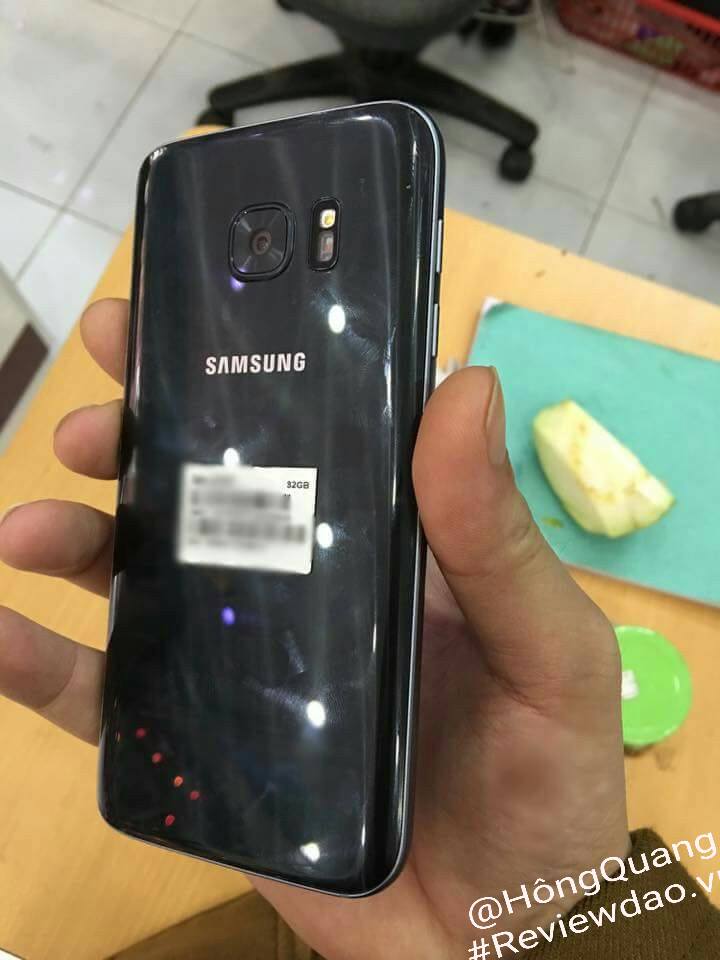 I hate to say this, but this image isn't exactly screaming "Premium!" to me. I don't know if it's the poor image quality (it probably is), the all-black color scheme, or the gloss that has to be the ultimate fingerprint magnet, but it looks a little cheap-ish. My guess is that it will feel really nice in-hand thanks to all those curves, so I'm hoping that it looks better in-person as well.
Your thoughts?
UPDATE:  Here is another picture of the front of the phone, though this is of the Galaxy S7 Edge.