With less than a month to go before Samsung unveils the Galaxy S7 and Galaxy S7 Edge at MWC in Barcelona, new details are surfacing almost daily. Take today for example, where the phone under model number SM-G930A showed up at benchmarking site Geekbench with a couple of scores and a handful of specs we were curious about. 
As a reminder, SM-G930 has long been referred to as the model number for the Galaxy S7. Once you start attaching letters to the end, that's when you get specific carry or regional models. In this situation, the "A" stands for AT&T. The Verizon version will be SM-G930V, Sprint will be SM-G930P, and T-Mobile will more than likely be SM-G930T. While we're on the subject, the Galaxy S7 Edge will fall under SM-G935 generally speaking, with end letters, again, pointing to specific carrier or regional models.
Back to the benchmark – we are seeing the AT&T version that appears to be running a Qualcomm Snapdragon 820 processor. We know that from this benchmark because the processor is listed as a Qualcomm chipset that is quad-core. We can also see the motherboard listed as "MSM8996." If you have been following the Snapdragon 820 saga, then you will know that MSM8996 is indeed the part number for the 820 and that this is Qualcomm's first custom, 64-bit quad-core chip.
We don't know if all of the US carrier variants will use the Snapdragon 820, but it would be surprising. In the past, we have seen Samsung use Exynos chipsets in international markets, yet use Qualcomm processors here in the US. They didn't last year, but that's because they skipped Qualcomm altogether.
As for other info from this benchmark, we are seeing listings for 4GB RAM and Android 6.0.1.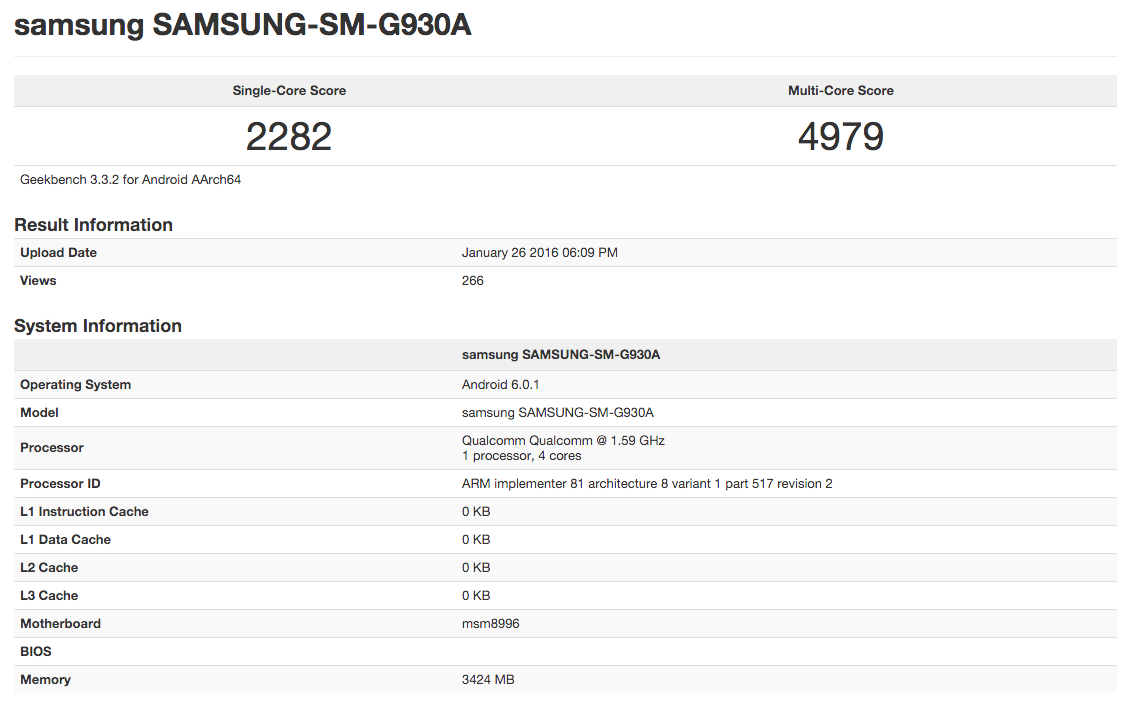 Palms are sweaty, knees weak, arms are heavy?