We have been spreading reasons why you should buy the top Android smartphones on the market, but starting today, we are shifting our focusing to smartwatches and will kick things off with the Moto 360 Sport. Released earlier this month, the Moto 360 Sport is Motorola's hybrid device, created to meld both fitness tracking and smartwatch functionality into a usable, easy to understand device.
Having recently reviewed it, I came away very impressed with its ability to track my fitness routines, while also giving me the info I need that comes directly from my smartphone. This includes email alerts, Hangouts notifications, as well as Google Maps info when I am busy driving myself around town. The Moto 360 Sport is the first true attempt at combining everything you need from a fitness tracker and baking it into an Android Wear smartwatch, so again, if you have not yet checked it out, read our full review.
If you already went through the review, or just don't have time, here are three reasons why the Moto 360 Sport is a good buy for you. 
---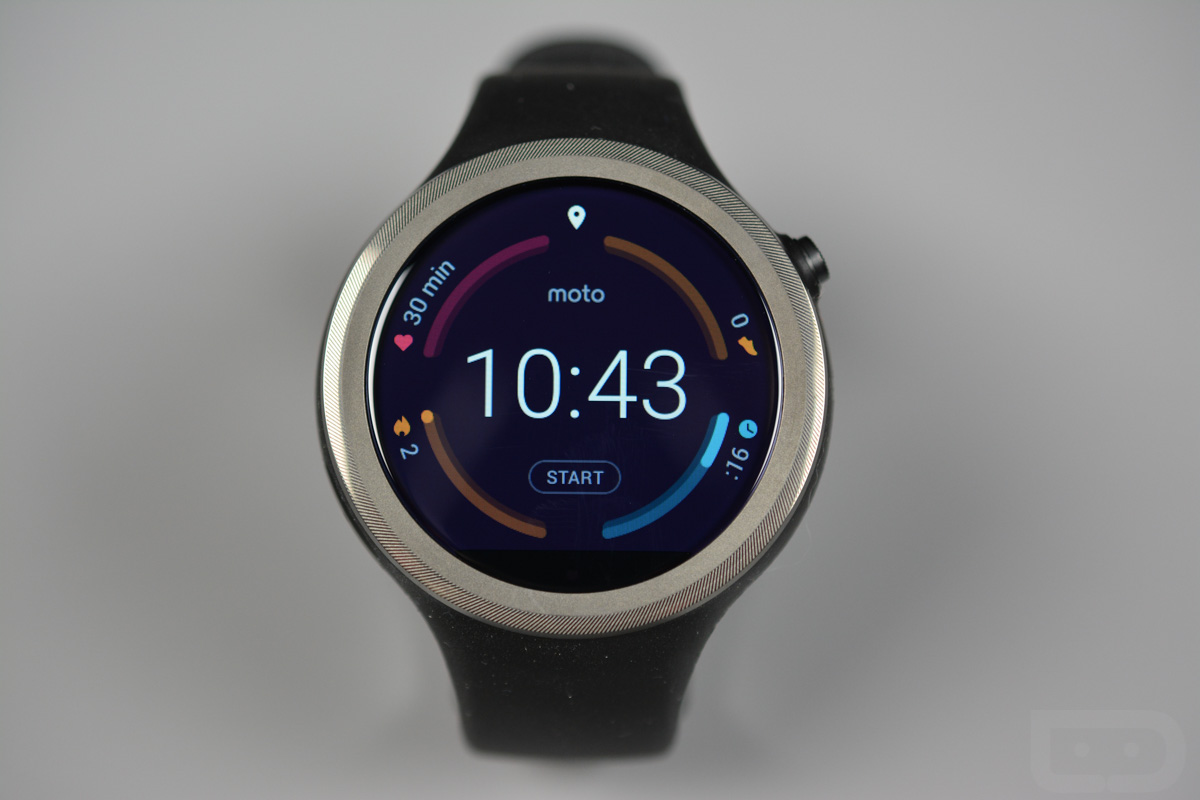 1. It's a smartwatch that handles fitness very well.
From the first watch face you see when booting up the Moto 360 Sport, you can tell this thing was meant to be your fitness companion. On this watch face, which is the one I used primarily during the time of my review, you can quickly access information on your steps taken, calories burned, and heart activity. Looking to the photo above, you will see a "Start" button. When pressed, you can begin a quick workout, and the watch will begin taking its measurements of calories burned, GPS data, and steps. All of this same functionality can be opened up through an app, in case using this watch face does not suit you.
Once a workout is complete, you can head into the Moto Body application that can be downloaded onto any Android device via Google Play. Inside, you can analyze all of the data the watch recorded, including the route via GPS, calories, heart activity, etc.
In addition, the watch will start you off with "daily goals." These goals are by no means for Olympic athletes, but perfect for your everyday Joe Schmo. To start, the daily goal for steps is set at 10,000, which seems to be rather common on fitness trackers. For healthy heart activity, the watch wants users to complete a solid hour of activity, just to make sure you get that blood circulating well throughout the body. When you reach these goals, a little vibration will go off, alerting you to a successful day of activity. At this point, you can then binge on nachos and beer.
For a more detailed breakdown on the fitness side of this smartwatch, read our complete review.
2. AnyLight Hybrid display.
First introduced on the Moto 360 Sport, the AnyLight Hybrid display allows users to view their smartwatch in virtually any setting, and this was confirmed by myself after spending a few weeks with the device, even taking it with me to Las Vegas for CES. Whether it is direct sunlight or dimly lit rooms, the Moto 360 Sport offers one of the best smartwatch viewing experiences I have had.
The technology is two panels – one regular LCD that you will find in other smartwatches, in addition to a special front-lit reflective display. When combined, this panel allows real contrast to be seen by the eye, even when you are out on a run during a sunny day. If you compared this to a regular Moto 360, the difference would be almost immediate, as the Moto 360, as with other Android Wear watches, do not fair too favorably in direct lighting.
In my review, I claimed that I wish every Android Wear smartwatch featured this type of display, as there is something about it that is pleasing to the eyes. Maybe its the lack of glare or the lack of blinding brightness needed when outdoors, but AnyLight Hybrid kicks major butt.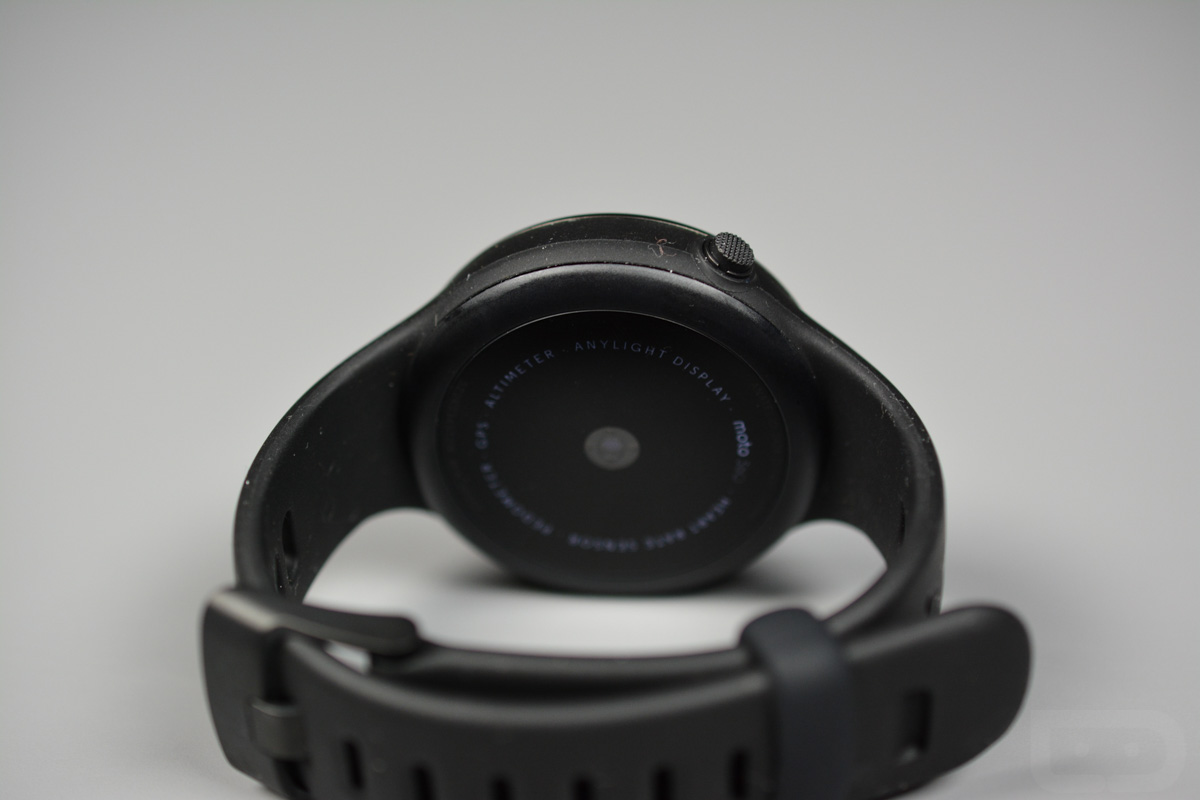 3. Comfort during usage.
Given that if you intend on purchasing this device, you will probably be using it for outdoor and physical activities. I have worn every Android Wear watch to my knowledge, and if I was ranking them on comfort alone, the Moto 360 Sport would easily be in my top three, alongside the Moto 360 (1st Gen) and Huawei Watch. However, none of these other watches are made with complete fitness in mind, so when it comes to the gym, you only have one real option in the realm of Android Wear.
The silicone band on this watch offers great stretch, which I found to be the true reason for its comfort. After a few wears and you find the perfect fit, the device's bands almost mold onto the wrist, allowing for that perfect fit every time. The same can be said for genuine leather bands, and to see that from silicone, it is promising.
In my review, I note that these bands can be especially sticky, never ceasing to pick up dog hair and random dust particles. To counter this, I find myself wiping my watch down every now and then, which will likely be common if you tend to be sweating on it at the gym. Remember, folks, always wipe down your equipment, including your smartwatch. And don't worry, this thing is sweat, water, and dust resistant.
If any of these reasons have made you a believer, the Moto 360 Sport is priced at $299 on Motorola's website.