Today, Sprint announced the LTE Plus network, a combination of its advanced cellular technologies and cell site optimization. In the announcement, written by Sprint's CTO Dr. John Saw, the carrier lays out the benefits of LTE Plus, which should have customers seeing faster service with double the network capacity and speed, stronger service with "smart antenna technology," and more reliable service thanks to the utilization of three bands of spectrum (1.9GHz, 800MHz, and 2.5GHz). 
With carrier aggregation and a signal processing technique called beamforming, customers located near cell edges and indoors should see increased speeds and reliability of service, with peak speeds in excess of 100Mbps on devices that are capable of such data speeds. According to Dr. Saw, Sprint is proud to be one of the first operators in the world to roll out two key functionalities of LTE Advanced: Carrier aggregation and Beamforming.
Benefits to Customers
Faster service with double the network capacity and speed, and peak speeds in excess of 100Mbps on capable devices
Stronger service with smart antenna technology that extends the cell signal further at 2.5GHz
More reliable service utilizing three bands of spectrum – 1.9GHz for broad coverage, 800MHz for better indoor service, and 2.5GHz for even faster data speeds
Markets of Availability
As shown in the below map, Sprint's LTE Plus network is available today in 77 major markets. A few of the big ones listed are the SF Bay Area, San Diego, New York City, North LA, Portland, Seattle, San Antonio, Orlando, Washington DC, Chicago, Atlanta, Salt Lake City, and basically all other major cities within the United States, including parts of Hawaii.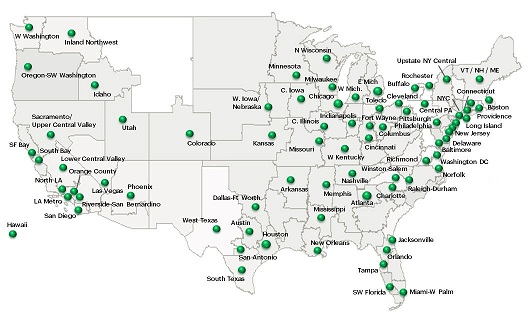 This announcement is coupled with Sprint's "biggest wireless offer in history," which cuts Verizon, AT&T, and T-Mobile rate plans by 50%. Naturally, there is plenty of tiny text to read along with these offers, so be sure to read up on that post, too, if you plan on making the switch to Sprint.