I think it's safe to say that LG's G4 wasn't exactly the smashing success the company had hoped for and so it makes sense that they would put together another offering to end 2015. At a time when everyone outside of Apple is struggling to find ways to make boatloads of money, releasing another phone just before the holiday season isn't a bad move. And that's what we have here with the LG V10.
The V10 is a phone very similar to the G4 on the inside, but on its outside LG has improved things dramatically. The phone is large, but it should be very durable with its steel reinforced sides and new Dura Skin cover. It's also quite lovely looking, with its mix of industrial yet minimal aesthetic. Yes, I just called an LG phone "lovely looking." (Hey, times are changing!) It even has a somewhat unique new feature that LG hopes will help it standout from a crowded market, and that's a secondary front display with numerous features of its own.
But is this the phone that can push LG back up the leaderboard? Is it even a phone you should consider, knowing there are at least three or four other phones worth buying? Let's find out.
This is our LG V10 review.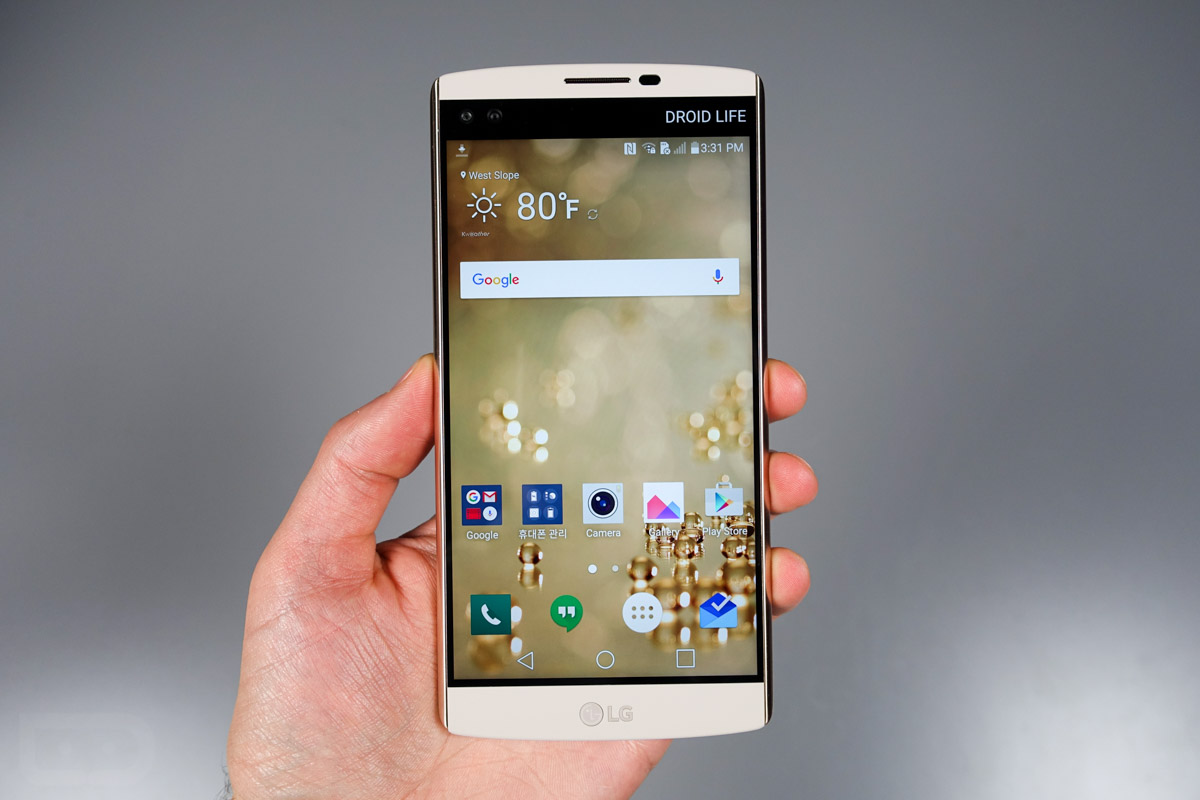 The Good
---
Display
The 5.7-inch QHD IPS Quantum display that LG used in the V10 is their best yet. It's massive, obviously, but it gets plenty bright, has solid viewing angles, and is a joy to stare at for hours upon hours. In the comparison shots below, you can see that it gets equally as bright as the current display king, the Galaxy Note 5, but may best it in color accuracy. Well, depending on your eye, that is. The V10 does show slightly greener to me, while the Note 5 – at least when presenting white – tends to be a bit warmer, or pinker. If you focus on the V10's color reproduction, I'd say that it does a great job of balancing those punchy tones found in AMOLEDs, with the natural colors typically referenced when talking LCDs.
The V10's display isn't quite as close to the top glass of the phone as something like a Galaxy S6 Edge+ and its curves where you feel like you are actually touching the icons and textures, but it comes close. The only reason I mention this is because we love immersive viewing experiences when you have a display this big. With that said, this is one of the few displays that I've looked at in recent months and just said, "Wow, this thing is beautiful."
Design
This may be hard for our daily readers to believe, but I actually kind of like the design of this phone. I can't decide if that's just because it is so different than anything LG has done before it or if I'm finding new love for two-tone everything in life, especially when it is a mix of rubber, glass, and polished steel. Whatever the case may be, I can get down with this creamy gold mess of a behemoth. It's tacky, yet so awesome. It's cream! It's gold! It's steel! It's…rubber, I think! And oh hey, look at this random secondary display too!
You may think I'm joking, but this is such a welcomed change of pace from all the wave of iPhone clones we saw this year where everything is a minimal mixture of glass and aluminum. Like, this phone would never be mistaken for a god damn iPhone. You wouldn't mistake this for anything other than what it is – a giant ass LG something or other with lots of stuff and things packed inside. And that's a good thing!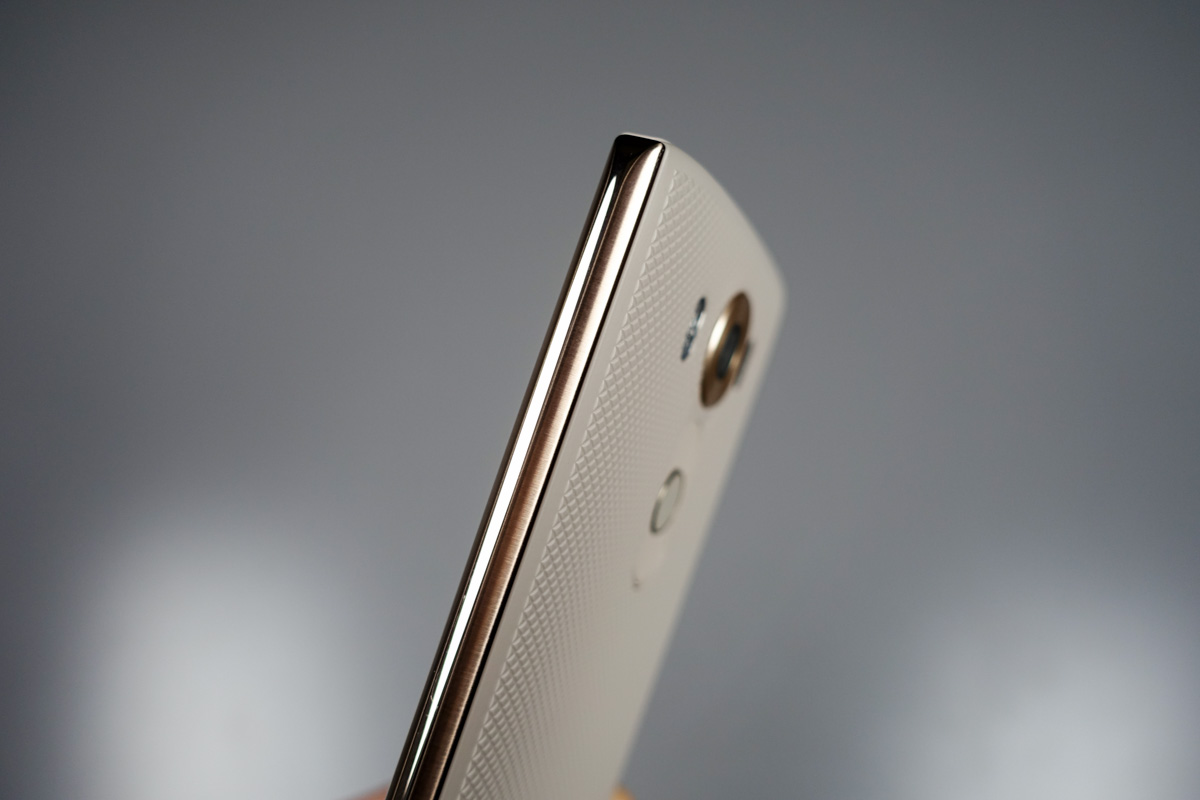 The back has great balance with the flash and laser autofocus on each side of the circular and centered, brushed camera housing. This particular gold and cream version has this lovely diamond shaped texture to its backside that wraps from front to back, along with those stand-out steel bars. This phone reminds me of one of those ridiculous $4,000 Euro phones that are made in partnership with Ferrari or other high-end cars, except this phone actually looks good and has the specs to back it all up.
Of course, I also love the fact that LG put the headphone jack on the bottom and didn't go DROID Turbo 2 on the front of it with sensors.
Seriously, when I first saw this phone in pictures, I was mostly turned off and rolled my eyes at some of the really odd color combinations. But now that it's in hand, on desk, sitting next to the Moto X Pure, Xperia Z5, Galaxy Note 5, and Nexus line, it's the one that stands out as being unique without being offensive. I like it. Give us more of this, LG!
Battery Life and Fast Charging
The 3000mAh battery powering the LG V10 offers you plenty of juice to get through a full day. On most days, I would be off the charger at 6:30AM and starting to wonder if I should find another by 10PM. That's a good 15-16 hours off the charger while still seeing 20-30% battery left at night if I needed it.
I ran this review unit (which is a Korean model) on AT&T the entire time with a mix of WiFi and LTE and typically saw 2 to 2.5 hours of screen on time in a day. That's starting to be pretty average for me, but is considerably up from what I was hitting just a little over a year ago, if I recall.
Now, I know that those of you running MIUIMOGEN ROM 12.85 with JANKO KERNEL 2.5 over-underclocked with XxXpunged Module beta v3.999 can supposedly get 8 hours of screen on time and 48 hours of battery life with a 2200mAh battery in your own phone, but this 2.5 hours of SoT on this 3000mAh battery is good enough for me and should be for the majority of the rest of the world.
Let's also not forget that this phone comes equipped with Qualcomm's Quick Charge 2.0 technology, so even if you do manage to burn through its 3000mAh battery and don't have a spare to swap out, a few minutes on the charger will get you hours of use back. I can't say that I timed the charging, but if there were days when usage got heavier and I needed some juice, I was able to quickly get back to a safe zone. Knowing that you always have a quick charge to fall back on is almost hard to put a value on.
Specs
LG seems to have maxed out the specs on this phone in every single category outside of the processor, where they went with the Qualcomm Snapdragon 808 instead of the 810. I'll address that choice in a minute, but the rest of the situation here is worth applauding. LG included a 5.7-inch QHD IPS Quantum LCD display (2560×1440, 513ppi), second 2.1-inch IPS Quantum LCD display (160×1040, 513ppi), 4GB RAM, 64GB storage with micro SD support up to 2TB, 16MP rear camera at f/1.8 and with optical image stabilization (OIS), 5MP dual lens front camera system, 3000mAh removable battery, 802.11ac WiFi, Bluetooth 4.1, Quick Charging, fingerprint scanner, and Android 5.1.1 Lollipop.
Again, outside of the Snapdragon 808, this is about as good as it gets for a 2015 smartphone. The V10 has maxed out RAM, a beautiful display, tons of storage, a high-end camera, and a big enough battery to get the job done without worry.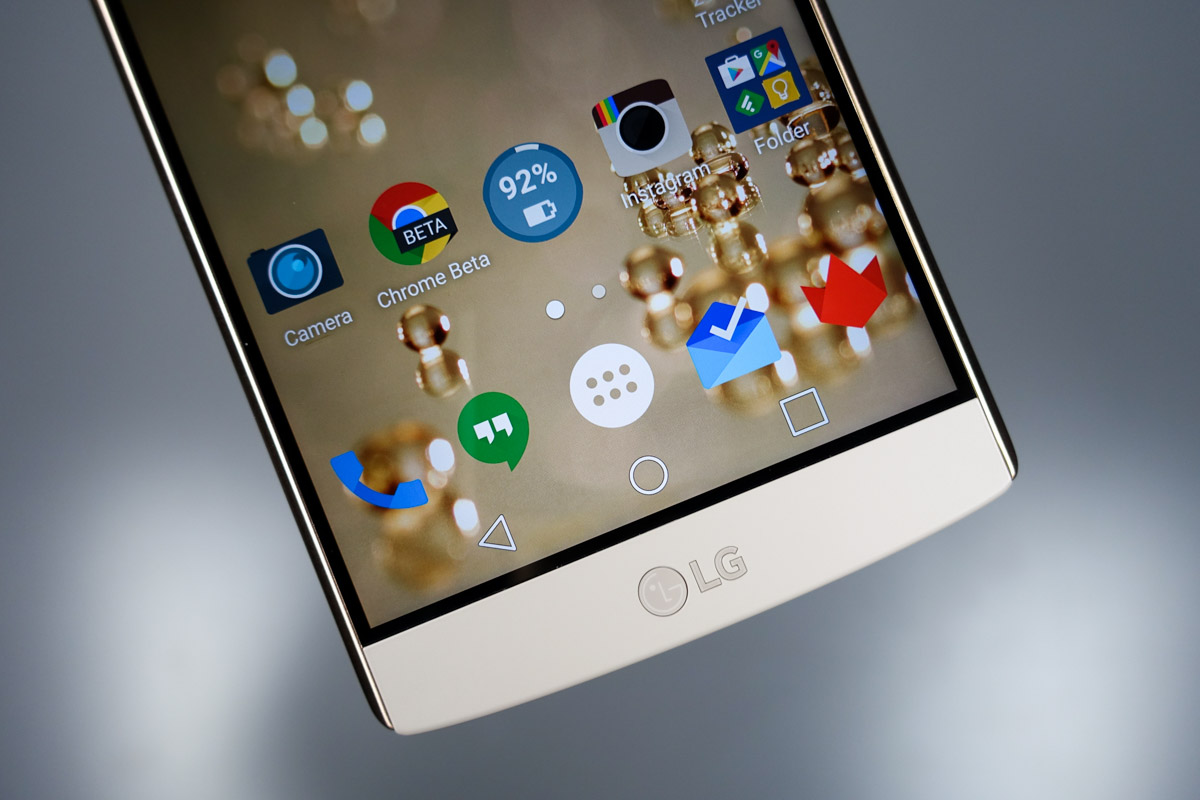 Performance
OK, so I know I just made it sound like I was about to rip LG for using the Snapdragon 808 instead of the Snapdragon 810 and that's because I was thinking about doing just that a couple of weeks ago when I first started reviewing this. Initially, like every other 808 phone I've reviewed recently, I noticed occasional hiccups and stutters that drove me nuts because I don't expect that from a flagship level phone in 2015. Thankfully, a couple of recent software updates seem to have tightened things up and this phone is buttery smooth.
As you know, we don't run benchmarks, but I can tell you that the somewhat heavy multi-tasking I do throughout a day is met with little lag anymore. I can jump from copying text in Pushbullet to swiping to one-handed mode to opening Instagram to sending that copied text in Hangouts to Tim without any slowness.
If you were looking for an area I would like to see LG work on next, it would be in the camera launch shortcut. At this time, a double tap on the volume down button launches the camera when the phone is locked and asleep. It's painfully slow and often causes you to miss whatever it was you were planning to take a picture of. I'm sure this can be improved, so it's not like we're talking deal-breaker slowness here.
Overall, the LG V10 is surprisingly speedy when you compare it to all of the other phones that can't seem to get the Snapdragon 808 experience right. If anything, this should give us hope that Google can figure out a way to dial in the 808 on its own product, the Nexus 5X. LG sure seems to have figured it out.
Removable battery and SD card slot
LG is about the only company still doing these, so we have to give them props for the effort. Who doesn't love having the option to swap out a dead battery for a fresh one in the middle of the day or load up the majority of your music collection on a whopping 2TB micro SD card? I can't exactly say that I have wanted to carry around a back-up battery within the last three years, but hey, having the option is comforting on some level.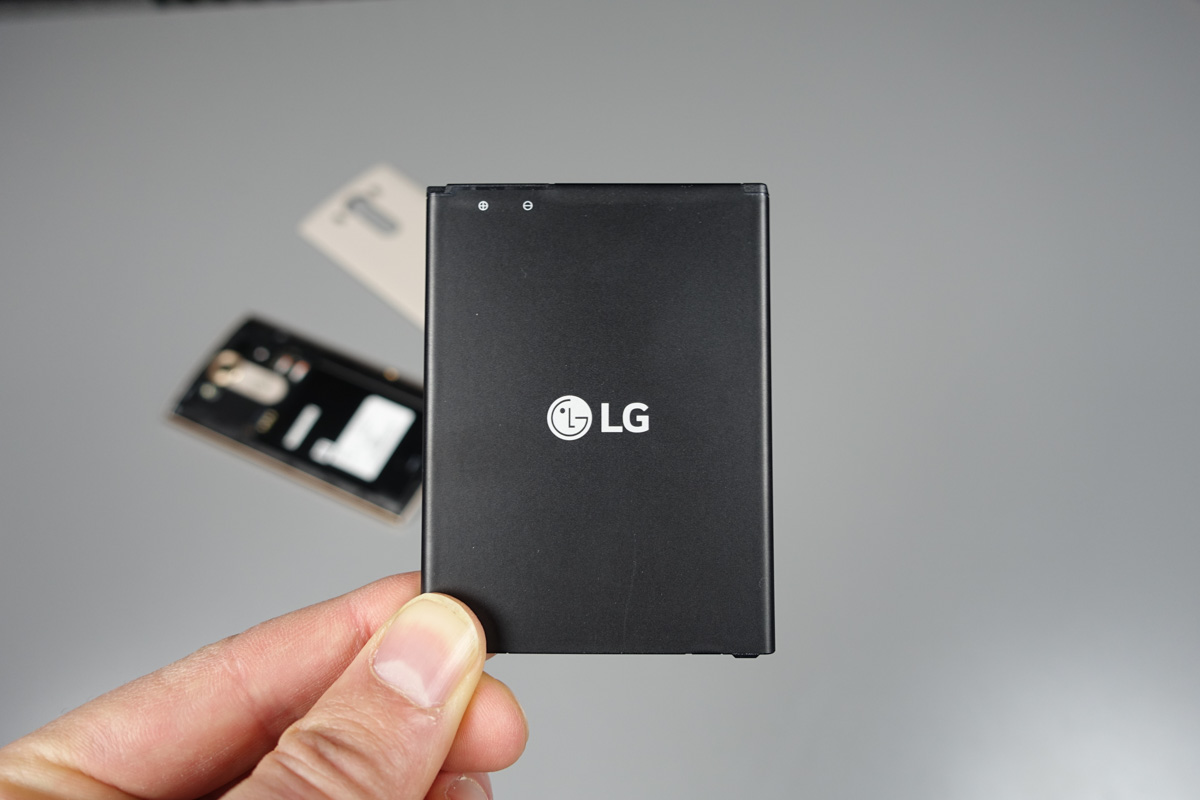 The whole removable battery and SD card combo was once a staple for Samsung phones, but as they have chased margins and ignored fans, LG is the one leading this charge now. It's sad to see these two features become almost extinct as they have their loyal following and place in tech. For many, they are a must-have in a phone. Thankfully, LG is including them while they continue to make pretty rockstar phones.
Availability
Because this review got pushed back a bit by new Nexus and DROID phones, I am happy to share that it can be purchased from AT&T, T-Mobile, and Verizon today. I point this out because this phone kind of came out of no where from LG, a company who doesn't typically push a big flagship in Q4. If you compare this newcomer to what HTC just did with the One A9, I think it's safe to say that LG has done a much better job at making this phone available. The One A9 only found its way to Sprint and AT&T officially, whereas LG also convinced Verizon it was worth the effort. Look, if you want to sell phones, you have to be on AT&T and Verizon. The phone is available in a variety of fun colorways as well.
Somewhere-in-the-Middle
---
Secondary display
LG is the latest smartphone manufacturer to try and tackle the idea of a secondary display. I can't believe I'm admitting this, because it is so easy to make fun of features like this, but they have come close to getting it right. Let me try to explain.
With the V10's secondary display, you get a 160×1040 area that sits just above your main display (to the right of the front facing cameras) to show you recently used apps, favorite apps, favorite contacts, upcoming calendar items, media controls, and a signature, which could be any sort of word or phrase you would like to see displayed. Along with those major features, the mini display also acts as an always-on clock, with battery meter, weather icon, and recent notification icon space. And this is where the V10's secondary display comes in handy.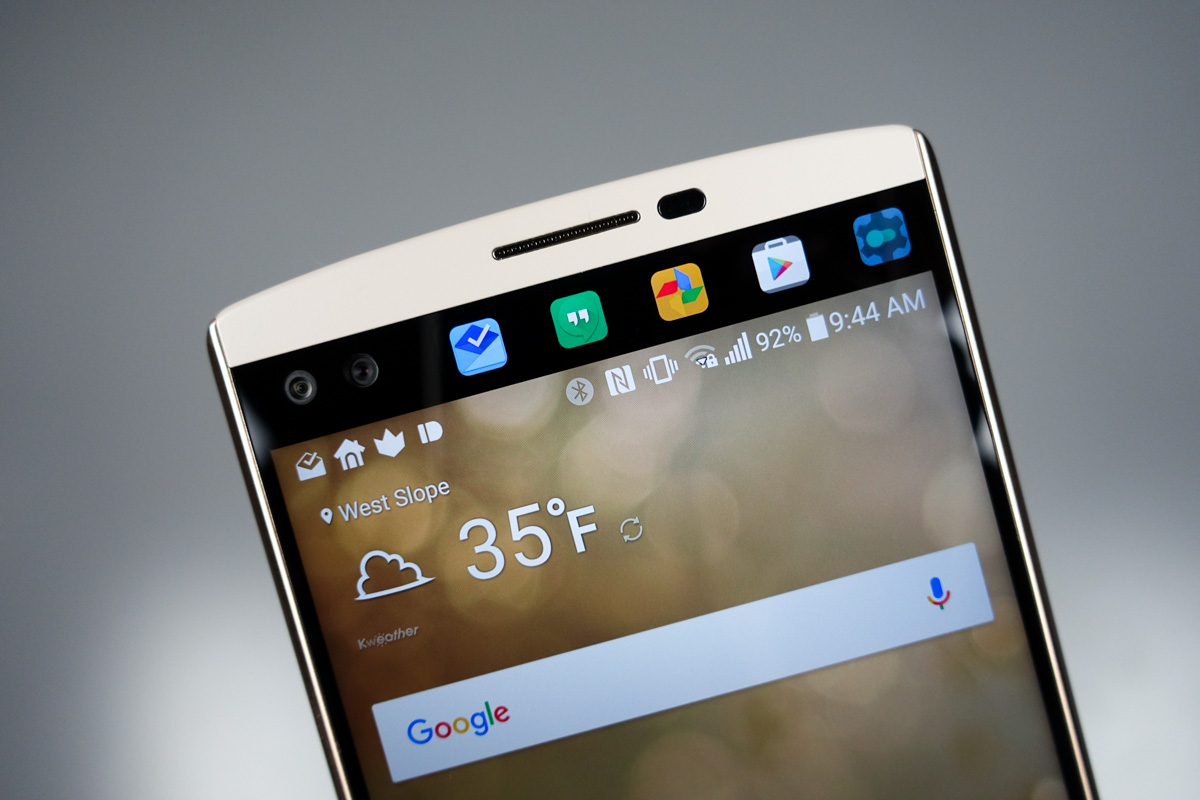 The recently used/favorite apps and contact shortcuts and all of that jazz, which can be seen when the display is on, is sort of worthless, for the most part. I say that, because the phone is so insanely large that it's way too much of an inconvenience to try and reach your hand up there and attempt to touch a tiny icon than it is to just hit the home button and find the app you need from a home screen. Now, if this panel was situated towards the bottom of the display, instead of at the very top, this could be a completely different story.
As I mentioned, this feature does truly shine when the main display is off or when the phone is sitting by your bed at night. You see, with the normal display off, the V10 sits on your desk with quickly viewable information that you probably would like to know throughout the day, like the time or if you have notifications needing attention or how much battery you have left. Like Motorola's Moto Display, you get this on the V10 without having to do anything. In fact, you get it quicker than Moto Display because you don't even have to wave a hand or touch anything – the information is just there in the mini display. I can't tell you how many times throughout a day that I look down at my phone just to check the time and so the V10 makes that easier to accomplish than any other phone. If you want even more screen-off features, you can swipe across the clock on the mini display to access shortcuts for your "Interruptions" status, toggle WiFi or a flashlight on or off, and even open the camera. As for the mention of using it at night, the secondary display acts as a night-time clock in a way that doesn't use much light, so it's there when you need without interrupting your sleep.
As odd as this may sound, LG is almost onto something here with their secondary display. I can't say that I'm begging for everyone to try this now, but if LG considers moving it around  in a future phone and sticks to it, it could be the sort of standout feature a company like this needs.
Camera
The LG V10 has a 16MP f/1.8 camera with optical image stabilization (LG calls it "OIS 2.0") that is assisted by laser autofocus. On paper, or if you consider the last couple of cameras LG has put in phones (like the one in the G4), you would expect this camera to be a killer. I'm probably in the minority here, but I have to give it a big "meh." It's OK, but I think I would take shooters in Motorola's new phones, the new Nexus phones, and all of Samsung's phones before I'd reach for the camera in the V10.
Before we get to the results, here is a look at the UI of the camera app, which can either be the most intense camera experience of all or the simplest. LG gives you about the most manual controls of any smartphone manufacturer, though this time they stepped that game up further by giving you full manual video controls as well. LG lets you adjust everything from white balance and ISO, to shutter speed and focus. It's all a pretty impressive experience for photographers.
If you don't want that manual experience, LG also has a straight up "Auto" mode along with a "Simple" mode that takes away all controls and lets you tap and shoot at will.
In my experience, the camera app can be a bit slow to load at times, especially with its quick launch shortcuts. Once it loads, it also seems a bit slow as it prepares for that first shot and often gets the focus wrong, so I find that I'm constantly tapping-to-focus more than on other phones.
In terms of results, this is where I come off a bit "meh." The V10's camera should be an instant winner. For me, though, using it off and on for a couple of weeks, I just haven't loved the results. Keep in mind this after going from the V10 to the Nexus phones to the new DROIDs and back again. All of those phones in between, I came away quite impressed with the camera results. This one, not so much.
Images taken with the V10 certainly capture color correctly, but they just lack that sharpness and clarity I've seen from other cameras this year, most notably those from Samsung and Motorola. The phone – as I just mentioned – often seems to really struggle with focusing, even with its multi-point laser autofocus. And that's a big deal, because you often only get to take a picture once. If the V10's camera is screwing up the correct focus more often than not, then that's kind of a dealbreaker for those of us who take lots of pictures. I also seem to really see a lot of background processing that can be unsightly.
Look, this critiquing is me sitting at a computer, staring at images in a setting most won't, where I can nitpick and find flaws that my eye thinks it can see. But I'm also a phone reviewer, so it's my job to point these things out. In other words, I don't necessarily think this camera is bad. In fact, it is quite capable and is also about the most powerful you'll find in a smartphone, thanks to the variety of manual controls. If you happen to be an aspiring photog or really like tweaking camera settings, you will probably love this camera. It's just that for me (and probably most of you), who shoots mostly in auto and in a hurry, it just hasn't won me over.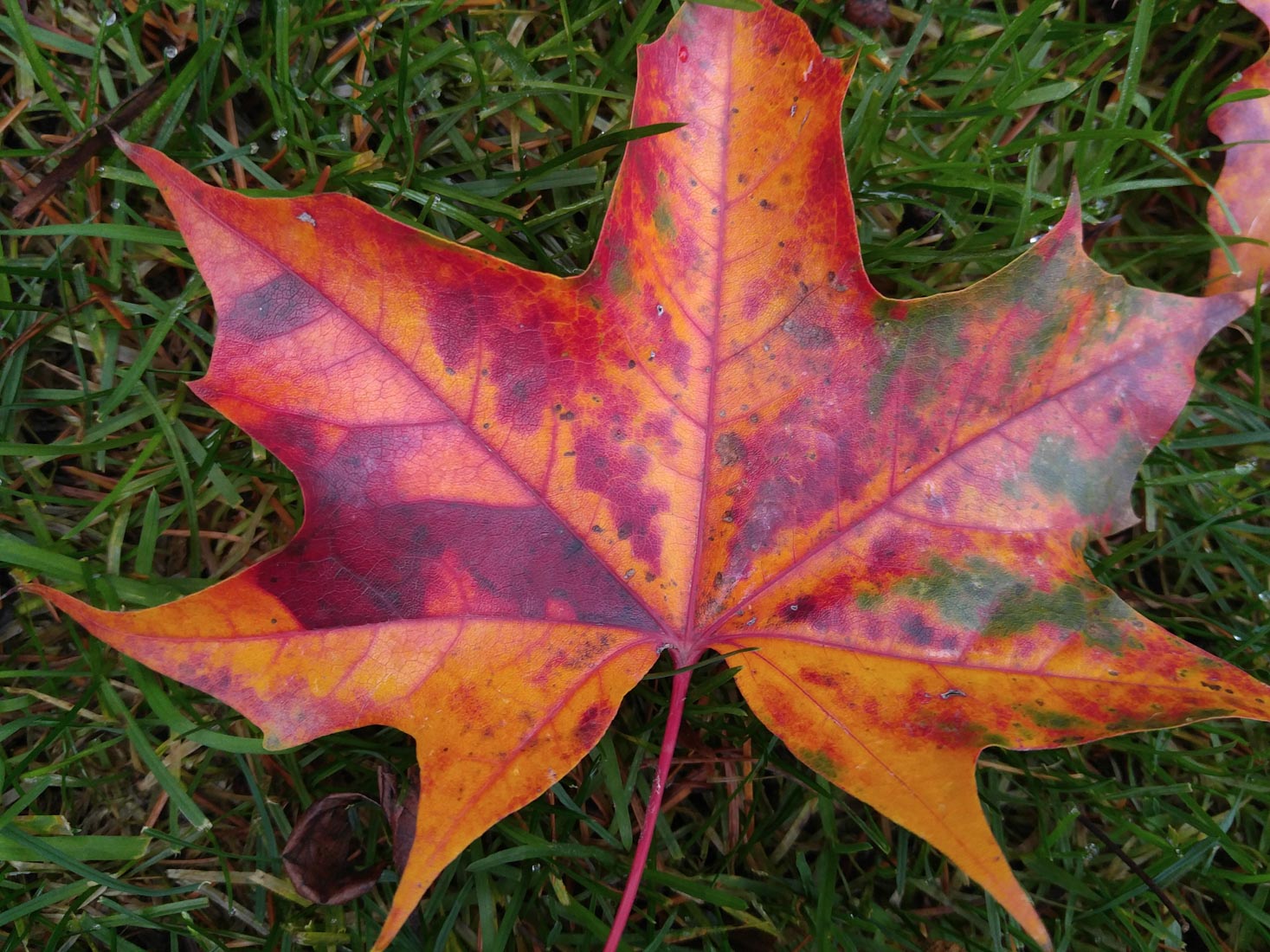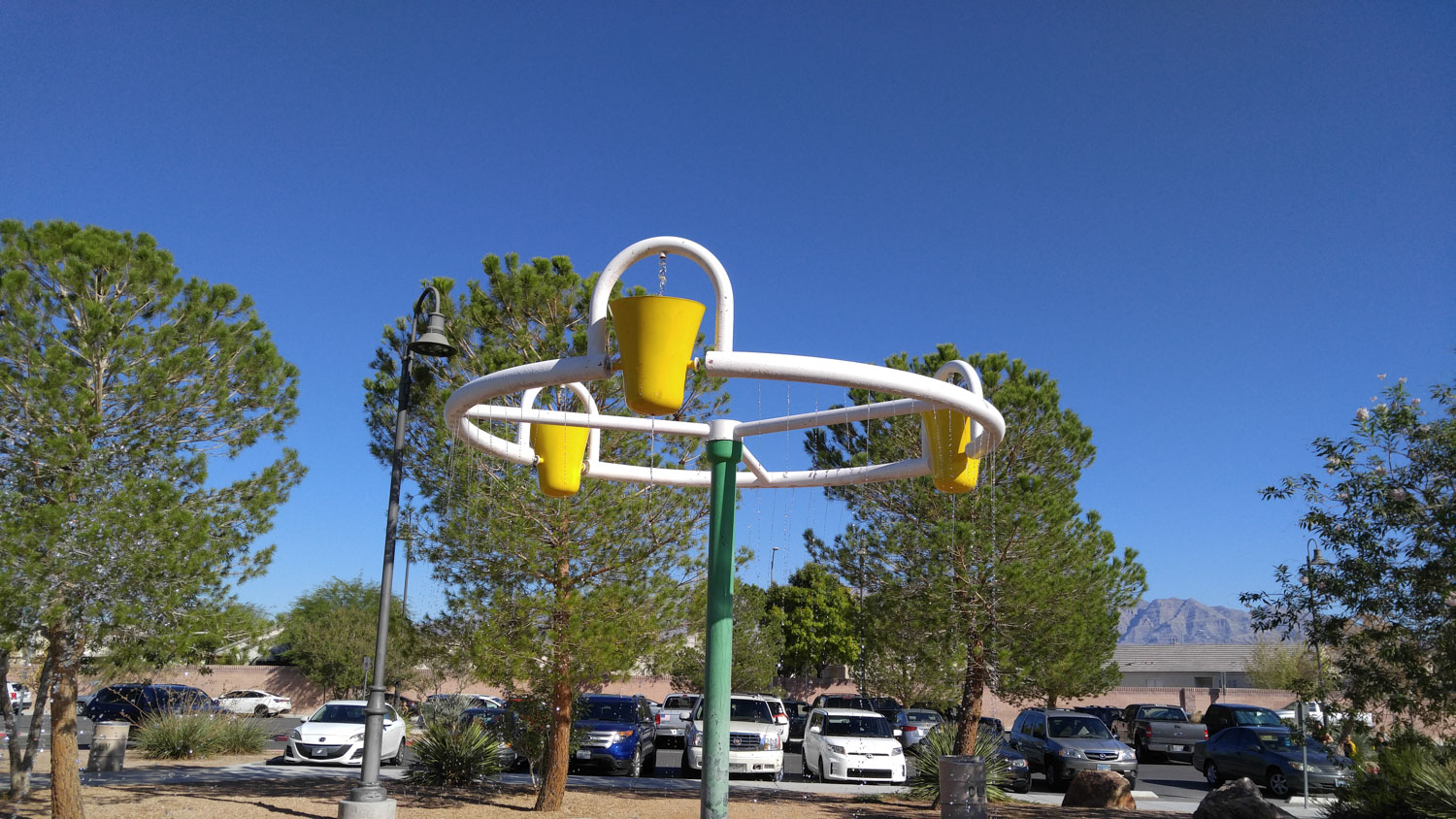 If you want to see the full resolution shots, download them all in this .zip file.
Software
Over the years, I've made it clear that I don't like the approach to Android skins that LG and Samsung continue to push. They load up their devices with a skin that looks nothing like Google's vision for Android, needlessly change simple features that become harder and less convenient to use, and then attempt to add-on their own suite of apps and features that I'm not sure most average consumers care about.
The skin on the LG V10 is just like all of LG's other skins. It's pretty messy, can be overly complex, is struggling to adopt Google's Material Design, and doesn't really offer anything that takes advantage of this screen being this big.
LG still has its version of multi-window, its QSlide (floating apps), a Smart Cleaning option that is supposed to help speed up your phone, customizable navigation buttons, second screen settings, home and lock screen settings, "Smart" settings, and more. Some of this stuff is good; others you may never touch or need to.
I do like LG's keyboard, which is weird to say. I normally switch to the Google Keyboard immediately upon setting up a new phone, but theirs has come a long way and is serviceable. I like the "Mini View" feature, which allows you to quickly use the phone in a one-handed mode. I also like the numerous sound and vibration settings, where you can tweak the strength of vibration when your phone rings or you get a notification. Other than that, this is one of those software experiences where you would be better off installing as many third party apps as you can to get this back to a stock Android experience.
Size
This phone is so huge! We're talking Nexus 6 huge, yet this phone has a slightly smaller display (6-inch vs. 5.7-inch). It may be this big because LG added on its Dura Guard steel frame, Dura Skin, and a secondary display, which is fine for those looking for extra protection or a semi-useful gimmick, but man, get ready for a phone that will barely fit in a pocket.
I quickly figured out LG's swiping shortcut for enabling one-handed mode and used it constantly. It actually works pretty good too and is activated by swiping from left-to-right or right-to-left across the navigation buttons. Once done properly, the screen sort of shrinks a bit in the direction of the hand you swipe towards, so that you can pull down the notification panel, interact with apps, or type on a smaller area with one hand. You can see what it looks like below.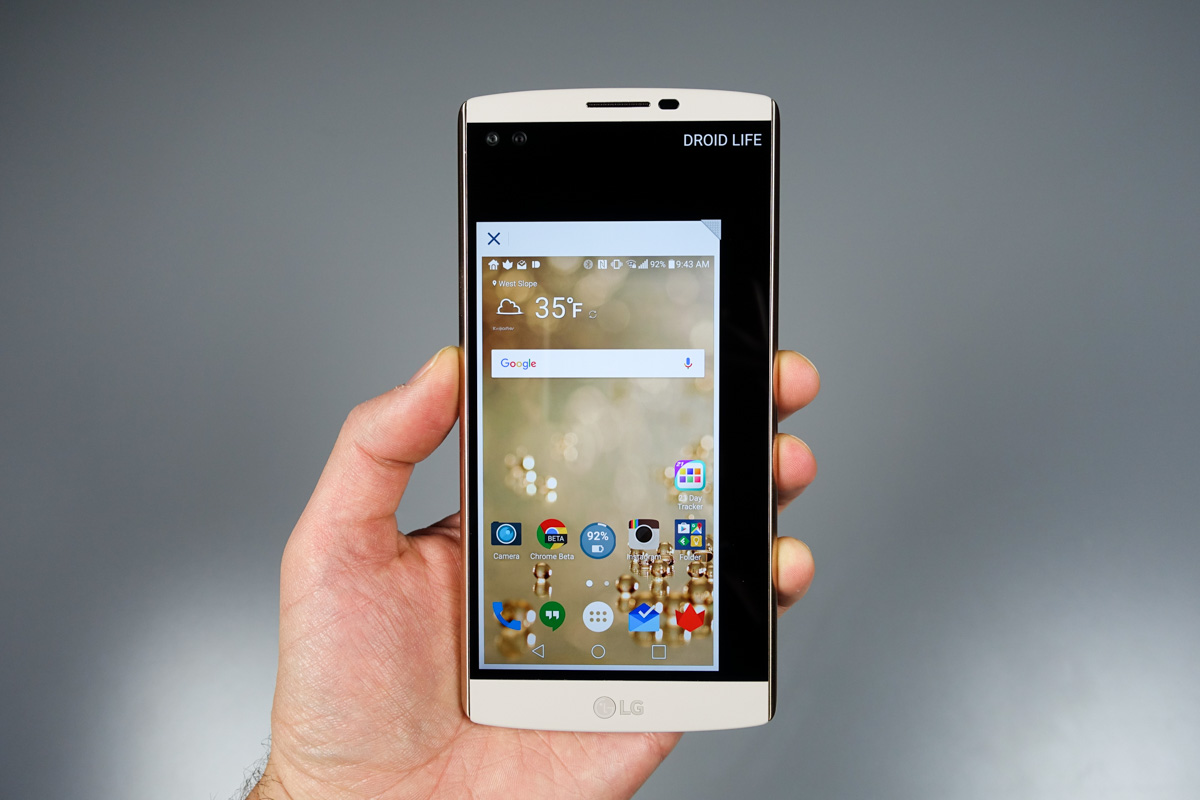 Of course, this big of a phone with this big of a display also means you get a pretty sweet viewing experience when consuming media. While I will almost always take a smaller phone for day-to-day tasks, it's silly to even think about complaining about a screen this big and this good when you are watching a video or playing a game. As I mentioned above, this is LG's best display ever and so even though it's huge and a handful, it's kind of fun.
The Not-so-Good
---
Fingerprint scanner
After praising the rear fingerprint scanners on the Nexus 6P and 5X, I went into the LG V10 review expecting to really love this placement as well. Boy, I couldn't have been more wrong. This fingerprint scanner here is so bad, so bad. With the 6P, 5X, and even the OnePlus 2, you can place your finger over each's sensor and the phone will read your finger before quickly unlocking. You don't need to press a button or swipe or double tap the screen or do anything – they just unlock the phone. With the V10, LG has ditched that idea and instead makes you compress the rear power button (which doubles as the fingerprint scanner) before the button can then read your fingerprint. It works, ohhhh, 1 out of every 2 or 3 or 4 times. That may not seem like a big deal, but trust me, it is.
Fingerprint scanners need to be instant and they need to work 95 out of 100 times, not 50% of the time. And with the V10, the actual time it takes to get into the phone is already lengthened by the fact that you have to first double tap the screen to wake it or press in the power button, that constant misses in fingerprint reading makes for one heck of a frustrating experience doing something as simple as unlocking your phone.
After spending a couple of weeks with the V10, I found it much easier to just swipe out a pattern than hope the rear placed fingerprint reader would work.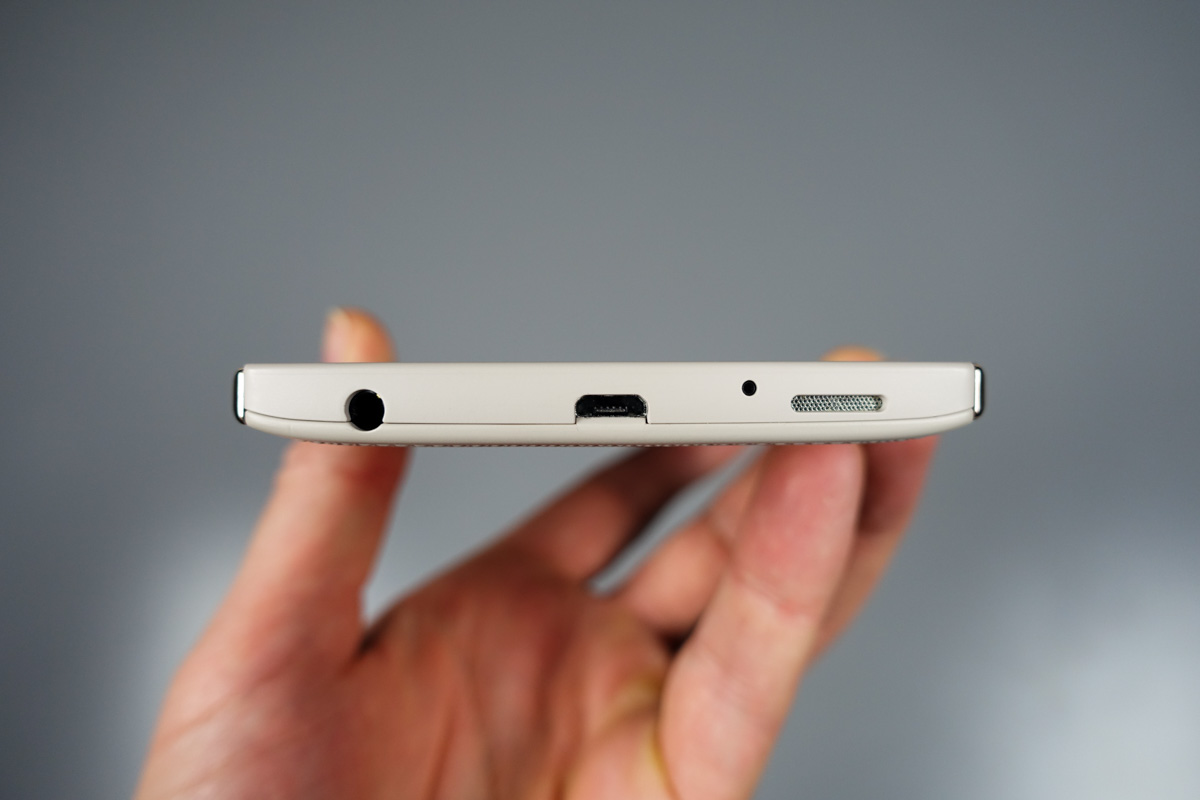 Speaker
I don't often talk much about smartphone speakers unless they are exceptionally good or deserve to be smashed with a hammer because I never really felt like they were that important or that big of a selling feature. With the V10, I've never been so close to grabbing a hammer and getting busy. It's bad enough that LG went with a single, bottom-located speaker, but the fact that they put this bad of one in there is kind of shocking. It gets quite loud if you need it to. Unfortunately, even at moderate volumes, the distortion, crackling and ear-piercing shrieks are enough to give you an immediate headache. Now, I know that most will use headphones for media needs and only use the external speaker for incoming calls. Still, I can't tell you the last time I heard a flagship smartphone speaker that was this insulting to an ear.
Video
---
Unboxing and Tour
[responsive_vid]
Gallery
---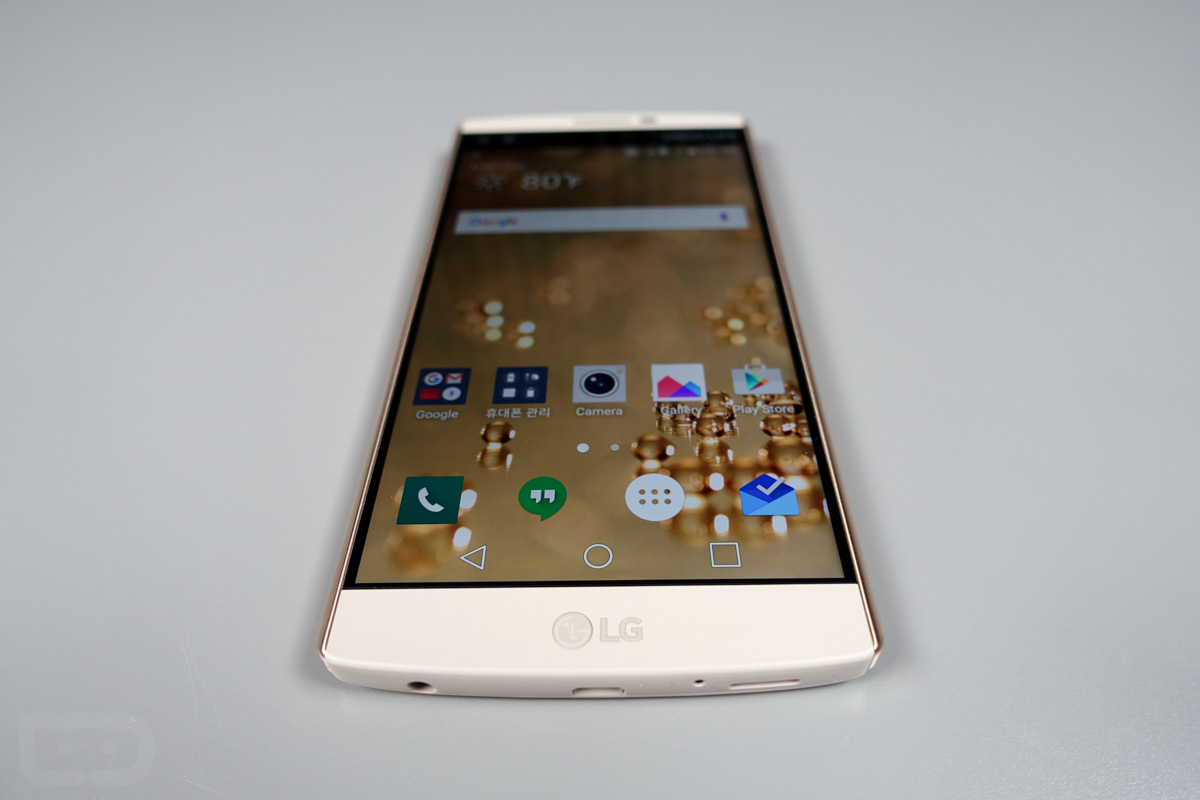 The Verdict
---
Well, does the V10 with all of its stuff and things come together as a winner? Yeah, surprisingly, for the most part there is a heck of a lot like here. This is one of those extremely oversized phones, but it comes in an attractive package, has a beautiful display, top of the line specs in all areas, and performs well. It has a capable camera, handful of actually useful software and hardware add-ons, and can be purchased at most of the major carriers. I really don't think you can go wrong here.