The HTC One A9 has received a lot of attention for looking a lot like the iPhone, and rightfully so. It looks a lot like the iPhone, but there's a lot more to the phone than that. This isn't an iPhone running Android; it's an HTC phone through and through. The A9 feels like the culmination of everything that HTC began to do back in 2013 with the release of the original HTC One (M7). HTC has come a long way since then and it shows in the A9.
This is our HTC One A9 review.
The Good
---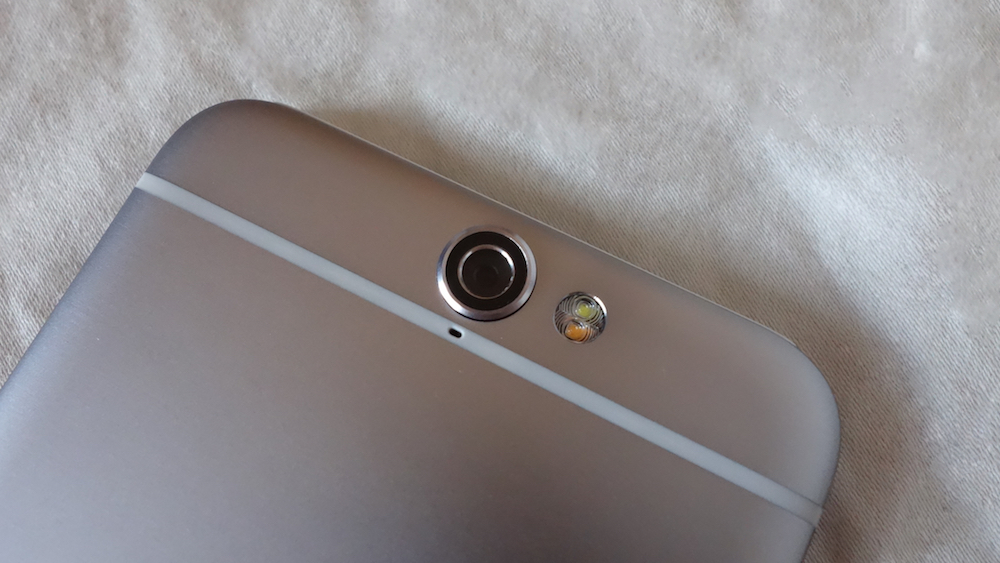 Camera
HTC has had a mixed legacy with their cameras. If you're reading Droid Life then you probably know that history so I won't rehash it here. The One A9 does not continue that legacy. The A9's camera is totally worth being your everyday camera if you're the kind of person who publishes your photos on Instagram and Facebook and only ever looks at them on your phone. If you're the kind of person who wants to have amazing photos that look great on large prints or blown up then you're better off using an actual camera, but that will always be the case. Smartphones are great everyday cameras, but they'll never be used for serious photography like weddings or baby pictures.
HTC has done a good job to simplify its camera app over the years and it does such a great job with lighting and white balance that I was never tempted to use third party camera apps. Macro shots are easy to take with excellent depth of field. While there is a lot of vignetting when taking macros it only serves to better highlight your subject. In incredibly low light conditions you won't be able to take a great image, but that's the case with any camera; cameras capture light. I did find that HTC's phase detection works pretty well, but it did have more trouble in lower light situations and sometimes with macros. After a little hunting you're usually able to capture a spectacular shot, though. All in all I think this is one of the best cameras available on an Android phone. I would definitely stack it against the Galaxy Note 5 and the Galaxy S6.
The front facing camera is also excellent, beating out that found in the Galaxy Note 5 and S6. Where selfies on the Galaxies tend to look overly smooth even with "Beauty Mode" turned off, the A9 looks sharp. The rear camera on the One A9 performs well in great light and it does an admirable job in low light. The phone defaults to capturing 10 MP images at 16:9 ratio, but you can switch it to 13.1 MP with a 4:3 ratio. I would lean towards using the higher resolution and then cropping afterward so you make sure you get everything you want in the shot and then some. The one problem with the camera on the A9 is if there is a bright source of light in the shot then the shot gets washed out. Below you can see a comparison of how the iPhone handles having this lamp in the shot on the left and how the A9 handles it. This isn't a new problem (it's a result of the A9 trying to take in as much light as possible), but it's disappointing to see that the issue still hasn't been resolved.
Video, which is limited to 1080p, looks great on the A9. While some other phones include higher resolutions for video, I think 1080p is still fine for today, especially with sensors this size. Optical image stabilization helps keep videos smooth and HTC has included Hyperlapse, which can speed up a longer video to make it easier to share (view a sample here). Unfortunately Hyperlapse only goes down to 2X meaning you can't use it like Instagram Hyperlapse to downsample super smooth video, but it's still a handy addition to the camera software.
Display and Size
The A9 sports a 5 inch 1080p display. It turns out it's pretty hard to ship a phone in 2015 with a bad display. The viewing angles are great, colors look accurate, and pixels are impossible to see. I never had trouble reading the display unless I was in very bright, direct sunlight, but that's the case for pretty much any display. Even though the One A9's display isn't an eye-piercing 5K, it's great for a display of this size.
The size of the A9 is pretty typical for Android phones today: it's big. While taller than the iPhone 6s, I actually found it was just as easy to use. In short, if you're used to large Android phones then you shouldn't have any trouble with the A9. Tap to wake is available on the device, but I found it worked inconsistently. If you just want to unlock your phone I'd recommend just using the fingerprint scanner; if you want to view notifications hit the power button or tap the fingerprint scanner quickly to get the screen to light up but not unlock.
[responsive_vid]
Fingerprint Scanner
The fingerprint scanner setup looks and feels like most other implementations. When you enable it you're required to have a pin or password as a backup security method and then you press your finger on the scanner about a dozen times. Once set up the fingerprint scanner works incredibly fast. I'm glad HTC finally got this right. This wasn't their first fingerprint scanner, but it is definitely their best and on par with the competition from Samsung, the Nexus 5X and 6P, and iPhone 6s.
You can decide if you want the fingerprint scanner to wake up the phone or not and whether or not you want it to act as a home button. If you leave the option to use the scanner to wake the phone you may find that the phone sometimes wakes on its own depending on how thick the inside of your pants is. I never found this to be annoying, but the phone did wake from sensing my leg a few times.
I absolutely suggest leaving on the option to use the scanner as a home button. If you're used to a Samsung or OnePlus phone then you might have a hard time adjusting to the home button not being flanked by capacitive buttons. I got used it to pretty quickly because I'm used to pressing the home button to wake and unlock on my 6s and from my time with the Note 5. I also loved having the reflex to press the capacitive home button in situations where the on-screen buttons were not present (like in a game). I've never liked having to press around where the buttons would be and then tapping again on the software home button. This means there's some more chin to the device, but it also means you don't have to play the "Guess what hidden software button I want to press" game.
Speaking of chins, HTC has a long history of including chins on their phones that people don't want, specifically in the form of a black bar. The A9 has a chin on it, but it actually serves a purpose besides reminding you that you're indeed using an HTC phone. Below the screen there's the HTC logo and then the fingerprint scanner. That gap between the screen and the scanner makes it near impossible to accidentally touch the screen when you're trying to use the scanner as a home button or when you're unlocking the device. I found myself accidentally touching the bottom of the display on the Galaxy S6 and the Galaxy Note5 all the time because the button was right below the display. Some might think the gap is an eyesore, but I actually appreciated it.
Sound
HTC made a big deal about BoomSound when they first announced it and while it's still a marketing term used for the A9, it only applies to the sound coming from the headphone jack. What this means is that you'll be able to get great sounding music if you have a great set of headphones plugged in. HTC does not provide headphones with the A9 so you're on your own to pick up a pair.
If you're just using the speaker on the phone itself it's about on par with what you'd get on a top tier smartphone. My iPhone 6s has more pronounced bass and the drums sound crispier, but I can only note that listening to the same track on both devices at the same time. I think it would have been better for HTC to provide dual speakers on the front of the device, but most people probably won't care much unless they're coming from an HTC phone with traditional BoomSound speakers.
Performance
The performance of the A9 was a little sluggish while my apps were downloading and installing, but once that initial setup finished I found the A9's performance to be great. The phone features the Snapdragon 617 processor, 3 GB of RAM, and 32 GB of internal storage. Apps loaded quickly, the device remained responsive, and loaded quickly even after they had been removed from RAM. Because the body is aluminum you will feel some heat in the body during processor intensive tasks, but it was never uncomfortable to touch. If you've used an aluminum phone before then you'll know the feeling. I did get an occasional "This app has stopped responding" error on apps that I don't usually see crash, but a software patch seems to have eliminated those bugs entirely. Overall the phone was able to keep up with everything I threw at it. In a lot of ways this phone reminds me of the 2013 Moto X: it demonstrates that the specs on paper don't always mean everything.
Android 6.0 Marshmallow
One of the really great things about this phone is that it comes with the latest version of Android, Marshmallow, out of the box. That means you have access to new features like Doze, per-app permissions, and of course, Google Now on Tap. On top of that HTC is promising to have updates rolled out to the A9 within 15 days of Nexus devices. That's a big promise to keep, but if they can it's a great way to satisfy any Android fan.
Availability
The One A9 will be available in November on AT&T, T-Mobile, and Sprint and on Verizon in December. The unlocked model works with AT&T and T-Mobile. Essentially, if you want to get this phone you should be able to, which is great to see. The phone is available for $399.99 until November 6th ($499 afterwards) which puts it initially in competition with the Moto X Pure Edition and the Nexus 5X.
Somewhere-in-the-Middle
---
Hardware Design
The A9 looks like an iPhone 6 from afar and while on first impression I felt a lot of differences, after some time the differences became less apparent. Just this moment I picked up the A9 and thought it was my iPhone until I felt the fingerprint scanner. The A9 has more squared off edges than the 6 which makes it easier to hold despite the increased height, but for the most part it feels the same. The power button's jagged edges make it easy to discern from the volume rocker, but the button is far too easily depressed.
Let's talk about the asymmetry of the A9. While the use of micro USB makes it easy to find a charging cable, USB-C would have looked better and provided a better charging experience. The headphone jack is off center on the bottom of the device which makes the port bleed into the back of the phone. The speaker grill doesn't look like that of an iPhone (it turns out there's more than one way to drill into aluminum), but it also isn't aligned with anything at the bottom of the phone.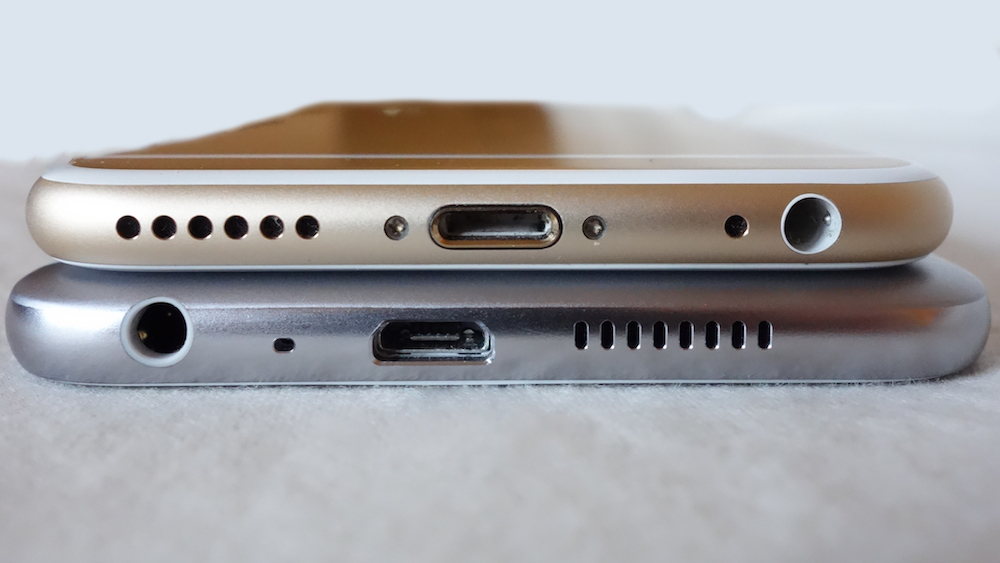 Then there's the front of the device. As I mentioned earlier I like what HTC did with the placement of the fingerprint scanner. At the top of the device there's the call speaker, the front facing camera, and the proximity and ambient light sensors. None of these are lined up with each other. The camera is just slightly higher up than the speaker and the sensor is up at the top lining up with absolutely nothing.
Looking at the rear of the device we see the same antenna lines we've seen before. The camera is lined with the center of the device with the dual tone flash to its right. There isn't a great way to place two items like this, especially when they're different sizes. The back of the iPhone looks weird with the camera and flash off to the left side and the One A9 looks odd with the camera centered and the flash to the side. I don't know that there's a way to solve this outside of separating the flash colors on either side or moving the flash under the camera. The larger issue is that with the camera hump in the back the phone rocks on both sides instead of just one like on the iPhone. Plenty of Android phones do this (like the just released Nexus 5X). It's a design compromise. It doesn't ruin the experience of using the phone on a table, but it does make me appreciate what Huawei did with their elongated camera hump. Some may not like the look, but that design deals with the rocking issue.
Is the lack of symmetry on the A9 a deal breaker? Absolutely not, but HTC shouldn't talk about how great their design is that Apple stole and then do a worse job with it. Whether or not it bothers you to have an Android phone that looks a lot like an iPhone is up to you. I found myself flopping back and forth about it because it does look a lot like an iPhone, but it also looks and feels a lot like something different. Whether or not the differences make it seem like an iPhone knockoff or the steady evolution of HTC's design is a matter of perspective.
Sense
HTC made a big deal about toning down Sense and focusing on the kinds of value adds that HTC can bring while letting Google's software do what it does well. While we still have Sense icons and Settings is changed up and all that, for the most part I think this is a step in the right direction. HTC's skinned apps work just as well as the stock versions and their design doesn't get in the way. I was quick to remove Blinkfeed from my home screen, but I can see why some might find it appealing. In the end I actually found myself enjoying Sense, which is something I've never said about another Android skin.
One thing I need to criticize, however, is their software buttons. Google implemented a triangle for back, circle for home, and square for multitasking back in Android Lollipop. HTC is using the old style icons with a house, curved back button, and square in square for multitasking which I can maybe see them justifying as easier to understand for normal users. You can actually change what these buttons look like by downloading a theme or creating your own, but HTC doesn't offer the standard buttons. They offer three designs that are close to Google's version, but two versions swap the circle for multitasking and the square for home. Why? These designs weren't a secret to HTC and they're now more than a year old.
The Not-so-Good
---
Battery Life
Battery life on the A9 is abysmal. There's really no other way to put it. I guess if you give this phone to someone who only uses their phone for phone calls, texting, occasional web browsing, and only listens to and watches cached content then you might be able to make this phone last a day. The "good" news, or rather, the compromise, is that the A9 supports Quick Charge 2.0 and will support 3.0 soon. With a normal charger the A9 takes around 3 hours to fully charge, so be sure to use a Qualcomm Quick Charger.
The A9 will automatically switch to Power Saver mode when the phone hits 15%. Power saver does what you'd expect: limits CPU, GSP, turns off vibration feedback, and reduces the screen brightness. You can adjust to have this turn on at 5% or never instead, though I'd recommend leaving it at the default. HTC also includes an Extreme Power Saving Mode which can also be scheduled to be enabled at 20%, 10%, or 5%. I would not recommend using this unless you really need it; while in this mode you really can't use your phone for much and you actually won't be able to track or remotely wipe your phone if you lose it.
I initially had the phone without a SIM card installed and it made it to about 3PM using WiFi only at which point I plugged in the phone to charge it enough to install a software update. At that point the phone was down to 12% with 2 hours and 15 minutes of screen on time. I charged it to around 40% and the phone was back down to 5% around 8PM. The following day I charged the phone completely and installed my T-Mobile SIM. I took the phone off the charger around 6:30 AM and by around 11:00 AM the phone was at 26% with 1 hour and 51 minutes of screen on time. Between 6:30 and 11:00 I used the phone to catch up on Twitter, I streamed music during my 30 minute run, took four photos, browsed the web, and conversed on Hangouts. To lose 75% battery in less than 5 hours is completely unacceptable. By noon the phone had dropped another 10%. On days when I didn't run the phone would be in the 40% range by the time it was noon after being on WiFi the whole day. In other words, like the latest flagships from Samsung you're going to have to charge after lunch to get through the rest of the day. This isn't a new problem for flagship phones, but it is annoying to see another manufacturer promise good battery life and then deliver quite the opposite.
Video
---
[responsive_vid vid_url="aglZowHd1Yk"]
The Verdict
---
If you saw the announcement for the HTC One A9 (I can't blame you if you decided to pass on it) then you know how desperate HTC is. They called out Apple for taking Zoe and calling it Live Photos and for stealing their design. They claimed "we invented Android customization when we released HTC Sense with HTC Hero in 2009," which is nothing short than revisionist history (they were the first to release a customized version of Android, but they were also the first partner and were building that off of TouchFlo, which they used to customize Windows Mobile like all the other manufacturers did). "In recent years our competitors have started customizing Android too." In recent years, you say?
HTC is so desperate to gain customers that they're using the T-Mobile handbook: calling out their competitors by name (although in a less abrasive way) in the hopes that people will realize that they're actually the ones innovating, not those other companies like Samsung and Apple who keep selling phones to your friends and family. Whether or not that strategy will work for HTC I don't know, but I certainly have my doubts.
That being said, I think the One A9 is a great phone and possibly a contender for phone of the year. If you're looking for an unlocked phone in this price range and you don't mind having to charge during the day (which seems to be the compromise on most Android phones today) then this could be the phone for you. Between the great camera, good build, the latest version of Android, a fingerprint scanner, NFC, an SD card slot, and more, the HTC One A9 is a very well rounded device that is absolutely worth considering as your next phone.