OnePlus launched a fantastic phone last year in the OnePlus One. It was even good enough to earn a spot in our list of the top 5 smartphones of 2014. That's saying something. So, of course, when OnePlus began the #hype for the OnePlus 2, many in the Android community seemed genuinely excited.
Fueling a bit of this excitement was OnePlus insisting that the device would be much, much easier to acquire. Before launch, the company claimed it would be 30-50x easier to purchase the device, even though they were still relying on an invite system to purchase it. Along with the claims of better availability, OnePlus also called this phone the "2016 flagship killer." Not 2015, but 2016, as in, this phone should be better than next year's phones too.
While the simple fact still remains that it is very difficult to purchase this phone, and it is no one but OnePlus' fault, we aren't even sure if this phone is even a 2015 flagship killer, let alone a 2016 killer.
This is our OnePlus 2 review. 
---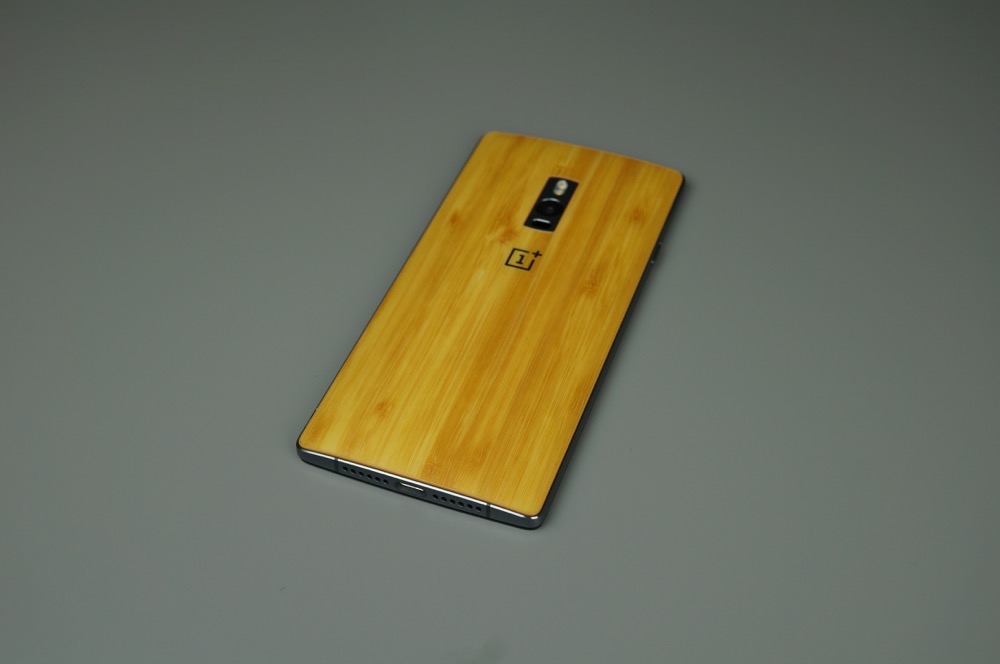 The Good
---
Specs
There has been a bit of a fuss surrounding the specs of the OnePlus 2. Is it flagship-level or did OnePlus cut a bunch of corners? The answer is – maybe a bit of both. For this review, we looked at the whole package, which includes the price that you pay for these types of specs and have decided that it belongs up here in the "Good" section even with the shortcomings we are about to mention.
The OnePlus 2 features a 5.5″ 1080p FHD display, 64-bit Snapdragon 810 processor, 4GB of RAM or 3GB depending on which storage option you choose, 13MP rear-facing camera (f/2.0), 5MP "distortion-free" front-facing camera, dual SIM slots, USB Type-C port, Bluetooth 4.1, fingerprint reader, dual-band WiFi, 3,300mAh non-removable battery, and OnePlus' in-house OxygenOS ROM (Android 5.1).
On paper, the above specs are pretty good, especially for a phone that starts at $329 (we reviewed the $389 model). With that said, as many noticed as soon as they were announced, this device is lacking NFC, wireless charging, and fast charging. It's the later part of 2015 — lacking NFC and fast charging is a big deal. Delivering great specs in an affordable package is what got us as a community excited for OnePlus in the first place, but when corners are cut, even though OnePlus claims NFC was not used by many users, it's a big deal when the device is marketed as a "2016 flagship killer."
Software
The OnePlus 2 features the company's in-house OxygenOS operating system. It's basically a vanilla-looking version of Android, but brings a few customization tweaks that allows users to do many things they could normally do only if they were rooted and running a custom ROM. That is a major bonus for anyone who is a fan of Android. For example, users can set the theme of the OS to dark or light, then set a color scheme from a predetermined list of colors. During my testing, I ran a black and orange theme, in support of my San Francisco Giants. There are many colors not available, but your basic Red, Green, Blue, and Yellow colors are available.
In addition to changing the basic theme of the UI, users can opt between hardware (capacitive) and on-screen buttons. This was also available with the OnePlus One. The one major difference between last year and this year's model is the large home button on the bottom bezel, which is also the fingerprint reader. Users can also switch up the layout of the system toggles in the notification shade. It's not groundbreaking, but the ability to change it is a positive.
Overall, the software seems good, but it is not without a few bugs. However, with a few updates, I assume most small issues will be cleaned up.
To see the full software experience of the OnePlus 2, head down to the video section below.
Hardware
In hand, personally, I enjoy the size of the OnePlus 2. Even after handling the Galaxy Note 5 for quite a bit, it was not a big deal going down in size. It fits comfortably in hand, and depending on the StyleSwap cover you choose, it feels very good.
Along the outside, there is a cold, dark metal trim, which matches the camera's housing. This dark metal does not compliment the lighter colored StyleSwap covers (bamboo), but that's a personal issue. The backside of the OnePlus 2 is the same textured Sandstone black cover, featuring an almost grip tape-like feel and look; like a very fine sandpaper. I did not spend much time with the OnePlus One last year, but after feeling the backside of the OnePlus 2 for a few weeks, I would love to see other phones come with an option such as this.
One major plus I have with the device is the notification toggle on the left side of the phone. This toggle is legit, and I want it on every phone I purchase in the future. Much like an iPhone, you can toggle how you want your notifications handled, which is exactly how Android is set up these days. You have all notification, priority notifications, and no notifications. This toggle allows you to choose which setting you want, so for example, if you are in the movies, you can quickly set the device to no notifications, without unlocking the phone and diving into the settings. It's a minimal addition, but makes a massive difference in the overall experience of the user.
Fingerprint Reader
Another major addition to the hardware of the device is a fingerprint reader. Why was it added? Well, I don't exactly know, since there is no NFC on the device, meaning no mobile payments. Sure, there is nothing wrong with added security, but it just seems odd. With that being said, it's a fantastically fast fingerprint reader. We detailed its speed previously in this post. One sweet benefit of the reader is its ability to unlock the device, even when the phone is sleeping. Your screen is off, you don't want to press the power button to wake the phone, so simply place your finger or thumb on the reader and it's unlocked. Super simple, super fast. Again, if this phone featured NFC, the reader would make much more sense, but you can only stress that issue so many times before you learn to just accept it. It doesn't mean you have to settle for it, though.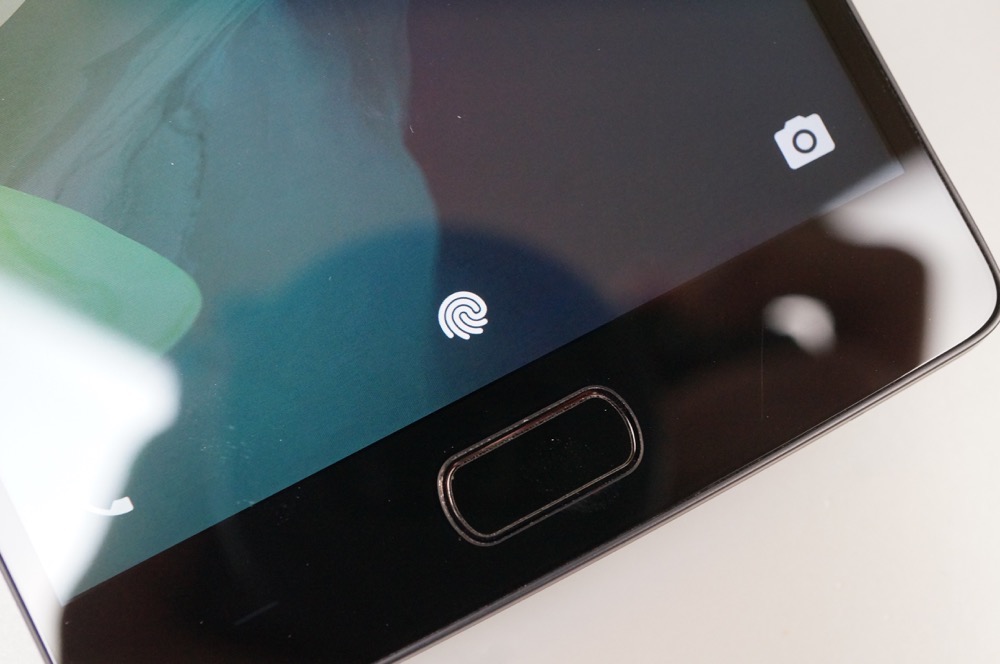 Price
Being completely unlocked with no ties to carriers, the device is priced starting at $329 for the 16GB model (3GB of RAM). For the 64GB option (4GB of RAM), the price is $389. For under $400, this is a great value in a smartphone. A reasonable comparison in price would be the Moto X Pure Edition. Although, for $399, the Moto X Pure Edition offers a bit more – QHD display, NFC, fast charging, and the ability to customize the look of the phone using Moto Maker. The point being, for the starting price of $329, the OnePlus 2 is priced very well, although, we do wish 32GB was the starting point for storage and not 16GB.
Somewhere in the Middle
---
Display
The display found on the OnePlus 2 is a 5.5″ FHD (1920 x 1080) LCD. In terms of color presentation, it mostly reminds me of what we see from HTC – colors are bright and natural, but there's not nearly enough saturation. I typically enjoy the richer tones of reds and greens, which is where devices such as the Galaxy S6 and Galaxy Note 5 perform well. The difference between the displays found on these devices is night and day. When compared to the Moto X Pure Edition, the OnePlus 2 panel handles the color white exceptionally well, with the MXPE coming off very yellow when the two are side-by-side. You can see this in the below photo.
To keep the price low, and maybe because OP thinks QHD is not yet necessary, we are left with a 1080p display. This is a good thing, since FHD displays are usually a bit lighter on batteries and processors. When you don't need to push a high number of pixels, you can expect your device to perform rather well. This is complimented by the 4GB of RAM found in the 64GB model of the OnePlus 2 we have.
To wrap it up, the panel is nothing all too special, but will surely get the job done for those who don't mind a little over 400 pixels-per-inch in a 5.5″ package. But do note, if you apply the on-screen buttons, your UI viewing size is made a tad smaller and compact to 5.1″.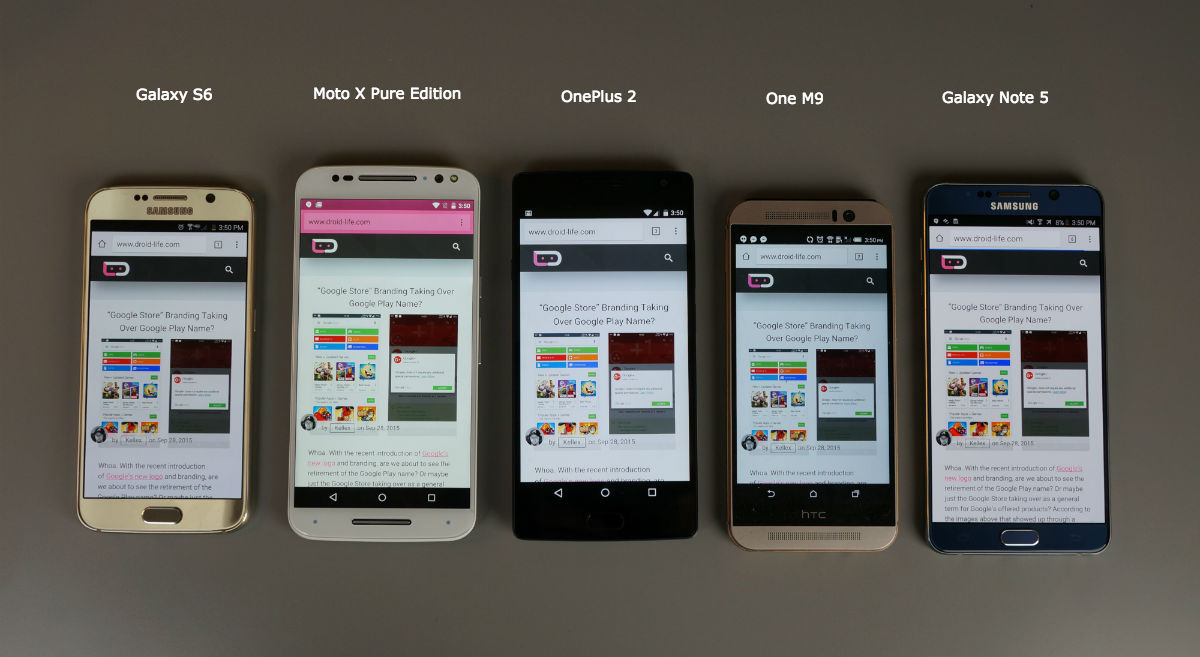 Camera
If it was any other day, I would have placed the camera section of this review under not-so-good, but under the right circumstances, the camera is pretty decent. When outside, I am able to snap shots just fine, with a good amount of color saturation and contrast. However, beware the sun, as photos can easily become blown out due to a sensitive light sensor. Indoors, when snapping shots, the screen appears rather grainy, but once the image is captured, it seems to turn out fine for the most part.
The camera app itself is a tad bit janky, and it would be nice if OP decided to throw in a few baked in filters for photos. Alas, any editing such as that be done in 3rd party apps like Snapseed.
The clearest image I was able to take, at least in my opinion, was of a slow-moving snail at night with the flash turned on. Why the photo came out so crispy looking, I will never know.
Frankly, if I had to rate the camera, I would give it about a 6.5/7 out of 10. The only reason being is that when compared to a camera ranked at 10, which would be the camera found in the Galaxy Note 5, the OnePlus 2's shooter hardly, and I mean hardly compares. Of course, there is that huge price difference, so for the starting price of $329, you can't really expect the greatest mobile photography experience ever. Thanks to an update, OnePlus added a RAW shooting mode, which is most welcomed by seasoned photographers. I, however, am not one of those.
Take a look at my samples below, ranging in shot-taking scenarios. There's a few low lighting, bright lighting, HDR on, HDR off, flash on at night, etc.
Full resolution: 1 | 2 | 3 | 4 | 5 | 6 | 7 | 8 | 9 | 10
Battery
The OnePlus 2's battery life for me could be best described as average. My day is usually 7:30am to 10pm, and the phone had no issue getting me through the entire day most of the time. Sometimes I would see below average battery life, but that's because I have fallen victim to Candy Crush yet again, and that game is a true battery hog. For me, on average, I see a battery lasting me through the day with about 3+ hours of screen on time, and that's just the average. This is exactly what I experienced with the OnePlus 2. Nothing special, but not bad by any means.
If I had to compare it, I would say it lasted me longer and more consistently than the Galaxy S6, and just as good as the Galaxy Note 5. While on paper it should easily beat out the Galaxy S6 (2,550mAh), which it does, the OnePlus 2's 3,300mAh battery failed to deliver anything truly superior to the Galaxy Note 5's 3,000mAh. For featuring 300mAh more battery, plus only having a FHD display, I expected a bit more juice out this device.
The Not-so-Good
---
No NFC
"2016 flagship killer." Not without NFC, you aren't. At first, I thought many in the Android community were sort of blowing the OnePlus 2's lack of NFC out of proportion. But now that I have been using the device, and seeing the rise of Android Pay and mobile payments in general, I have been completely left out. OnePlus claims no one used NFC on the OnePlus One, so they figured why even bother including it in the OnePlus 2? As I just mentioned, Android Pay is now available, making mobile payments even more mainstream than they were with Google Wallet. But if your phone lacks NFC, you will be left pulling out your plastic and cash every time you purchase groceries. Sorry, but I consider myself rather progressive in terms of technology adoption, and I want mobile payments. Every phone comes with NFC. Even many of the dinky low and mid-range phones have NFC. OnePlus' decision to remove NFC reveals a non forward-thinking approach to designing a "flagship" device, and for me personally, that is a major turn off.
USB Type-C and No Fast Charging, Wireless Charging
While the progressive attempt to bring USB Type-C to the US market first is admirable, let's be real — this is not our idea of USB Type-C. Sure, the port and plug are reversible, so no matter how you stick it in, your device will charge, but OnePlus decided it would be best to just reshape a micro USB 2.0 cable and leave it at that. There are no insanely fast data transferring abilities (like with USB 3.0), and what makes it even worse, the port and device do not support any type of fast charging. Having used devices that all feature Quick Charge 2.0 or some sort of fast charging for the past few months, it is hurtfully obvious that the OnePlus 2 charges ridiculously slow.
So what we are left with is a device that will only charge if you have a special cable or special adapter (purchasable on OnePlus' website for $9.99), which leaves anyone who has purchased an Android device in the past somewhat screwed if they don't want to buy a few adapters at $10 a pop.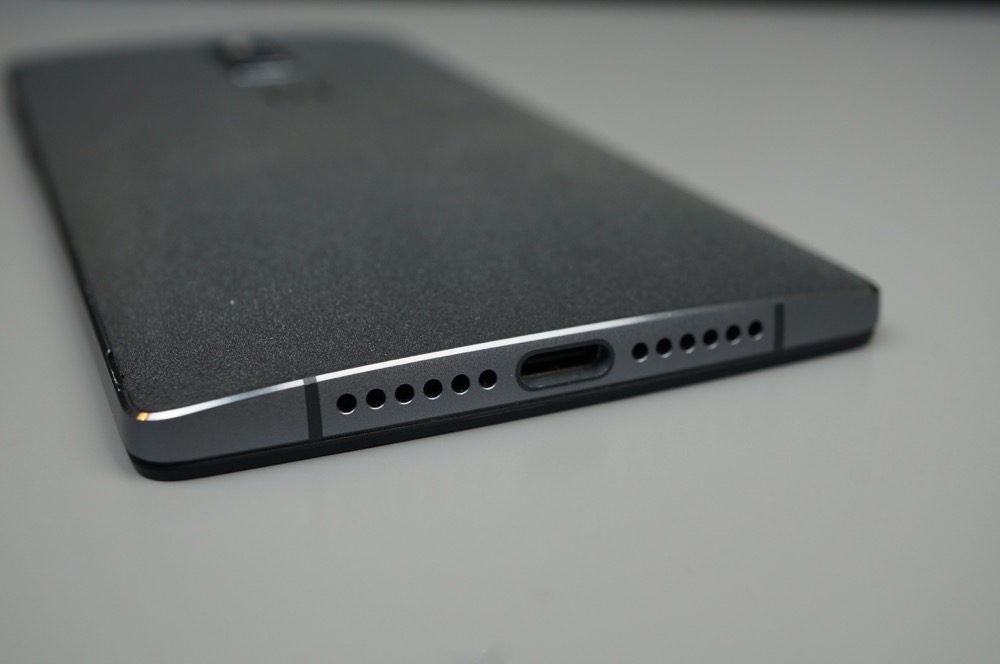 Another issue I came across is when I needed to charge my phone. Usually, if I go to a friend's house, the chances are they will have a micro USB 2.0 charger laying around. Heck, I have about 20 of them sitting around my house near all of my outlets. Now, with USB Type-C, I'm screwed if I leave the house and don't have my OnePlus charger with me or one of these adapters. Seriously, if you end up purchasing this phone, you may want to invest in a few of those.
Don't get me wrong, I am ready for USB Type-C, and I love it. But it's so early in the adoption and rollout of the technology that if you happen to have a device that features it, be sure to always have a spare Type-C charger on your person (or an adapter), because none of your friends or family can help you charge your phone.
This issue is only exacerbated due to the OnePlus 2's lack of wireless charging. I have plenty of those around the house too, and with this "2016 flagship killer," they're worthless.
The moral of this story is, it sucks to be an early adopter.
Availability
Let's get this section over with quickly, because I can't stand talking about it. OnePlus uses an invite system for those who wish to purchase the OnePlus 2. They did the same last year, too. As we all know by now, invite systems totally blow, especially when OnePlus allows users to refer friends to sign up, bumping referrers up in the queue. That's some bullsh*t. At first signup, I was placed around 305K. Now, a month and a half later, I am at 405K. Sorry, but WTF?!
Interestingly enough, I received my invite this weekend (on Saturday, Sept. 26), but of course, I did not purchase. In the email, OnePlus says the invite is good for 24 hours. So, if at the time you ask for an invite and you have the necessary funds to purchase the device, but then don't have the money once you finally get the invite, no phone for you.
Invites would not be the end of the world if OnePlus could at least begin shipping their device out in a timely manner. The phone officially launched on August 11, but as I stated, I just received my invite this weekend – a month and a half later. In a market that sees a new flagship device every couple of months, by companies who know how long it actually takes to test, certify, and manufacture devices, OnePlus continues to disappoint potential customers, leaving them no choice but to "settle" with a better phone.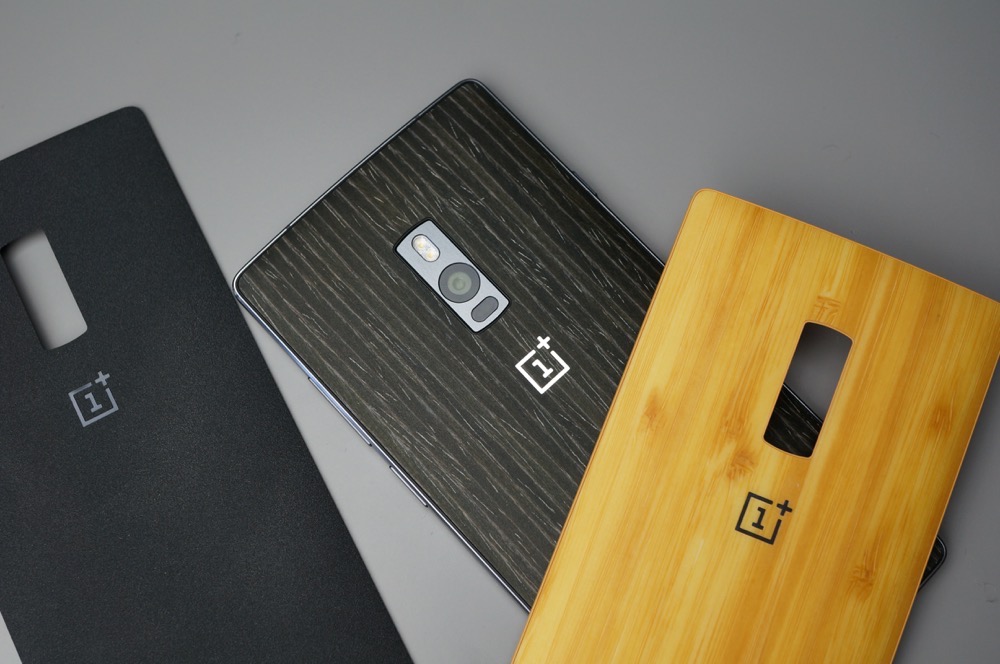 No Expandable Storage
2016 flagship killer, but features zero expandable storage and only two storage options; 16GB and 64GB. If you read this site, you will know that we do not exactly think expandable storage is necessary, but it would be nice, right? If you purchase a Galaxy S6, you at least have the option to purchase a ton of storage with a 128GB model, but with the OnePlus 2, I can't help but say you are settling for just the ability to use 64GB. For what I assume is only a small portion of users, this would be a deal breaker, but I know for others, a phone either has microSD or they won't even consider purchasing it. I personally do not use expandable storage, but I accept the importance of it for some users, and when you hype a device as much as OnePlus did, and don't deliver specs like this, it doesn't help your overall case. Sorry, but that's the truth.
Videos
---
Unboxing and Hardware Tour
[responsive_vid vid_url="iQi8_kM_07E"]
Software Tour
[responsive_vid]
Gallery
---
    
The Verdict
---
Even with a few of the fun software tweaks you can perform, decent build quality, and that attractive price, the downsides to this device — plus the complete lack of future proofing — I would not highly recommend this device to any potential buyers.
Mobile payments are a real thing now in 2015, so the lack of NFC is a major downside. Even if people "don't use it," having the ability to turn it on when and if you want it would have been nice. Instead, OP wanted to save a few dollars, at least from what we assume. Combine these struggles with the inability to purchase the device with zero frustration and it's easy to pass on the OnePlus 2.
Better luck next year, OnePlus.