No time for the pageantries, let's cut straight to the chase. The Galaxy Note 5 is the best Note device Samsung has released up to this date. Featuring a completely reworked design in addition to top tier specifications, if a big phone is something you want, it is likely you will end up purchasing the Galaxy Note 5. But hey, don't be so surprised, this is a very good choice you are making.
A redesigned exterior is something we have seen coming, thanks to the massive overhaul we saw in the Galaxy S lineup, and frankly, it is super nice. With the combination of a sexy look, ridiculously awesome display, superior camera, and a few added benefits of TouchWiz, the Galaxy Note 5 is "Phone of the Year" material in its purest form. But enough with the small talk, let's get into it.
This is our Galaxy Note 5 review. 
---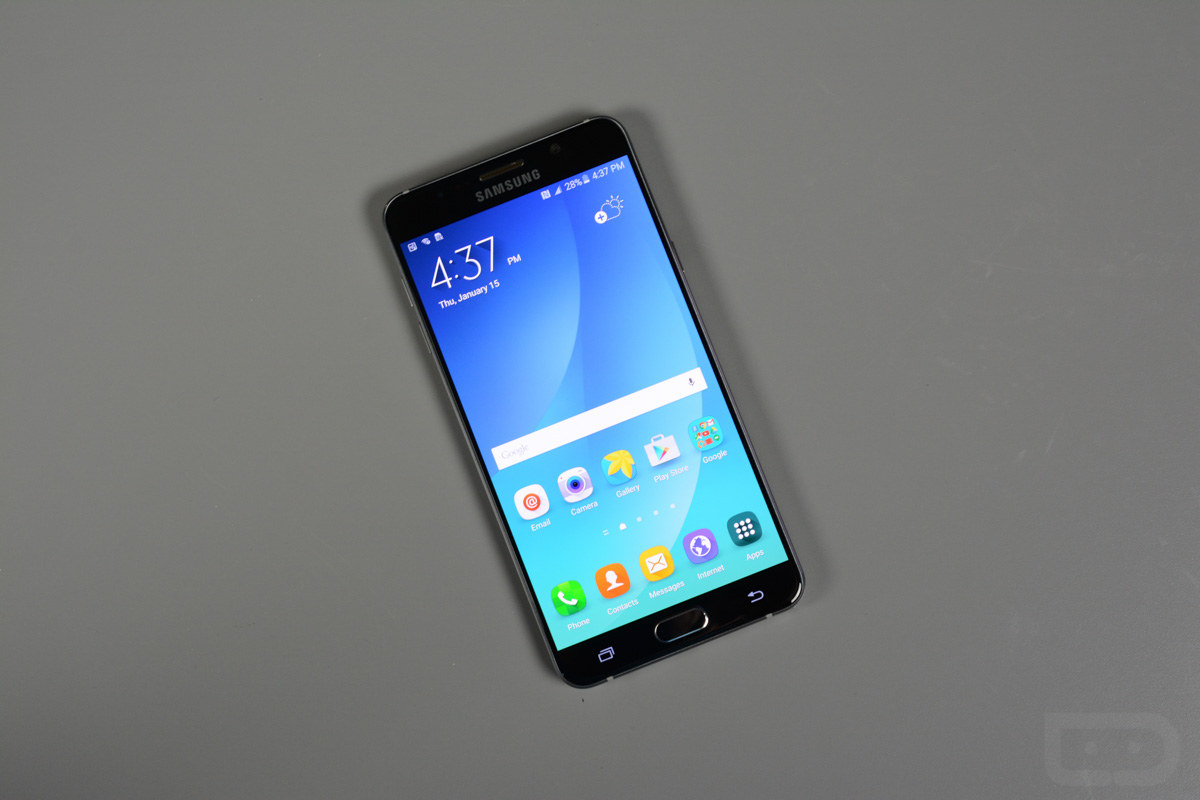 The Good
Specs
For specs, we never expect anything but the best from Samsung for Note devices. Naturally, they stuck to their guns, outfitting the device with a crazy-good list of specs that all of us Android nerds can appreciate. The device features a 5.7″ QHD Super AMOLED display (2560×1440, 518ppi), Exynos 7420 64-bit 14nm octa-core processor, 4GB of RAM, 32GB or 64GB storage configurations, NFC, MST, 16MP rear-facing camera with OIS, 5MP front-facing camera, 3,000mAh battery, Fast Charging, Fast Wireless Charging (wireless charger sold separately), a ton of sensors, and Android 5.1+ with TouchWiz. You will notice that the spec sheet does not include a microSD card slot, removable battery, or IR blaster. Don't worry, we get into those topics down below.
Display
The 5.7″ QHD Super AMOLED beast of a display found on the Galaxy Note 5 is gorgeous. The blacks are black, images are crispy, and "4K" content streamed from various sources look fantastic. What helps make the display really "pop" is the lack of bezel surrounding it, at least in my opinion. Yes, this focuses more on the "design" aspect of the phone, but it's something you can't help but appreciate when starring at the device.
For all of you pixels fanatics, you will be happy to know it features a pixels-per-inch of 518, an incredible number spread just over 5.7″. Even when you are squinting really hard right next to the display, it's impossible to make out individual pixels. With this device, Samsung continues its triumphant success in the world of mobile displays.
Macros for fun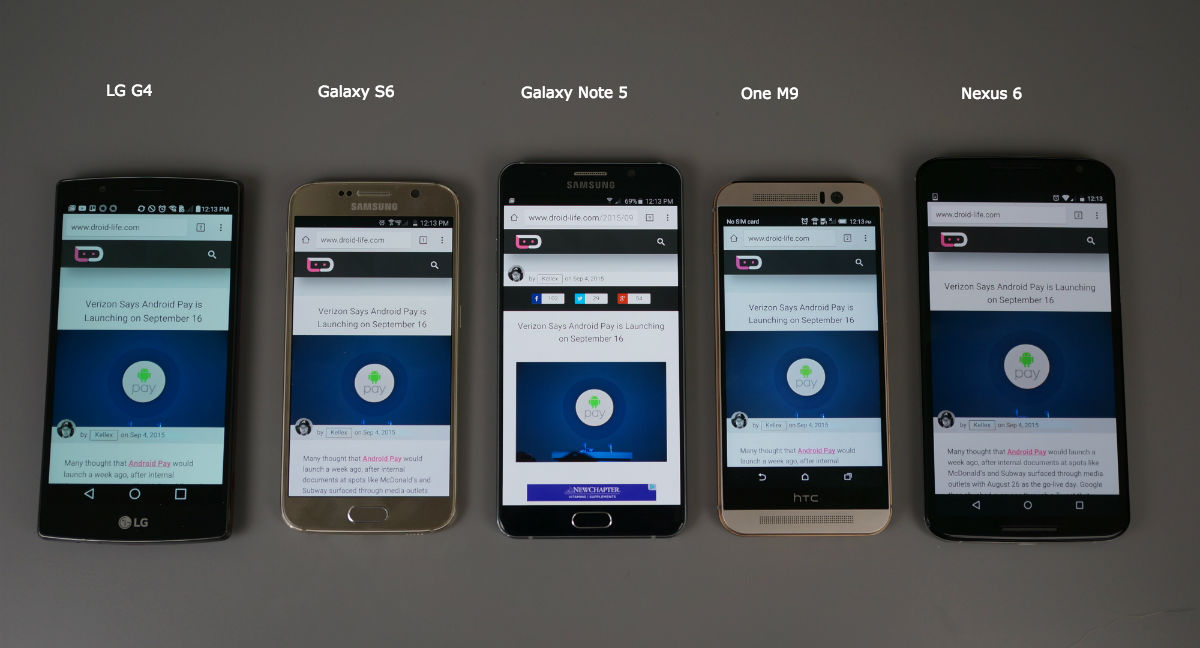 Battery
While I can't sit here and tell you the Galaxy Note 5 will last you multiple days without a charge, there is no doubt that in my time with the phone, it lasted much longer than that of the Galaxy S6 and S6 Edge – the two phones I have been using most of this year. While using the Note 5, I got a solid day of use out of the phone, even while traveling out of town and jumping from WiFi to cellular countless times. I was mostly impressed with how long the device kept ticking. But you should note, this is my experience. It's likely that I use my phone differently from everyone here, and the same goes for you, but don't be afraid thinking that Samsung can't make a smartphone last a full day on the battery. As an added bonus, the device features Fast Charging along with Wireless Fast Charging, so even if you are pounding your battery, you can get a charge quickly for the remainder of the day.
Performance
Thanks to the 64-bit octa-core Exynos processor with 4GB of RAM, I hardly ever noticed any lag, frame rate droppings, or jank. I know, trust me, I am as shocked as you are. While fiddling with multi-window functionality or going in and out of applications, the Note 5 simply flies. And considering how many games and apps I play with on a daily basis, I am usually the first to cry over hiccups in performance. Now, the question is, will this performance stay strong? We saw on the Galaxy S6 that after a few updates and a couple months of daily usage, the performance took a dive, and honestly, all we can do is cross our fingers that the same won't happen on this device. Android as an OS seems prone lately to getting wrenches caught in the gears, so much so that performance issues can't be entirely blamed on custom skins from OEMs anymore. From what I have seen so far, I am not too worried about performance suffering in the coming months.
Design
When I say the Note 5 is the best Note device ever, I'm talking about the whole package. There's no faux leather crap, fake stitching, or any other gaudy gimmicks to make this device look premium. This device is the pinnacle of premium when we are talking Android handsets. It's weighty, but not overweight, giving off that sense of security and luxury. If you were debating over the Galaxy Note 5, head into a store and pick it up. It's surprisingly light, even with its full-metal frame and glass adorning the front and back. Plus, the way Samsung curved the back portion, making the device fit snuggly in-hand is a great touch – much better than a squared slab of metal and glass in your hand that might poke you or feel somewhat sharp.
In my opinion, it's one of the best looking and feeling devices ever made. Of course, design and looks are completely subjective, so what I think looks tasteful and elegant, you could feel otherwise. Just note, if you are switching from an older Note device to the Note 5, get ready for a serious in-hand difference.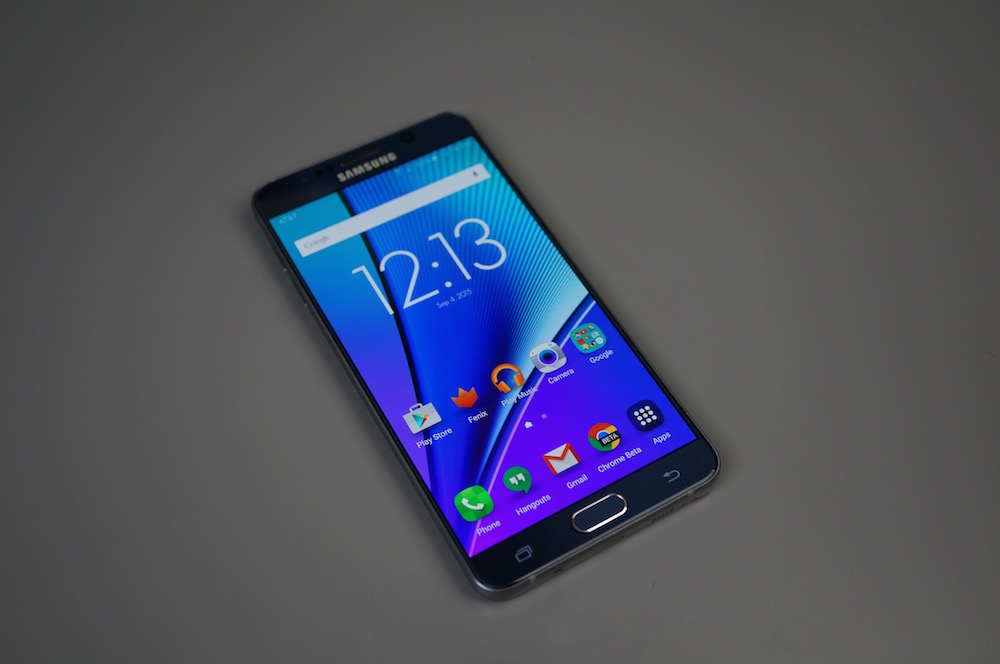 Camera
The past few flagship devices from Samsung have featured fantastic shooters, and the Note 5 is no different. With a 16MP rear-facing shooter with OIS, I was able to capture a ton of great shots around the house and while I was up in Washington State for a wedding. Sadly, we have a ton of forest fires going on, so blue skies are somewhat hard to come by. Regardless, the Note 5 captures great detail, as well as fantastic video.
Worth noting, I found the Galaxy Note 5 to excel in a few points in particular – landscape shots, macro shots, and lowlight. For macro shots, the amount of detail you can pick up while viewing the photo on a QHD display is remarkable, and the colors are never blown out of proportion. While shooting landscapes, I felt that even if I needed to do a bit of size cropping, details were hardly lost, which is appreciated considering the photos are so massive in size that they do usually need a bit of trimming before hitting social media. Lastly, while I would not go so far as to say the Note 5 beats the G4 in lowlight scenarios, the Note 5 performs quite well. When viewing the shot before you snap, you will see much more noise than your actual finished product. Take the below moon photo for example. During shooting, my screen was filled with noise and other ambient light sources, but once the shot was complete, it actually turned out rather well. And with further tweaking of light settings, I am sure a more skilled photographer could snap excellent shots with this device.
Full resolution: 1 | 2 | 3 | 4 | 5 | 6 | 7 | 8 | 9

Availability
You know what's nice about flagship devices from Samsung? You can get them anywhere and everywhere. The Note 5 is available to purchase from all major US carriers, coming in different colors and storage options. For colors, you have Black Sapphire and White, with the 32GB model typically priced at at about $700+ off-contract and the 64GB model going for $780+, depending on your carrier. It can also be purchased on an installment plan, bringing your monthly bill to about $20+ a month depending on which storage model you choose. For specifics on pricing, head to your carrier's website.
Samsung Pay
Built into the Galaxy Note 5 is Samsung Pay, the company's brand new mobile solution. As of right now, the service is in a limited beta, but will see a wider release near the end of the month. Since I don't have a card supported, I can't use it, but once I can, I plan on using it exclusively. The idea that newer terminals with NFC are not required is what interests me. Simply swiping my phone to pay, no extra steps needed? Sign me up. Once Samsung Pay is officially launched, we plan on giving it a whirl, and will then report our findings. Until then, having Samsung Pay is still listed as a big bonus.
Somewhere in the Middle
---
TouchWiz
TouchWiz has matured substantially since it was first baked onto an Android phone so many years ago, and frankly, it used to totally suck. I would say it reached peak crappiness levels on the Galaxy S5, but it appears Samsung has somewhat heard our cries of, "Jank!" On the Galaxy S6, they announced they had completely trimmed the custom skin, making devices smoother during operation. During my experience on the Galaxy Note 5, with its beefed up Exynos processor and 4GB of RAM, TouchWiz actually flies. The overall look of the skin itself is not all that bad, considering Samsung allows you to apply custom themes through the dedicated Themes app. One thing I can't stand are Samsung's custom icons. It's amazing how terrible they really are. How Samsung intended for these to look good with any 3rd-party app is beyond me.
Everything on the new Galaxy devices is skinned – Dialer, Contacts, Calendar, Calculator, etc. It's not that skinning things is bad, it's that Samsung attempts to make TouchWiz look very unlike stock Android, which as a vanilla lover myself, I don't care for. But again, themes! I applied the Material Theme as soon as I booted up the device, changing all of the stock application's look, plus icons. It's great.
To keep it short, TouchWiz is so much better than it used to be. I mean really, really better. And since Samsung sort of listened and gave the people what they want, I think TouchWiz will only get better from here. No, this isn't me shunning vanilla Android, it's just me being able to cope with the fact that I could see myself actually using this skin on a daily basis. And that's saying a lot.
S Pen
First off, don't stick it in upside down. Once you have mastered that crucial aspect of the S Pen, everything else will fall into place. Assuming your S Pen is not already stuck, Samsung's latest S Pen is quite different from models past, with it now featuring a fancy clicker mechanism, the same as you would find on a pen. The clicker does not actually perform any useful features, but it's fun to click, and that counts for something. In terms of what you can do with the S Pen, not too much is different, but there are a few things worth noting.
When you have your device locked and the display turned off, you can remove your S Pen and begin writing white text on the black screen. Notes you take can be saved as Action Memos for later viewing in the S Note application. In addition, users can create rolling screenshots, of a webpage for example, no longer limiting you to capturing just a display's worth of information.
The same Air Command prompt appears when you remove the S Pen, allowing for quick note taking, Smart Select, and Screen Write. These same features were built into the Galaxy Note 4. While the S Pen feels solid and the software performs great, I am sorry, I can not give Samsung much credit when all it takes to break your phone is to stick the S Pen in backwards. That's ridiculous.
See the video below for tips and tricks on how to get the most out of it.
The Not-so-Good
---
Missing microSD Slot and Removable Battery
There seems to be plenty of people up in arms over the fact that Samsung neglected to throw in a microSD slot and removable battery on the Note 5. I, however, am not one of those people. The only thing is, when we are talking "flagship" devices, you sort of expect a few things to be absolute – having expandable storage is one of those. While we may never know the exact reason Samsung decided to leave it out, even though it's possible margins played a small role, I don't find myself needing a microSD card all that much. Sure, if you shoot a ton of 4K videos and high definition photos, you may be screwed, but what percentage of buyers actually plan on doing that? And for those of you who download 1,000 apps onto the phone, really? Is that necessary? Thankfully, that's not up to me to decide, and instead, it's up to you. If you feel that you need 128GB+ of storage at all times, get a different phone. But if you can manage to keep your goods on-device (not including cloud storage) to just 32GB or 64GB, the Galaxy Note 5 is a great option.
Videos
---
Unboxing + Tour
[responsive_vid vid_url="HtQ2-rqLO24″]
Galaxy Note 5 vs. Galaxy Note 4
[responsive_vid vid_url="6SLxRHIKM08″]
Galaxy Note 5 Tips & Tricks
[responsive_vid]
Galaxy Note 5 S Pen Highlights
[responsive_vid vid_url="97RufyqRtu0″]
Gallery
---
Verdict
---
Phones like the Galaxy Note 5 make reviews very easy. As a daily driver, there is not much to complain about, with the exception of no microSD card slot and no removable battery – both of which came on the Galaxy Note 4. If you can live without those two things, which I sure can, the Galaxy Note 5 will treat you quite well.
I will stick to my guns and claim that the Galaxy Note 5 is an easy pick for Phone of the Year currently, at least until we get our hands on upcoming Nexus devices and the Moto X Pure Edition.