At the stroke of midnight, last night, Sony announced two new phones for "emerging markets" that I think many of you hope make it far beyond and into bigger markets. The two phones are the Xperia M5 and Xperia C5 Ultra. I would suggest to you that the Xperia M5 is the more appealing of the two because of its supposedly great new camera and smaller body, but the C5 Ultra's non-existent side bezel almost looks too clean to be real – except that it is – and is just as interesting.
Each phone sports a 1080p display, thin body, MediaTek octa-core processor, and some unique camera setups. Sony is referring to these as "super mid-range" type phones, but they really could pass as flagships for the most part.
It's unfortunate that most of us will never have a chance to buy either, because they really do sound quite appealing on a number of levels. 

Xperia M5
As a fan of the Compact line from Sony, I can almost guarantee to you that I will somehow, some way, try to find this phone. If I have to import an Xperia M5 from across the globe, I will. Why do I say that? Because this phone sounds like the ultimate package for those of us in need of a device that isn't extra large.
The Xperia M5 features a 5-inch 1080p display, 2.0GHz MediaTek Helio X10 octa-core 64-bit processor, 3GB RAM, 16GB internal storage (plus 200GB SD card support), 2600mAh battery, Android 5.0 (what?), IP65 and IP68 water/dust rating, and a brand new 21.5MP camera that is supposed to be bonkers. Bonkers as in good. Oh, it also has a 13MP front camera.
The camera on this phone has a 5x Clear Image Zoom, shoots 4K videos, and is supposed to be insanely fast to focus and snap photos. Sony is talking up the camera on this phone like it could be one of the best in the business, which is something we should expect from the company that basically supplies everyone with smartphone camera sensors.
The phone should also last up to 2 days on a single charge and again, is the phone for those in need of a normal sized phone. It will be available in black, white, and gold.
[responsive_vid]
Xperia C5 Ultra
The C5 Ultra, as you can see below, is quite unique in that it has almost zero side bezel. It's a crazy look for a phone, and one that should be an interesting test to see if we really need this little bezel in a phone.
Other than its unique look, the C5 Ultra sports a 6-inch 1080p display, 13MP front and rear cameras, 2930mAh battery, 2GB RAM, 16GB storage (plus 200GB SD support), Android 5.0, and a 1.7GHz MediaTek MTK6752 octa-core 64-bit processor.
It's a big ol' phone, but with that little bezel and a 8.2mm thick frame, it might not be terrible to use. It will come in black, white, and green.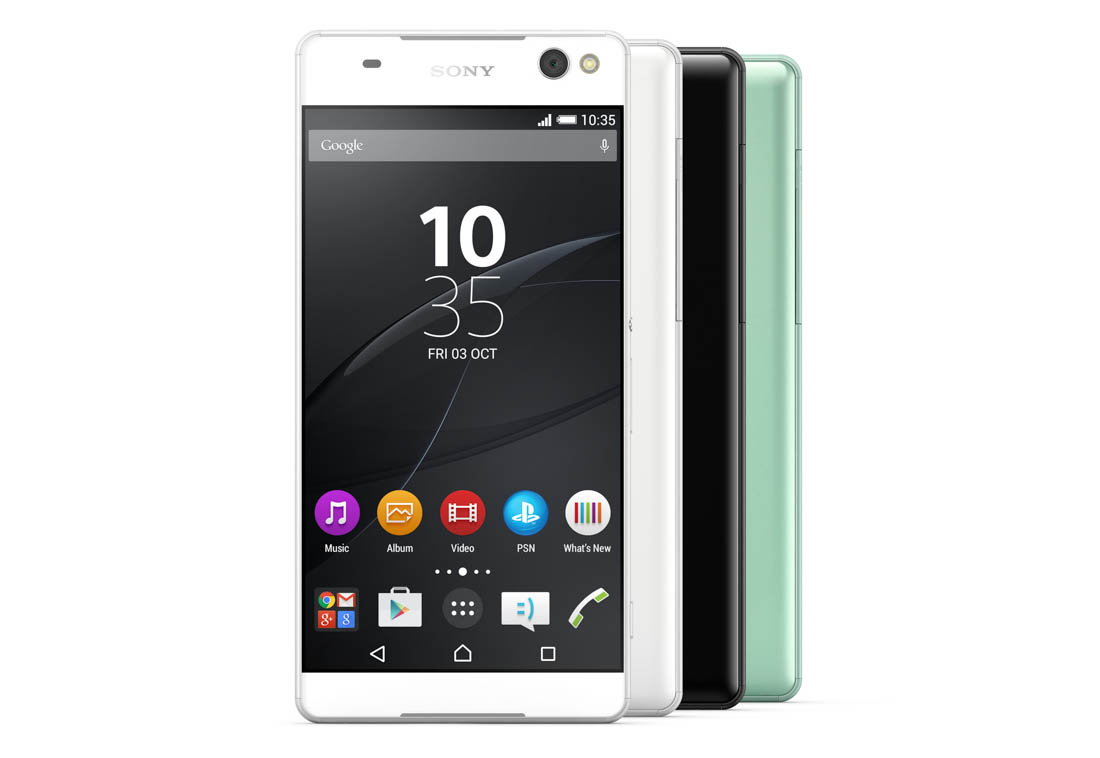 Each phone is arriving "selected countries across emerging markets" starting in mid August.
Full product details:  Xperia M5 | Xperia C5 Ultra