OnePlus may have told us that they plan to stop the (t)rollout of features for the OnePlus 2 until the phone's unveiling on July 27, but that doesn't mean there aren't ways for them to keep it in headlines. Take today's appearance as an example, which comes courtesy of Marques Brownlee, the man you probably know as MKBHD. Marques has a OnePlus 2 at the moment and posted what may very well be the first public photo taken with it.
The photo is somewhat of a macro of a viewer with cityscape in the background. Of course, we get to see the fine details of the viewer as the point of focus, along with the soft bokeh in the background. 
While I'm no photographer or image analyzer, I personally think the photo looks good enough and doesn't appear to be heavily processed in a bad way, like we saw with photos taken on HTC's One M9. It comes off a bit yellowish or warm, but that could be from the lighting at the time and location this photo was taken (at least I hope that's its excuse). If you zoom into something like the actual binoculars, details are preserved long enough for a phone camera, in my opinion.
Outside of the actual photo, though, the EXIF data from the image does reveal some new info. This photo was taken at a 13MP resolution (4:3 ratio) and f/2.0. Who knows if Marques tweaked anything before he shot it or if he left it in auto, but f/2.0 certainly isn't the f/1.9 we saw on the Galaxy S6 or f/1.8 from the LG G4. The 13MP resolution doesn't bother me, but I'm sure people will point out that others in the industry are settling into 16MP and 20MP shooters.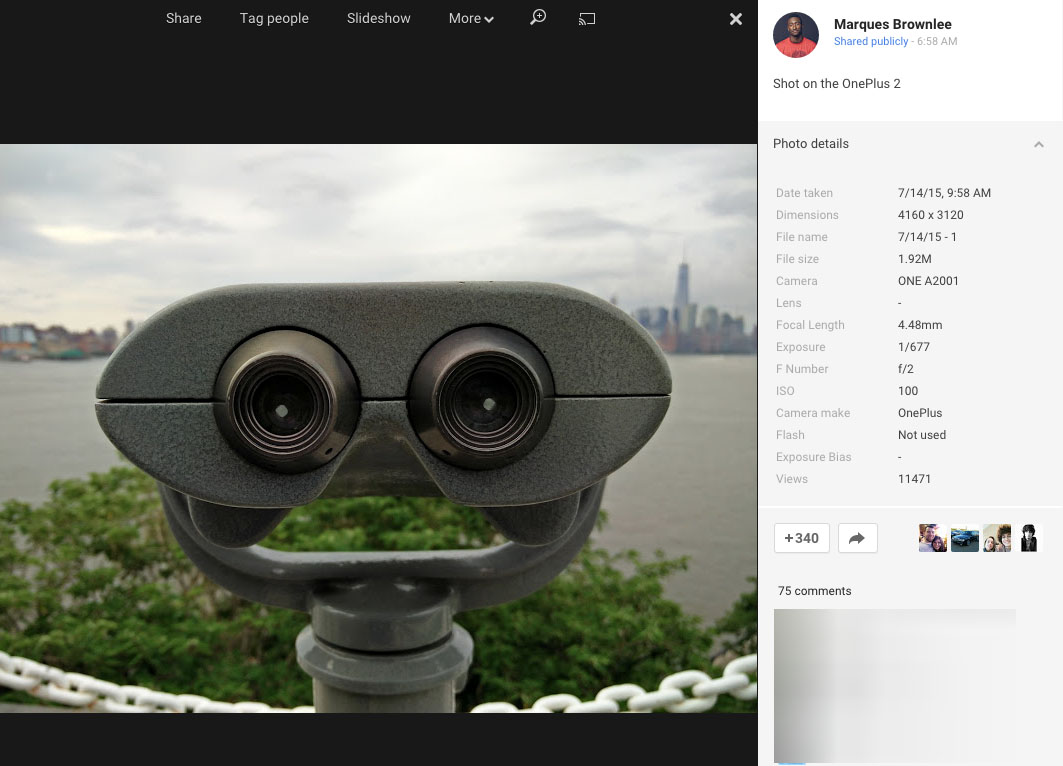 Finally, we are getting confirmation on the model number we spotted a couple of weeks back. The OnePlus 2 is indeed the A2001.
Here is the full resolution photo, along with download link.
What else? Photogs in the building, please weigh in.