T-Mobile kicked off Un-carrier Amped! this morning, just as they promised. The first announcement in what should be a series of new initiatives, involves JUMP!, the device-payment upgrade program T-Mobile introduced back in 2013. Starting June 28, T-Mobile customers can join JUMP! On Demand and upgrade whenever they want, without fee, up to 3x per year (12 months). 
The new program works like this. T-Mobile will hand you a new smartphone with zero out of pocket costs. You agree to pay for it monthly, just like any other device payment plan. But when you decide you want a new phone, T-Mobile will let you get one at any time, up to 3 times per year. All you have to do is head into a T-Mobile store and swap out your current phone for a new one. Your phone will go through a "quick three-point check-up" to make sure it is still in good working condition before letting you grab the new device.
Unlike regular JUMP!, JUMP! On Demand doesn't include a $10 monthly fee, so the program is essentially free outside of the cost of the phone per month. If you want device protection/insurance, you can have that for $8.
This new payment plan appears to be an 18-month lease rather than the typical 24-month plan most of you are used to. We don't have pricing yet, but it sounds like T-Mobile is basically leasing you the phone for 18 months with monthly payments that likely don't add up to the full cost of the phone. So at the 18-month mark, if you don't want to upgrade to a new phone, there will be a "final payment" for you to make to pay off the remainder of the phone. Once you do that, the phone is yours to keep. You can also pay off the cost of the phone early.
We are still waiting to see if all of their phones are included in this plan. We will update this post as we have that info.
Update:  Here are the list of phones that will be eligible for JUMP! On Demand at launch along with their monthly costs.
iPhone 6, iPhone 6Plus, Galaxy S6, Galaxy S6 edge, Galaxy Note 4, LG G4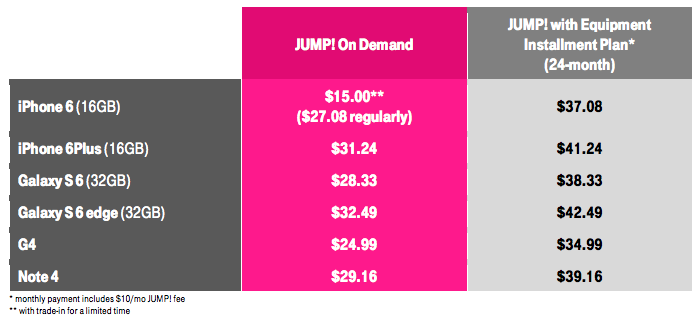 Update 2:  Here is a more detailed look at pricing, the phones, and how it compares to regular JUMP!.
And here is CEO John Legere sounding off. Yes, there is profanity involved.
Note:  Edit made to the 18-month payment section, explaining that this is really an 18-month lease, with final payment due at the end of the 18-month period should you choose not to upgrade.