The LG G3 on Verizon is getting Lollipop! It is! Look, we have an official document saying as much. It's also dated today! It doesn't say April 1!
In all seriousness, the timing of Verizon going live with update details makes perfect sense. Over the weekend, we told you on Twitter (you should follow us there for nuggets of info like this) that you could plug-in your G3 and update via Verizon's Software Upgrade Assistant. Many of you took us up on that and have been running Android 5.0 for a couple of days, while others were slightly confused by our half-cryptic Tweet.
Either way, the over-the-air (OTA) version of the update is going to start today. As expected, it's a big one. 
After the update, users will see revamped UI elements, including the navigation buttons. There are notifications now on the lock screen, but unfortunately, LG broke the real functionality that Google intended here. Other than those two things, you'll have more control over notifications down to the individual app level, Smart Lock for Bluetooth devices, searchable system settings, floating action buttons here or there, a new app switcher UI, screen pinning, and a bit more.
We walked through Lollipop on the G3 a few weeks back and have included that video just below the changelog.
To check for the update, head into Settings>System updates>Check for new system update.
Go get it!
---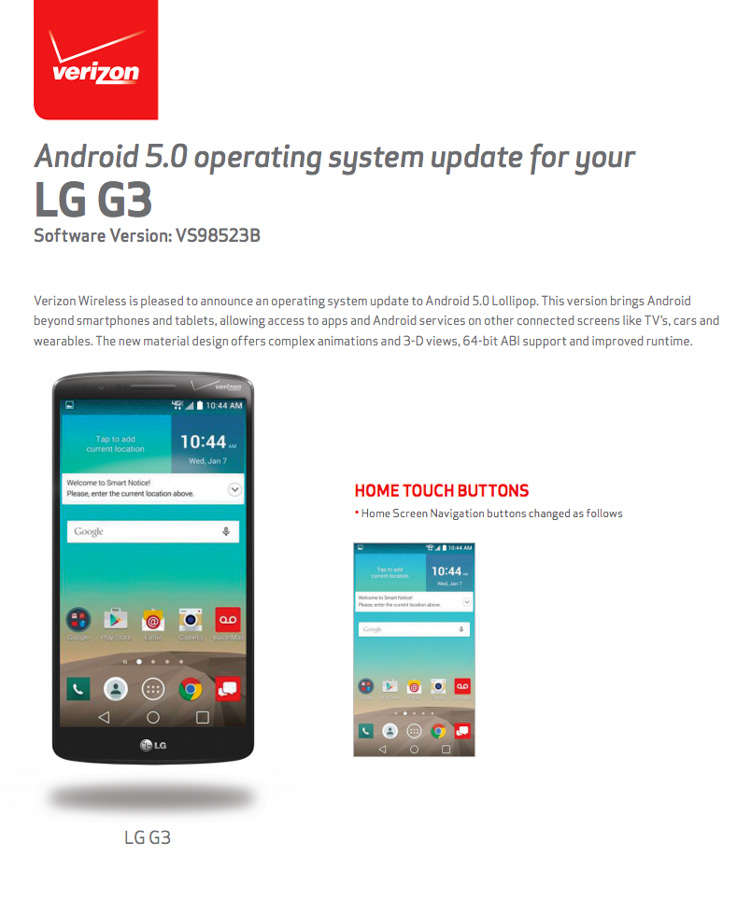 ---
[responsive_vid]
Cheers Neil!