Evernote pushed an update to its Android app yesterday, an update that brought a Material Design flavor with it. The update isn't necessarily an overhaul, by any stretch of the imagination, but it does bring added polish in areas like colors, typography and flatness, to give it that Material feel throughout. The Evernote designers focused on creating independent layers and subtle animations to give the impression of depth and a "sense of hierarchy."
The update also adds things like customizable quick notes, long presses to add or remove quick note options, a revamped navigation, simpler navigation drawer, and more. 
What's New
Visual refresh supporting Google's Material Design principles, including a flatter look, bolder colors, and improved typography.
Customizable quick notes
Long press to add or remove quick note options
Revamped navigation
Simpler navigation drawer with direct access to shortcuts
Improved note editor and note view
Cleaner layout and control
Editable tags
Support for renaming and deleting tags
Numerous bug fixes and enhancements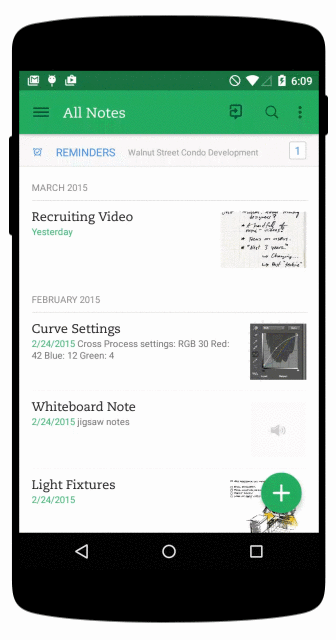 ______________________
Some of our best videos.