Shortly after the first alleged pictures of the Samsung Galaxy S6 showed up in prototype form yesterday, another leak came with two photos of what may be the Galaxy S6 Edge. For weeks (if not months) we have heard rumors of the possibility of there being two new Galaxy S6 models in the works, one with the Edge technology used in the Galaxy Note Edge. Assuming these images are genuine, this is how things have changed for the new Galaxy S. 
The photos are pretty low quality, but we can see below that the device situated top-left, with the home screen up, has slanted edges on each side of its face, just like rumors suggested it would. This is the Galaxy S6 Edge. The technology here differs a bit from the Note Edge, though, in that the edge displays are showing the same content as the home screen rather than dedicated panel information. That could mean that you are able to toggle edge displays on or off depending on the situation, they have gotten smarter with how they display content, or Samsung ditched panels altogether and is instead just making a phone that looks cool with curved edges. Really tough to tell from a single image.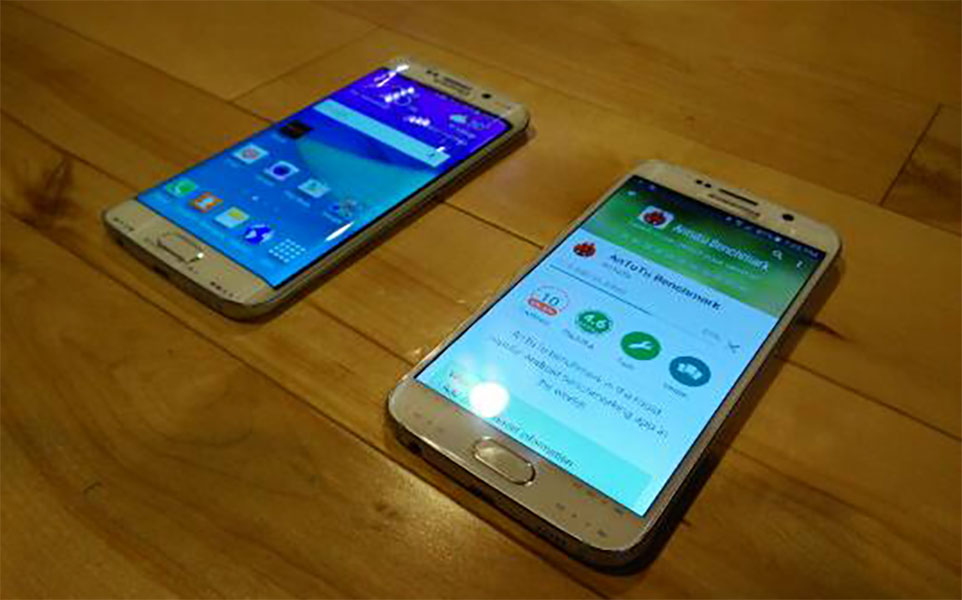 On each phone, we are seeing a fatter home button, which likely means we have a real fingerprint sensor, instead of the janky swipe-required sensors seen in last year's Galaxy S5 and Galaxy Note 4.
Finally, the backs of the devices look quite shiny – I'd say that's glass. Mmmhmm, that's glass.
So, did Samsung do enough? I'm liking what I'm seeing so far.