Pebble kept to its word this morning with the announcement of a new product, the Pebble Time. As expected, the Pebble Time comes with a full color e-paper display, along with a new interface called Timeline, which is a bit like Google Now in that it puts relevant info at your fingertips. In a somewhat surprising move, Pebble is launching Pebble Time through Kickstarter, just like they did with the original Pebble. Well, almost like the original. This time, Pebble Time is nearly complete as a product, they just need funding, which is their way of seeing just how many to make, I would imagine. 
The Pebble Time starts at $159 for early bird backers (limit to the first 5,000) and then jumps to $179. At retail, the Pebble Time will run $199. It comes in three colors for now – black, white, and red. Pebble plans to ship the product in May.
The new Pebble Time is a lot like the old Pebble in that it has an e-paper display that lasts up to seven days, is water resistant, can still utilize the thousands of watch faces and apps currently available, and fits standard 22mm watch bands. It differs because of the color display, addition of a microphone for sending quick texts or setting reminders, 20% thinner body, and is again, almost ready for production.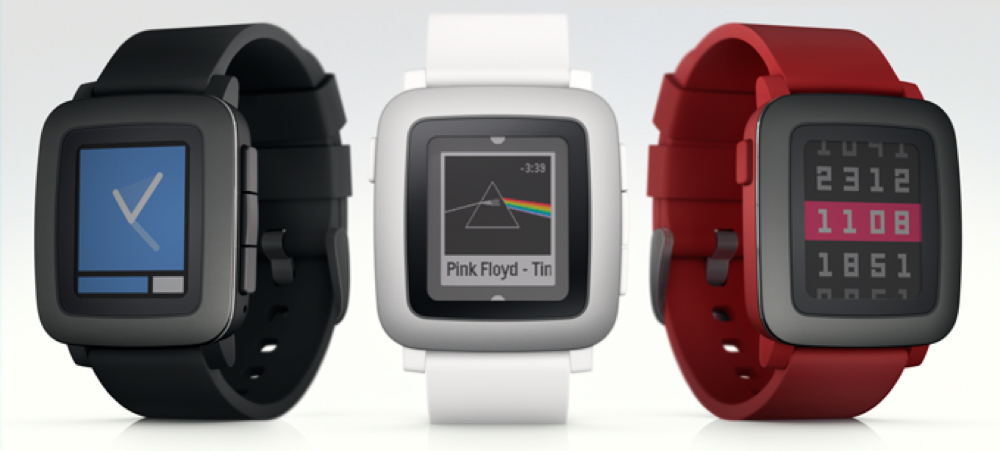 Here is the list of features:
Color screen – Always-on, daylight readable screen with a great backlight
Up to 7 day battery life
Microphone
Slimmer design
Timeline interface
Use any standard 22mm watch band
Water resistant and durable
Tactile buttons for easy eyes-free clicking
Silent vibrating alarms
Step tracking with Misfit and Jawbone
Language and international character support (Chinese coming soon!)
Timeline will work on Pebble and Pebble Steel (exact date TBD)
Works with iOS 8 on iPhone 4s and above
Works with all Android 4.0+ phones including Samsung, HTC, Sony, LG, Google, Motorola, Xiaomi and more
And in case you were wondering, the project has already been funded. That's right, before I could even get this posted, the $500,000 Kickstarter goal for the Pebble Time has been reached. Get ready for May!