Well, LG just announced the Watch Urbane, an all-metal luxury take on the smartwatch game. The watch, which runs Android Wear, will make its debut at MWC next month in Barcelona.
How is the Watch Urbane "luxury?" According to LG, the watch is "designed for a sophisticated cosmopolitan wearer that delivers unparalleled technology and performance." If that means little, then know that it features a 1.3-inch "full" circle P-OLED display, like the G Watch R, but has narrower bezels. The body is available in polished silver and gold finish, and is "complemented" by a beautifully stitched leather strap."
In terms of specs, you are looking at a 1.2GHz Snapdragon 400, 4GB storage, 410mAh battery, IP67 dust and water resistance, heart rate sensor, and a body that is 10.9mm thick.
LG did not announce pricing or availability. Also, the watch (as far as we know) isn't real gold or silver, it's just coated in those colors.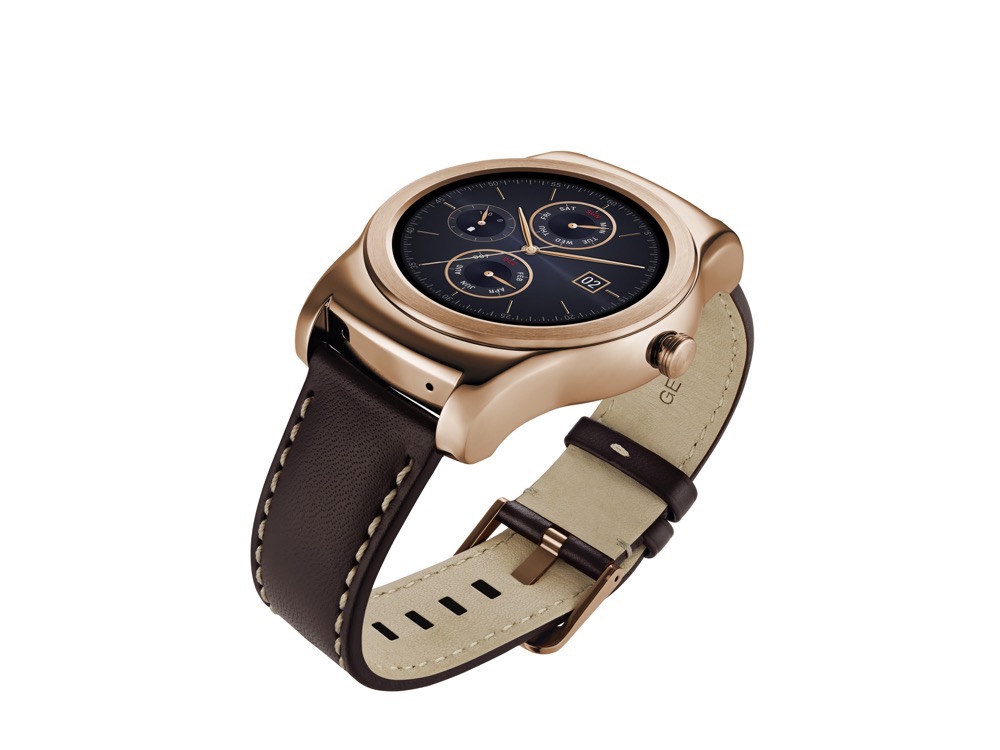 ---
LG WATCH URBANE MELDS CLASSIC LOOK WITH ENHANCED FEATURES

Elegant, Full Metal Smartwatch from LG Coming to MWC 2015

SEOUL, Feb. 16, 2015 ― LG Electronics (LG) will unveil its first all-metal luxury Android Wear device, LG Watch Urbane, at Mobile World Congress (MWC) 2015. As its name suggests, the smartwatch is designed for a sophisticated and cosmopolitan wearer that delivers unparalleled technology and performance. LG Watch Urbane is the perfect device for wearers looking to add both style and high-tech flare to their everyday lives.

The LG Watch Urbane follows closely in the footsteps of the LG Watch R, the first smartwatch with a full circular Plastic OLED (P-OLED) display, which LG launched in October 2014. While the LG Watch R was designed with the active user in mind, the LG Watch Urbane is more formal with a thinner profile making it perfect for either men or women. Resembling a luxury timepiece, LG combined a classic design and innovative features to add style and convenience to everyday life while raising the already high standards set by its predecessor.

The LG Watch Urbane is crafted around the same 1.3-inch full circle P-OLED display as the LG Watch R but features a narrower bezel that gives it sleeker lines. The LG Watch Urbane has all of the hallmarks of a fine watch, making it the perfect fashion accessory. Its stainless steel body is available in polished silver and gold finish and is complemented by a beautifully stitched natural leather strap for a more classic look. The strap can be replaced with any 22mm wide band to suit the occasion or the wearer's mood. Powering all of this is an intuitive touch-based user interface that makes the LG Watch Urbane compatible with smartphones running Android 4.3 and above.

Like the G Watch R, LG's latest Android Wear device includes a photoplethysmography (PPG) sensor that can measure a wearer's heart rate and average pulse during exercise. Always-On ambient mode shows the time on the display at all times in dimmed mode, saving battery life.

"The LG Watch Urbane's classic design and smart features make it the perfect smartwatch to complement our G Watch and G Watch R, which were designed as more casual and active devices," said Juno Cho, president and CEO of LG Electronics Mobile Communications Company. "LG Watch Urbane is an important part of our strategy to develop wearable devices that are worn and viewed as everyday accessories, not electronic gadgets."

Additional details including price will be announced in local markets at the time of availability.

Key Specifications:

Chipset: 1.2GHz Qualcomm Snapdragon™ 400
Operating System: Android Wear™
Display: 1.3-inch P-OLED Display (320 x 320, 245ppi)
Size: 45.5 x 52.2 x 10.9mm
Memory: 4GB eMMC / 512MB LPDDR2
Battery: 410mAh
Sensors: 9-Axis (Gyro / Accelerometer / Compass) / Barometer / PPG (Heart Rate Sensor)
Colors: Gold / Silver
Other: Dust and Water Resistant (IP67)

# # #