On Tuesday, we started a new feature called "You Decide," which is a reader-driven, vote-style competition between a handful of products decided upon by you, hence the name. "You Decide" could be a competition between phones or tablets or Bluetooth speakers or apps, but the idea is that the DL community uses their voices and opinions to pick a winner. It's not necessarily the most serious of competitions. However, when someone is going to buy their next phone and starts comparing a handful of options, we would love to be able to present them not only our opinions on the matter, but yours too.
For our first "You Decide," we picked three flagship phones that came out in 2014 that are all still very much relevant, the LG G3, Sony Xperia Z3, and OnePlus One. You could even argue that these three are very underrated, almost underdog type phones, especially when compared to the amount of coverage given to the Galaxys, Ones, and Nexus 6s of the world. 
The LG G3, as you know, was one of the first phones on the planet to sport a QHD display, but it also introduced us to Laser Autofocus in a mobile camera and a fully edge-to-edge display, while helping solidify the fact that rear button placements are actually kind of awesome. The OnePlus One is one of the most talked about phones of the year, thanks to its obnoxious budget-friendly marketing campaign, high-end specs, and insanely low price. The Xperia Z3 is the latest flagship from Sony that has all sorts of things going for it (great screen, camera, and premium design), but may be most known for its crazy good battery life.
All three phones are rockstars, but we need to know which one is the best, according to you. So, who did you decide is the best?
According to the Droid Life community, the OnePlus One wins this battle, with 38% of the vote. The LG G3 came in second with 32% of the vote, followed by the Xperia Z3 with 30%. Talk about a tight competition. Clearly, you agree with us, these phones are all equally great.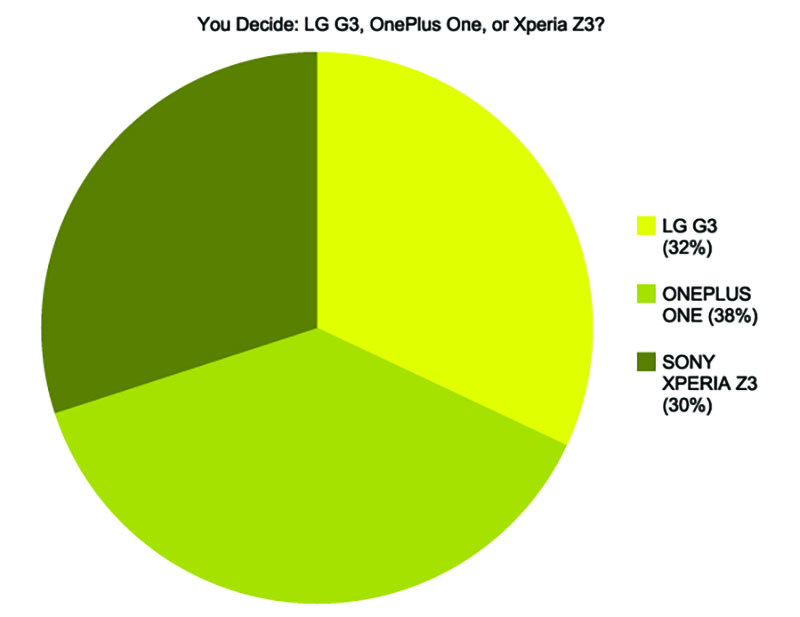 So why did you decide that the OnePlus One was better than the G3 and Xperia Z3?
---
"Definitely the oneplus one for me. It has everything going for it; great specs, a low price and is probably the easiest phone to mod at the moment (it also has an extremely wide and fruitful development community). The only 'negative' is the invite system which in truth (trust me, I have one and I've helped two friends buy one) is really a very minor inconvenience. It literally (and I mean that literally) takes less than 10 minutes to get an invite if you have an account on their forums.
On a side note I'm also in love with the design and the battery life is great. I can easily get a day and a half at least with 6+ hours SOT."
---
"One Plus based on value, and that sand stone back. So slick feeling."
---
"If money was no issue, Z3 in a second….but honestly, for the extra $300 I'd be spending over a OnePlus One (my current device) I don't feel like I would be missing out on anything. The OPO matches the build quality IMO, screens are about equal, speakers on the OPO are fine for what little I use them, camera is good as well, and battery life is right up there….just not sure what I would be REALLY gaining with the Z3?"
---
"I voted OPO for the insanely great value it offers. Say what you will about the company's marketing, but you will not find a better deal for $300-350 off contract."
---
"I'd choose the OnePlus One because of its great specs, and killer price! Why pay almost twice as much for something no better?"
---
"OPO because of the battery life and speed. Both are insane crazy good"
---
Sounds like it the end, it initially came down to value for many, but then after owning the phone, users quickly realized how great of an overall package the phone delivered.
What do you want to decide between next?