While HTC appears to be content on throwing its limited marketing budget towards its flagship One lineup, you can tell the company still loves working on more affordable devices. From my experience with most of their smartphones, they do pay attention to the smaller details when creating a phone, and the latest HTC phone I have handled, the Desire EYE, is yet another enjoyable device from the Taiwan-based manufacturer.
In the eyes of consumers, HTC may appear to be struggling, but they have never slacked in the hardware design department. The Desire Eye caught my eye immediately, with its bold coloring, and massive front-facing camera. To a more untrained eye, who might not be familiar with practically every phone on the market, the Eye may resemble an older iPhone. To me, this is a good thing, as I have never been one to deny that Apple has great looking hardware.
Already having quite a bit on our table, coupled with the fact that the Desire EYE is not a flagship device for HTC, we decided to take this phone for a brief test spin, if only to allow for everyone who was curious to have our thoughts on the device.
This is our Desire EYE quick review. 

The Good
---
Specs
The Desire EYE is a mid to high range device, which is weird to say, but in a couple of categories, this device could go toe-to-toe with the best of them. Internally, the EYE features a Snapdragon 801 processor, 2GB of RAM, 16GB of storage (expandable up to 128GB with microSD card support), front and rear-facing 13MP cameras, Bluetooth 4.0, NFC, 4G LTE connectivity, front-facing BoomSound speakers, variety of sensors, 2,400mAh battery, and runs Android 4.4+ with HTC's Sense skin on top. The display on the EYE is a 5.2″ Full HD (1080p) IPS LCD panel.
On paper, this sounds like a pretty good phone, with the bonuses being microSD card support and BoomSound speakers. Thanks to the Snapdragon 801 and 2GB of RAM, performance should go unhindered by any running applications, and battery life should be a solid day. For the most part, my experience was that these specs did work well, but the display was the only real issue I had.
Performance
While on my road trip back home, I was fortunate enough to experience no real performance issues related to the device. There were parts where I had no service for streaming my tunes, but other than that, I was quite happy. In the car, I was able to get a little gaming done, trying to beat Ron's high score on One More Line. I have found this game to be quite demanding of a phones processor, but the Desire EYE handled it like a champ. Sure, I didn't beat Ron, but at least I don't have to blame the phone for janky performance holding me back.
Besides just gaming, multitasking seemed fluid enough, with Sense doing its part to be useful, as well as frustrating at the same time. Given that Sense is quite a bit different from stock Kit Kat and Lollipop, it was as if I had to relearn Android, and because of that, I sometimes found myself cursing the phone a bit more than I should. Beyond all of that, browsing the web over 4G LTE on AT&T's network was very fast, and downloading apps was quick and painless.
Honestly, I was not expecting great performance from the Desire EYE, but I was happily surprised.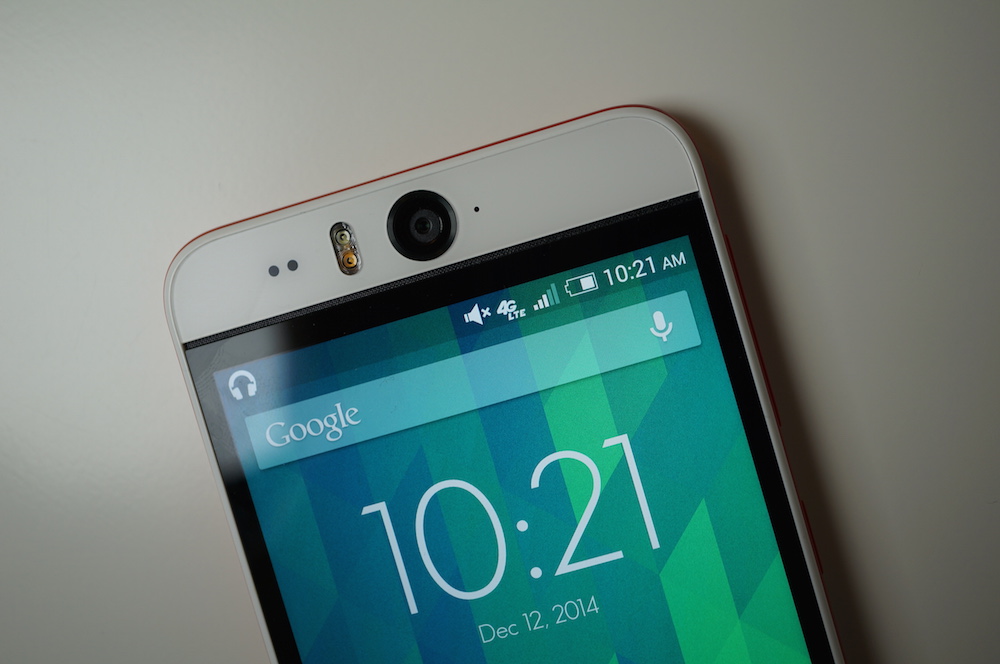 Camera(s)
Over the Thanksgiving break, I was able to take the Desire Eye down to my home territory, which is Humboldt County in Northern California. Naturally, I was treated to typical Nor-Cal beach weather, which is a mixture of grey clouds and cold rain. As many know, grey backdrops don't usually produce the best images, but in life, you work with what you are given.
I was happy to see HTC deploy two good rear and front-facing camera sensors in the Desire EYE, both being 13MP; not some UltraPixel marketing nonsense. During my time, shooting shots whenever I had the opportunity, I was very happy with my results. However, the one area of weakness I continuously see with HTC sensors, is the abundance of white light which makes its way into photos. This can be self corrected if you notice it while shooting. I usually change up my angle on the shot, which fixes the lighting, but in reality, moving your position can only do so much. If you need to be in a particular spot to get the right shot, smartphone cameras can sometimes be a letdown.
With that said, I enjoy using HTC's cameras for the most part. The camera's UI is solid, with a burst mode always available if you hold down the shutter button. In addition, instant edits are available, allowing you tweak colors and HDR settings, so customizing your shots beforehand and afterwards is always easy to do.
I have samples below, resized, but otherwise untouched.
Full resolution: 1 | 2 | 3 | 4 | 5 | 6 | 7 | 8 | 9 | 10
Design
The overall design of the Desire EYE is quite appealing, with simplistic lines and great build quality. From HTC, I would expect no less. However, down below in the Not-so-Good section of this quick review, I talk more about usability of the device, as the way I feel about the looks of the phone do not resonate with how I feel when I hold it. At first, the very large camera on the frontside took a bit of getting used to, as I always felt like it is watching me. Yes, I am paranoid, but I also hate selfies, so for me, putting so much effort into a front-facing camera is not on my list of must-haves for a smartphone.
The color options HTC chose are great, with the Red bands surrounding the White front and back. There is a Blue band option as well. I think HTC would fare well if they expanded these options, too, offering a wider variety of colors, as well as different fronts and blacks. For example, an Orange banded device with Black front and back would look great, or an all-red option with Black bands. That could look sweet. My point is, with Motorola giving love to those who are creative and wanting to build their own look, HTC would not have to spend much more offering more variety of colors, especially with a phone they may intend to market to the masses.
The phone itself is very soft to the touch, almost welcoming you to run your fingertips across its backside. It really is quite smooth. The buttons on the side of the device are just the right amount of raised, allowing you to quickly orient your fingers to them, which helps when you might need to quickly raise or lower your volume. As a bonus, HTC built in a dedicated camera button, which works fantastically. To relate the design to an older phone, it reminds me quite a bit of the One X from HTC a couple of years ago. At the time, I thought that was the most gorgeous smartphone every created.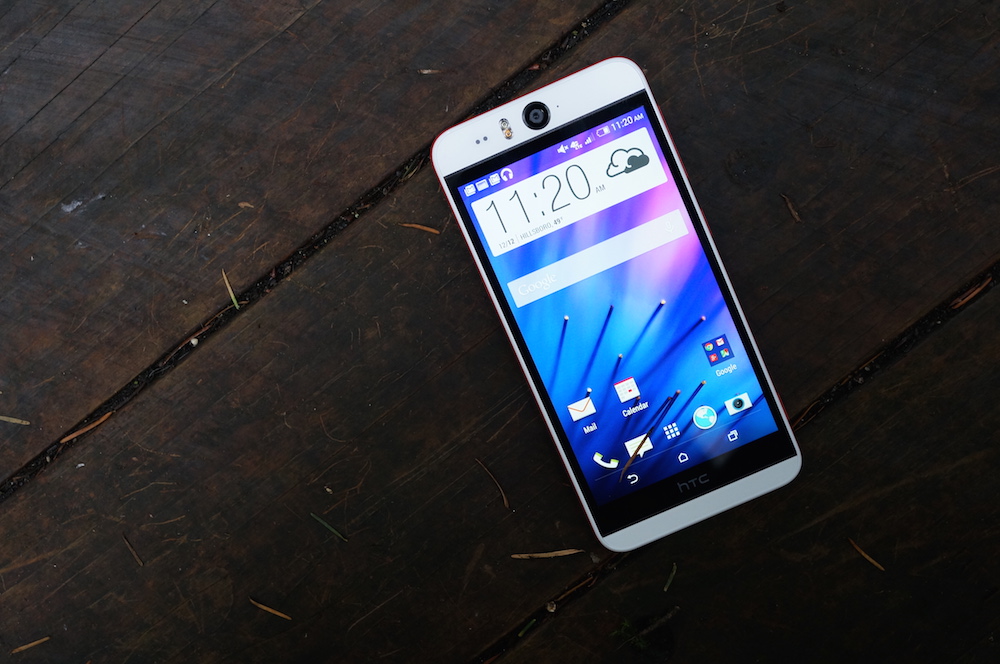 BoomSound
BoomSound is back, baby! Now, to be fair, HTC claims these speakers are "BoomSound," but to me, there seems to be a big difference between the sound quality you will find on the Desire EYE's speakers versus, say, the One (M8). My guess is the change in materials (from metal to plastic), would change the resonance quite a bit from device to device, but my point is, if I come to expect a certain standard of sound from BoomSound, I expect the same level of quality from any other phone sporting the feature. I go around all day on the Internet stating that BoomSound speakers are the best a mobile phone can have, but I don't feel that way with the Desire EYE. Yes, they get plenty loud, but they lack a certain depth which is there when using the BoomSound speakers on the One (M8). Even with this said, the speakers on Desire EYE are still great, getting plenty loud, and sporting plenty of bass.
HTC, please keep making BoomSound a thing on your phones.
Somewhere in the Middle
---
Display
My only real beef with the specs of this device is the display. It is a 5.2″ Full HD IPS LCD panel, with horrendous colors. When I say horrendous, what I am trying to say is that the display has a hard time toning colors down, constantly blasting the brightest variations of tones it can produce. For example, look at the photo below. There is a Note 4, Desire EYE, and a Moto X (2nd Gen). Each display is turned up to full brightness. Now, focus on the categories (Apps, Games, Movies, Music) section at the top. While the Moto X and Note 4 have softer shades of Green and Blue, the Desire EYE gives off a more neon approach, making the colors hard to even look at.
While the color inside of Google Play may not be a big deal, I found it was a huge problem when taking pictures. When I thought I had good lighting in a shot, or my colors were spot on, I uploaded them to find that my pictures looked like garbage. The short point is, what you see on the display is not how anyone else will view it. To you, on the Desire EYE, colors will be brighter and less appealing, while other folks will view a darker, more rich experience.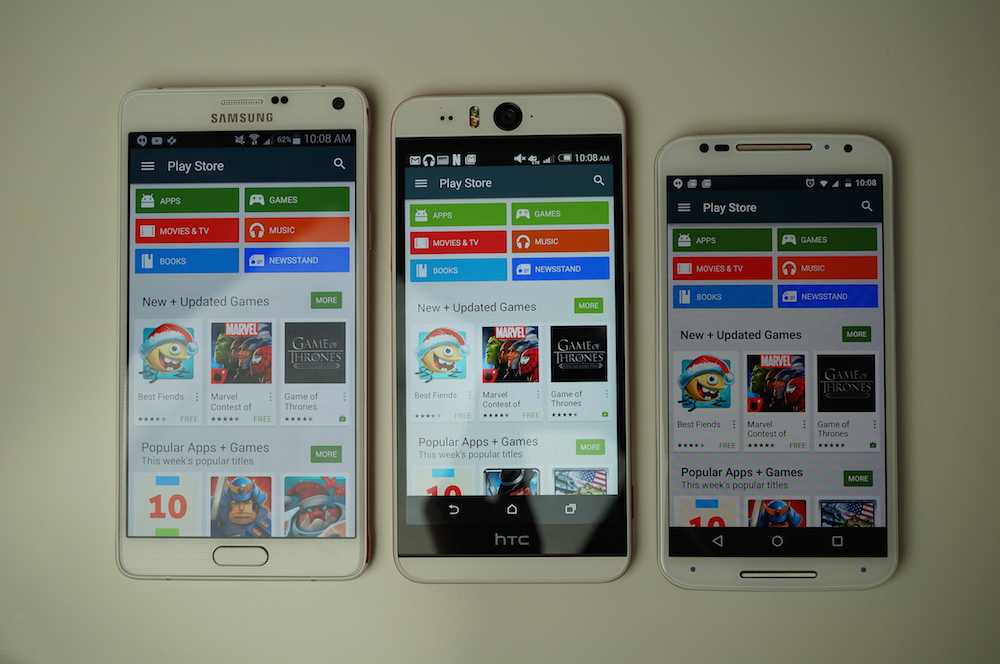 Battery
The battery life on the Desire EYE won't blow you away, but it certainly is not bad. As I mentioned, I took this device on a 7 hour road trip from Portland, OR to Northern California, using the device as a Bluetooth music player the entire way. The phone died about 45 minutes from my final destination, but with the amount of times I was stopping, taking pictures, uploading stuff to Instagram, and checking Twitter, I was impressed with what I got from the little 2,400mAh battery. After getting back from my trip, I found that the device would last a solid day with no charge, which for me is 7:30am to 11pm. Personally, I always plug my phone in every night on my nightstand, so I never require a device to last more than a day.
Sense UI
While the Desire EYE comes shipped with Android 4.4.4, HTC's Sense 6 does a really good job of covering that up. While Sense has grown over the years, personally, I have never been a fan. Something about the skin feels tacky to me, doing little to offer anything of real value to me. BlinkFeed was a great idea, but its new implementation is slow and boring, becoming more like Samsung's Magazine UX feature, where users slide to the left to view an aggregated view of news feeds, social network status updates, and tons of other things that have very little face value.
The first thing I did after booting up the Desire EYE was load up Nova Launcher, allowing me to hide the worst part of Sense, the stock Launcher. It is very slow and hard to look at.
My favorite part of Sense are the custom themes which are built right in. They may not be exactly "themes," but they are custom color schemes which come preloaded on the device. If you have a certain color in mind, such as Blue or Green, you can set your theme up that way, allowing you to bask in the colored goodness. It was a nice touch that this White and Red device booted up with the Red theme. That looked great.
Besides that, Lollipop may do Sense quite good, as it is time for HTC to completely rewrite this skin, starting with fresh, lighter colors. Overall, Sense is a good skin if you don't enjoy stock Android, which would mean you want greater customization of smaller features, such as organization inside of your app drawer, or setting importance on which system toggles you want to see inside of your notification bar.
The Not-so-Good
---
In-hand Feel
While I admire the looks of the device, the way it feels in-hand just does not cut it for me. It's way too tall. Thankfully, HTC did not put the power button on its topside, and all buttons are found on the thumb-side of the phone. Still, I find myself doing the hand shuffle when navigating the device, having to stretch and manipulate the posture of my hand in an attempt to reach the top of the display, just to check my notifications. No thanks.
I use to be on team The Bigger The Better, but lately, I have reverted back to enjoying phones that I can use with one hand, as they really are more easy to use, especially when out on the town or I am out walking my dogs. For those who may have been born with larger hands, then feel free not to be worried about this aspect. However, if having a very tall device might trouble you, stay away.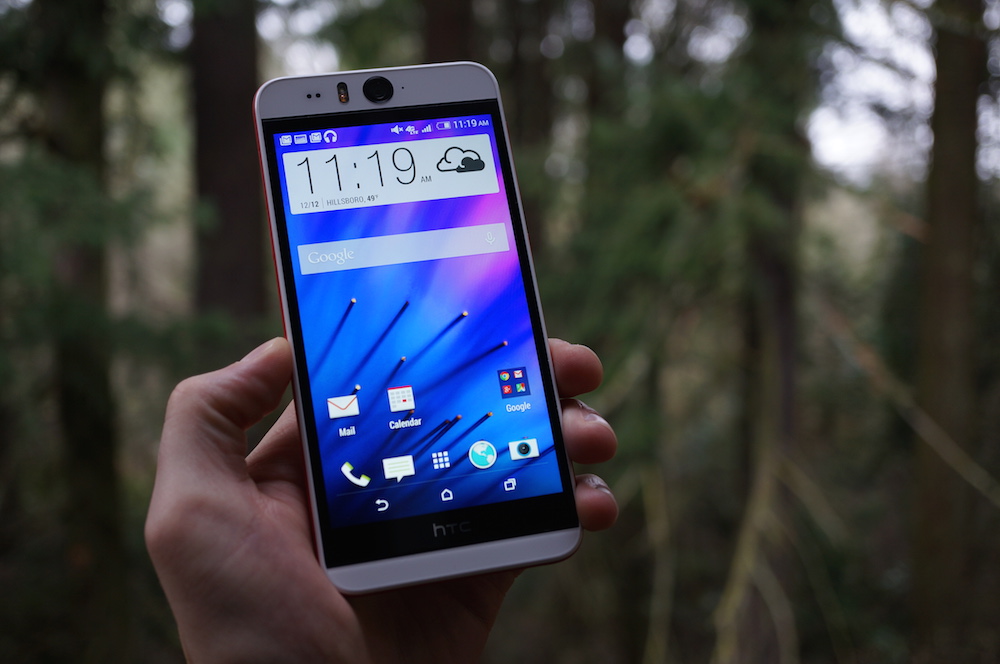 Availability
If you happened to be interested in the Desire EYE, getting one is not all that easy if you are not a customer of AT&T. The carrier has an exclusive on the device, pricing it at $149.99 on a two year contract. Off-contract pricing is set at $549.99. Of course, there is always the NEXT installment plan, which can get you the phone for $18.34 a month for 30 months. Regardless, if you are not on AT&T, you can't have it.
Gallery
---
The Verdict
---
The Desire EYE has quite a bit going for it. If you are a selfie machine, then the 13MP front-facing camera should treat you very well. Your Snapchat followers will love you. In addition, for the $150 on-contract price, you are getting a great spec list, as well as a very well made device. If you carry this phone around with you, there is no doubt you will get a few compliments from strangers, as I know I got a few at my local drinking hole.
However, beyond the dual-camera gimmick, I don't see much more value in this device in terms of features. The design is nice, but hard to use at times, and the overall experience with Sense is clunky and non fluid.
While I did have good things to say for the camera and BoomSound speakers, that isn't enough for me to honestly recommend this device to anyone. If I was the one buying a HTC phone, I would look towards HTC's upcoming 2015 flagship device, or go back to the One (M8), which is still a good option for potential buyers. Considering the One (M8) was unveiled in the early part of 2014, HTC fans probably won't have much longer to wait to see what the company plans on labeling as its flagship device for 2015.