Finally, DL is posting its Galaxy Note 4 review. Sure, it may be late, but as the saying goes, better late than never. We have spent a few weeks with Samsung's large flagship device and are comfortable with now throwing our final opinion out into the open world.
With Google on the verge of releasing its very own high-end phablet device in the Nexus 6, you might be trying to decide which phone you should go with. To help you come to a decision, we tried to focus on a few select areas. They are as follows.
First, does Samsung's TouchWiz UI bring worthy enhancements to the Android OS over Google's plain vanilla version found on the Nexus 6? Second, the Note family has been known for having fantastic battery life. With its 5.7″ QHD Super AMOLED display, can the Note 4 also meet those high expectations in the battery department? Lastly, Note devices have been bringing the heat in the mobile photography department. Does the Note continue that trend?
These are just a few of the subjects we wanted to dive into.
Here is our Galaxy Note 4 review.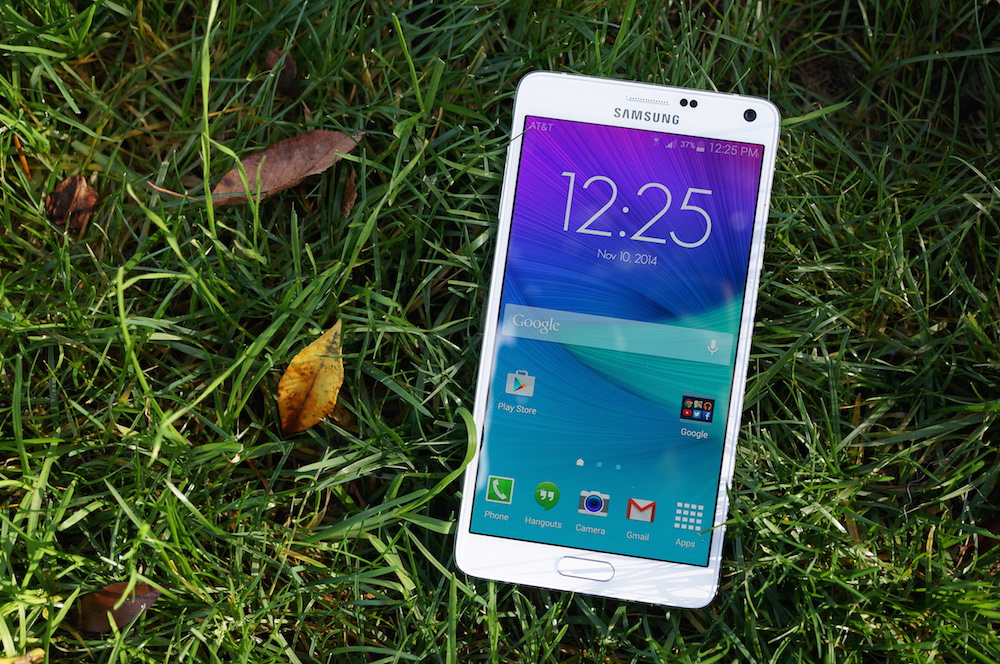 The Good
---
Specs
For a smartphone, the Galaxy Note 4 is packing straight up heat. Under the hood, the device is powered by a Qualcomm-made Snapdragon 805 processor clocked at 2.7GHz, plus 3GB of RAM. Other notable specs include a stunning 5.7″ QHD (2560×1440) Super AMOLED display, 16MP rear-facing camera with OIS, 3.7MP front-facing camera, heart rate monitor, fingerprint scanner, 4G LTE connectivity, microSD slot, Bluetooth 4.1, 3220mAh battery, USB on-the-go, and Android 4.4 out of the box.
As I sometimes say for a device of this caliber, on paper, it is an absolute beast. However, as we tend to find out with other Samsung devices, the incredible specifications don't necessarily translate into fantastic real-world usage. More times than not, TouchWiz seems to put a damper on overall performance and multitasking abilities, but with this much computing power, the Note 4 should be at the top of the list for anyone concerned with the specs their device is rocking.
Display
Samsung introduced one of its best mobile displays to date on the Galaxy Note 4; a 5.7″ QHD Super AMOLED display with a pixel-per-inch number of 515. With the same resolution of other QHD displays on the market, being 2560×1440, there is no doubt that it is one of the best-looking panels to ever grace a smartphone.
However, we still find that discovering content to take advantage of such a display is rather hard to do. Most videos on YouTube are not streamed at that high of quality, and Netflix definitely is not allowing users to stream that type of media over its servers. While a few YouTubers may publish in 1440p+, the options are still very limited. For now, it seems that users are really limited to just wallpapers and other miscellaneous content, turning QHD displays into more of a conversation starter, not a necessary feature.
Even though that might come off as sort of negative, the Galaxy Note 4 does feature a display with a ton of pixels, and it is absolutely beautiful. Samsung's Super AMOLED gives off extremely bright and excellently saturated colors, never appearing dim or washed out. For playing games, I wouldn't ask for anything else in my pocket. And for watching YouTube videos or just streaming the web, it does not get much better in the viewing department.
Macros for fun.
Design
Much like the Galaxy Alpha, Samsung brings a new metallic and slick design for the Galaxy Note 4, and I must say, I am a fan of this new look. With the chamfered edges and surprisingly ergonomic feel, even with the large size, Samsung is taking a step in the right direction of making the Note lineup more attractive to buyers. If you currently own a Galaxy Note 3, or lord forbid are still carrying around the aging Note 2, then the Galaxy Note 4 will more than likely feel right at home in your hand.
What surprised me is that while I have become more used to using a smaller device (Galaxy Alpha and Moto X) the Note 4 does not feel incredibly or overly large in my hands. Samsung did a great job at cutting back the bezels around the 5.7″ display, keeping the impact it has on your hands not too bad. While it may still be a two-handed device, using it with one hand is not impossible.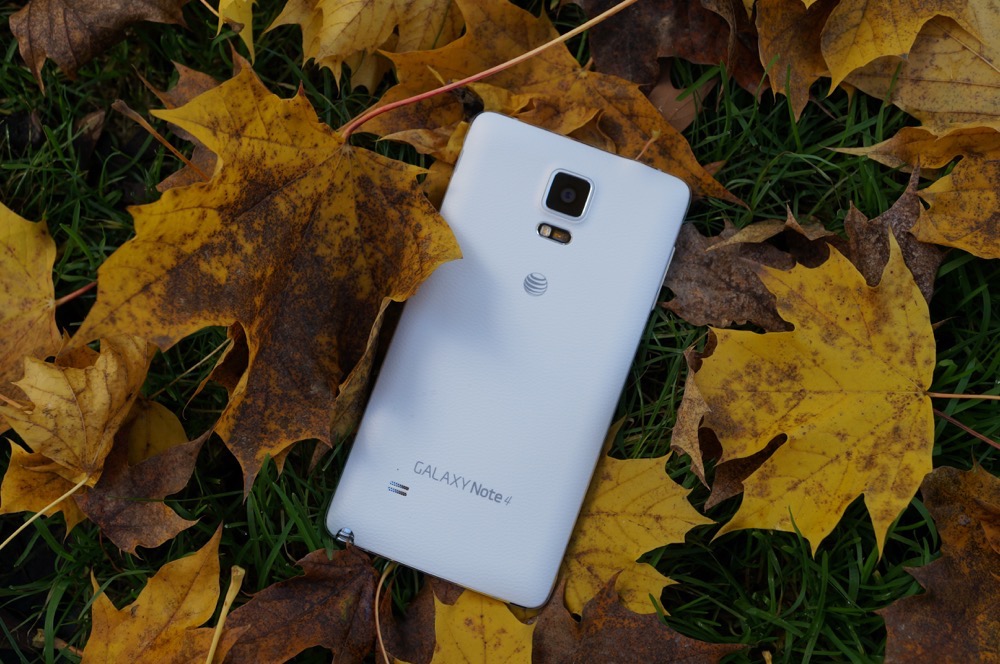 Battery
During my time with the Note 4, I was not at all surprised by the battery life I experienced. You know why? Because I expected it to be awesome, and the phone delivered. Even while putting the Galaxy Note 4 through the review paces, it held up like a champion, giving me an easy day with leftover battery to spare. With its high capacity 3220mAh battery, even though it's powering the Snapdragon 805 and QHD display, the battery delivered more than enough juice. To be quick about it, if the Note 4 is on your radar, don't be worried about battery life.
Camera
With the attached 16MP rear-facing camera featuring optical image stabilization (OIS), the Galaxy Note 4 camera experience is one of the best smartphone photography experiences money can buy. The sensor inside is quite powerful, capable of not only taking large shots, but highly-detailed shots. The one unscientific test I do is to take a photo, then see how much detail there is after I zoom in on the photo all of the way. The Note 4 scores quite high on this test, especially when compared to other devices on the market such as the Moto X or the HTC One (M8).
As for the interface when interacting with the camera app, it is just as you would find on all other Samsung devices, which is not bad at all. It is easy enough to use, with dedicated buttons for snapping shots, starting videos, and accessing your Gallery. On one side of your display, Samsung offers shortcuts to real-time effects you can apply while snapping shots, as well as tweak the camera's settings.
While the Galaxy Note 4 offers plenty of features and modes out of the box, Samsung allows users to download even more via the Samsung apps store. For example, you can download a Sports Shot mode, Surround Shot mode, and more. The ability to just download them if you want them is a nice change from how Samsung used to preload all of the modes, taking up precious storage on your device.
As for the size of the phone while shooting pictures, you will need two hands, undoubtedly. However, even though setting your hands up just right may take time, you don't need long to take the perfect shot. The auto focus and manual focus is very fast, and the shutter speed is also very quick. I found that when shooting the dogs or an overhead plane, the shots came out just fine. I also photographed my 1-year old niece who can't stop moving, and those photos came out great too.
Below, I have a few samples to share, taken in a few different environments, including natural lighting, indoor lighting, and night time with some lamp posts providing an orange tint. Below the thumbnails, you can view the full resolution images, allowing you to perform my fancy zoom test.
Full resolution: 1 | 2 | 3 | 4 | 5 | 6 | 7 | 8 | 9 | 10
Stylus and Select TouchWiz Features
Just like any other Samsung device, the Galaxy Note 4 comes packed with proprietary software you will only find from Sammy. While other companies may try to duplicate a few of their features, such as Multi Window and certain S Pen functions, Samsung does a pretty good job at optimizing the software to make it feel natural on their devices. While there are parts of TouchWiz that probably do not need to exist, the few features that are actually useful are not too bad.
My few favorite parts of TouchWiz have to do with Samsung's stylus (aka S Pen) on the Galaxy Note 4. For example, taking notes is high on my priorities. If I need to remember a quick list, such as topics for a phone review, I can pull out the stylus and quickly start jotting down ideas in my own handwriting through S Notes, then the phone automatically changes it to a neatly organized list thanks to existing templates.
The overall helpfulness of S Pen is based on its ability to perfectly take your sloppy handwriting and turn it into an action. As another example, as you can see in the screenshots above, I wrote down a phone number in chicken scratch, which I could then call, text, email, or add to my contacts. I selected phone call, and the phone placed the number into my dialer without missing a beat. Considering how nasty that handwriting looks, I was actually surprised it didn't mess up. To me, that is a solid feature.
My last favorite, is the ability to rope an image that is shown on your screen, then easily share it. As I did, I highlighted a photo of the SF Giants logo, then shared it with a friend. Without needing to download the full image and then sharing the file, I can quickly save it to my clipboard on the phone, then share from there. It allows me to maximize my phone's storage, while also quickly share anything I might need to.
As previously discussed plenty of times, there are certain parts of Samsung's software that I would not mind to see erased, but most of its S Pen capabilities are fine by me.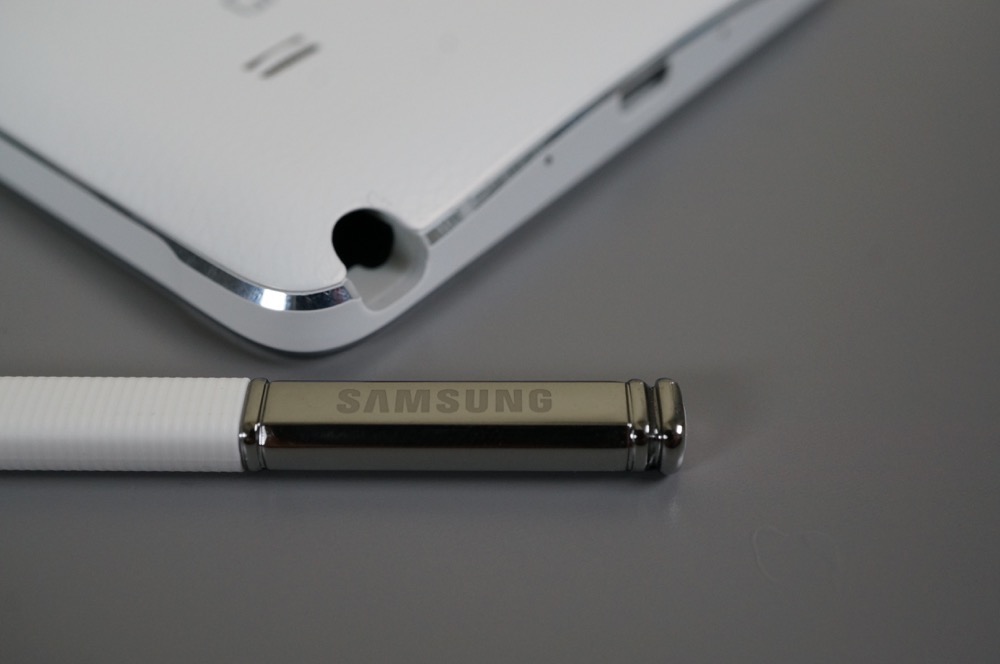 Somewhere in the Middle
---
Performance
While the Note 4 features specs that would blow most devices out of the water on a benchmark test, real-life experience differs slightly. While gaming does not seem to be affected, navigation across the system seems rather hindered at times, with slight stutters happening occasionally. One of the more noticeable instances is when you are using either the stock keyboard or Google's keyboard. After sliding your finger for gesture typing, or regular thumb smash typing, the time it takes for the word to pop up in the text field feels lagged.
Another irritating lag is when you are swiping away applications in the recent apps tab. The UI brings up preview windows for each app you have open, much like it does in Lollipop. They are no longer small thumbnails. While swiping, I see the device dragging and stuttering while I swipe them away. But, after I am done clearing all apps, the device speeds right up again. To me, it seems the phone is trying to do too much, more than what it is capable of.
Do I think the Note 4 needs even more juice than what it already has? Heck no. I think Samsung needs to break down TouchWiz to the foundation, then rebuild it, optimizing every single piece of software. It is the same experience I had the Galaxy S5, yet slightly less janky. The Note 4 feels premium and acts premium when it counts, such as during gaming or browsing the web, but the overall performance has a long ways to go until I would call it buttery smooth.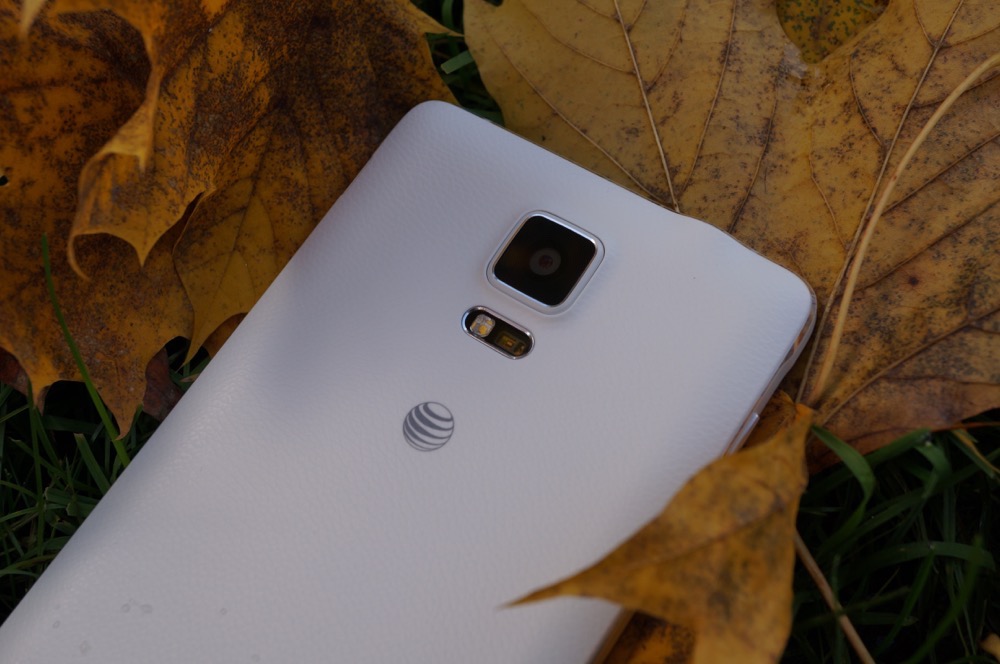 Availability and Price
The Galaxy Note 4 is available on all major carriers across the US, but does come with a price tag to match its spec offerings. On AT&T, the Galaxy Note 4 is priced at $299 on-contract, while getting it off-contract will cost you a whopping $825. For most Android smartphones, that's just crazy. On Verizon, customers can purchase the Note 4 for $299, but the off-contract price is listed at just $699, which seems like a steal in comparison to AT&T. Why AT&T decided to hike up the price so high, we shall never know. Folks with allegiance to T-Mobile can find the device for $31 a month over 2 years, or outright for $750. While the phone is available anywhere you go, the upfront price could easily scare a few customers away. We have found that after a few months or longer, the price comes down, but by then there is already a new device being hyped. If the Note 4 was on your shopping list, depending on the carrier, you might have to bite the bullet and spend quite a bit.
With all that said, the Note 4 is at least readily available at all major carriers. If you want one, you can buy one, something that can't be said for other phablets like the Nexus 6 or iPhone 6 Plus.
TouchWiz
There is one main gripe about TouchWiz that I have, and it actually has nothing to do with performance. The fact that Samsung's custom UI has not changed looks since it was first introduced is just boring. Very dull, and very boring. Sure, from Gingerbread to Kit Kat, there have been variations, but the overall gist of TouchWiz has remained the same. To me, with Android becoming even more sexy as the years pass, I do wish Samsung would tone it down a bit. However, with such an investment in TouchWiz, I doubt that is ever coming.
Now, back to the performance of TouchWiz as a whole. As I have experienced during my time with the Galaxy Alpha, Galaxy S5, Galaxy S4, and Galaxy Note 3, TouchWiz slows down your phone. There are hiccups in the system, is the best way for me to explain it. When pressing on the recent apps button, or going Home after playing a game, you notice a slight pause from the phone as it thinks about what it is trying to do. For someone like me, who needs to be able to whip in and out of apps, and use swipe gestures on a keyboard without waiting to see what word is going to pop up, devices running TouchWiz just don't exactly cut it for me.
Although, on the other side of performance issues, I am torn. TouchWiz does offer additional settings and controls that you will not find on stock Android. Until Lollipop, having a dedicated brightness slider in your notification pulldown was non existent, while Samsung phones have had that for years. With TouchWiz, you get some and you lose some. For buyers, it is a question of if these pros outweigh the cons, and considering how many Samsung phones have been purchased, it's rather hard to be one person in a enormous crowd yelling, "TouchWiz sucks!"
Other Notes
Quick Charge 2.0: While this should be in the official "Good" section, I don't feel there is too much to say. With Quick Charge 2.0, the power cable Samsung provides in the box will charge your phone with the quickness, allowing a full charge in as little as an hour or more. From my time, I was getting a full day of juice after having the device plugged in for only 55+ minutes or so. Not only is this feature helpful, but could be a huge deal for potential buyers.
Gear VR Compatibility: Owners of the Galaxy Note 4 will be treated with exclusive compatibility for the upcoming Gear VR. If a virtual reality headset is on your Christmas list, the Note 4 is the only device that can deliver a real VR experience, at least until Oculus.
AT&T Bloatware Count: 26 applications came preloaded on the Galaxy Note 4 which I would consider bloatware, offering extremely little value to consumers. Once you boot up, proceed to disable the junk.
Video
---
Unboxing
[responsive_vid]
Gallery
---
Verdict
---
So, after all of this, should you buy the Galaxy Note 4? And what about the Nexus 6? Would that device be a better phablet option for consumers? Without spending any time with the Nexus 6, I can tell you a couple of things which might sway you to the Galaxy Note 4.
First, the software. Lollipop on the Nexus 6 offers no real value to the large size of the display. On the Note 4, there are a ton of features which take advantage of that 5.7″ Super AMOLED display, such as the Multi Window and S Pen capabilities. On the Nexus 6, the only multitasking you will be doing is through the recent apps button. Secondly, the camera on the Nexus 6, from what I can see in samples, can't touch the Galaxy Note 4. Samsung delivers an absolute ton of additional camera settings, while Google's camera application is extremely minimal and bare. Sure, you have Photo Sphere, but Samsung offers a version of Sphere of its own called Surround Shot. I suppose, if you are looking for a more complete Android experience (I really hate saying that), the Galaxy Note 4 might offer you more things to do.
But back on the Galaxy Note 4 as a standalone device – the phone is fantastic. The screen is unmatched in quality, the camera delivers stunning shots in the right conditions, the battery life is best-in-class, and the specs make it a contender for heavyweight champion of the smartphone world.
If you can get past slight hiccups you might experience with TouchWiz, it is a great driver which will last you a very long time.